Posts Tagged 'Outdoor Furniture'
Tuesday, July 24th, 2012
Looking for a nice place to entertain your guests?  A place to put your feet up and relax on the weekends?  Well check out these inspiring images of dream decks that will show you great ideas in creating an outdoor oasis and will give you a sure case of "the deck effect."
Browse Storage And Organization on Houzz- For Example:
Tags: Decks, Design Tips, design trends, dream decks, entertainment, furniture arrangement, Interior Design, lounge, Outdoor Furniture, outdoor lighting, outdoor rooms, outdoors, patios, Seating
Posted in Cool Ideas, Cool Stuff, DIY, Design Tips, Furniture, Interior Design, Outdoor Furniture, Remodeling, Seating, Uncategorized | No Comments »
Wednesday, September 9th, 2009
Interior Design in Portland pretty much always involves making the most of available light and incorporates an appreciation of the beauty of the outdoors. Since sunny days are at a premium, making the most of them by creating an outdoor room will expand your living space and dramatically increase your enjoyment of yard, patio, deck or balcony
Here are my Top 10 Tips for creating the Perfect Outdoor Room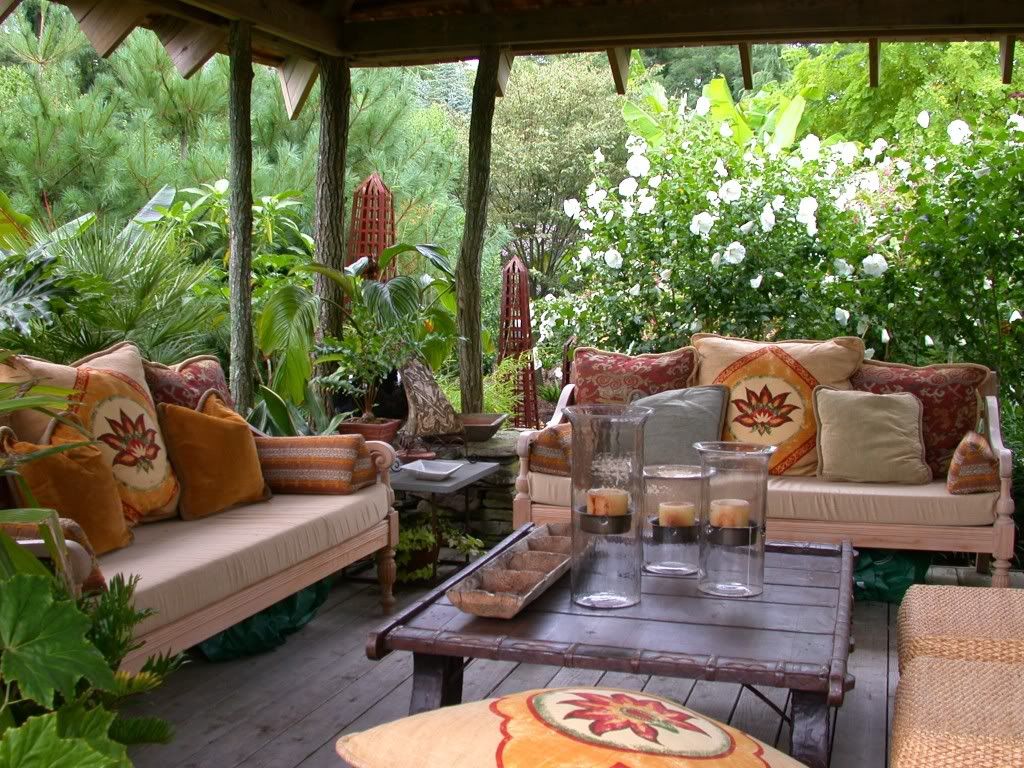 1. Create a furniture grouping for conversation. Just as you do in your living room, put some comfortable seating in an intimate arrangement so friends can sit close and hear each other easily. Provide side tables, a dining table or coffee table to hold drinks & snacks.
2. An outdoor area rug will give the furniture grouping a cozy look and feel nice under bare feet too.
3. If evenings are cool, one of the best additions to your grouping will be a place to have a fire. There is something very primal and comforting about sitting around a fire. You could build in a fireplace, or use a portable fire pit made of steel or copper. There are also beautiful, contemporary propane burning "fire features" that are safe to use on condominium patios, and eliminate the need to have stacks of firewood. If your space is a small condominium balcony with just enough room for a bistro set, consider using either free standing or table models of oil burning lamps to give you a flame that provides more light than candles and won't blow out at the smallest breeze.
4.     Lighting is just as important as it is indoors. If you have a covered space, consider hanging a chandelier.Manufacturers are now making table lamps and floor lamps that are specially made to use outdoors. The soft light of a lamp is much more pleasant than an outdoor flood light! Accent lighting shining on your landscaping will allow you to enjoy the scenery at night too. Don't forget oil lamps and candles for ambience.
5.     Art elevates the look of any space and this is true in your outdoor rooms also. Select pieces that can handle the elements if your space is not completely protected from rain. You can find artwork such as metal wall sculptures or paintings on metal that can be outside. A muralist can even paint directly on an outside wall for your space.
6.     Water features add a lovely visual and relaxing sound. There's a water feature in the right size for you … large or small free-standing fountains, wall hung fountains, and table top models.
7.     Remember to accessorize, just like you would indoors. Candles, and colorfully glazed ceramic pieces add color and interest to the setting.
8.     Defining your room and providing privacy can be very important, especially if your room is visible to neighbors. You can use outdoor fabric drapery panels that can be pulled closed to give privacy. In their open position, they provide color and texture. Free-standing, folding room dividers can be placed wherever you need them and put aside when not in use. Consider creating a wall of wood shutters that can be opened to let breezes through or closed to protect privacy.
9.     Protection from sun and rain makes your room usable in less than perfect weather. Umbrellas, awnings, and gazebos are all common ways to provide shade or shelter from rain. Solar shades can be hung from your shade structure's ceiling and lowered to protect from late afternoon sun. "Shade sails" are those large canvases suspended in the air, stretched on cables attached on at least 3 points. They are a dramatic and sculptural way to shade and define your room. If the right fabric is selected they can protect from rain too!
10. The most important element of an outdoor room? Friends of course! Once you set up your room, invite some friends over, mix up Mojitos or your favorite iced tea and enjoy the last weeks of summer! Use serving trays or a rolling serving cart to make it easy to bring refreshments outdoors.
You may also like:
Serving Up Style: Sustainably Made Serving Trays
Two Cool Ways to Go Green: Sustainable Options for Outdoor Furniture
Tags: Art, awning, Fireplace, fountains, gazebo, Interior Design, Lighting, Outdoor Furniture, portland interior design, rug, shade sail, umbrella, water features
Posted in Art, Design Tips, Fireplace, Interior Design, Lighting, Outdoor Furniture, Seating, Space Planning, Top Ten, Uncategorized | 1 Comment »
Wednesday, July 1st, 2009
Ever searching for cool ways to GO GREEN, I have come across two options for you to relax in style while being sustainable at the same time.
This classic Adirondack style chair is being made in a totally new and sustainable way by Loll. Made from 100% recycled post consumer "high density polyethylene" which is a plastic resin made from recycled items such as milk jugs, margarine tubs, detergent bottles and so on. I am pretty impressed with the sustainable practices of this company. They send 90% of their manufacturing waste to recycling plants. All of the furniture they make is 100% recyclable — not that it's likely to wear out any time soon, and with these classic styles they won't ever look out of date. Their line includes many other chair styles, chaises and tables.
While I love the leaf green shown here, they make these in seven gorgeous colors shown in the thumbnails below. It's made in the USA and also comes as a rocker … now that really ROCKS!!
Even your DOG can have sustainable options with the products from Loll. Look at this great raised dog bowl set made from the same recycled material! Too cool!
This gets a "4-Paws-Up" rating from Shirley and Izzy! They want the Apple Red.
Loll products can be found locally at Design Within Reach and the Adirondack chair is currently on sale as of this writing — July 1, 2009. They can also be ordered directly from Loll on their website at Loll Designs.
If you prefer wood to plastic, it's tough to beat this combination of reclaimed wood and manufacture within 15 miles of Portland, Oregon. I found a local craftsman making classic Adirondack chairs out of 100% reclaimed wood from industrial construction pallets. If you request it he will seal it with a non-toxic sealer. At $239 for a pair of chairs with a small side table, it is definitely an affordable choice.
His email is jessealvey@yahoo.com. I found him on Craigslist and have not purchased from him myself, so you'll need to do your own due diligence as with all Craigslist vendors.
Tags: adirondack chairs, green design, Interior Design, Loll, modern design, Outdoor Furniture, Seating, sustainable style
Posted in Interior Design, Outdoor Furniture, Sustainable style, Uncategorized | No Comments »