Posts Tagged 'furniture design'
Saturday, November 28th, 2009
Cutting edge design is bringing all the colors of the rainbow to interior spaces in unique ways. The trend in new furniture designs coming our way uses state of the art technology and creative thinking to give us interior options never before seen.
Mood Chair:
The Mood Chair by Aether & Hemera, visual artists in the UK, incorporates sensors that react to the colors in the immediate surroundings. The fusion of light and color creates a dynamic and ever-changing mood.
Here's what Aether & Hemera have to say about the idea on their website: "Responsive installations can complement the architectural space: the idea is that digital interactive fixtures will contribute to create an innovative and high-quality environment responding to the behaviour of its users by visually expressing the activities surrounding them."
Personally, I love color so much and change my preferences so often, that I can imagine whole walls that can change color like this. Wouldn't it be nice if we never had to paint a wall again, but could just walk in wearing our favorite color?
Side Stacking Rainbow Chairs:
Traditionally when you got stacking chairs, they all stacked one atop another until you got a tall pile of chairs which was compact, but not useful while stacked. Danish designer Christian Flindt has a better idea for stackable seating. His Rainbow Side Stacking chairs fit into each other's sides and when several are stacked together, not only are they compact, but they are still usable as a bench. Made in an array of semi-translucent colors they appear like a rainbow when put together. The molded plastic chairs can be used indoors or outside.
Cappellini Rainbow Chair by Patrick Norguet:
You'll be sitting pretty in your dining room, but this acrylic dining chair will set you back about $13,000 … yes, that's per chair. Designed by Patrick Norguet, manufactured by Cappellini and included in the collection of the New York Museum of Modern Art, this deceptively simple looking side chair is made by fusing multiple colored acrylic plates together using ultrasound technology. One can only hope that someday, like most technology, it will eventually become more affordable. If you just can't wait to have the latest in dining chairs, and you have plenty of discretionary income, you can purchase these through Europe by Net or Unica Home.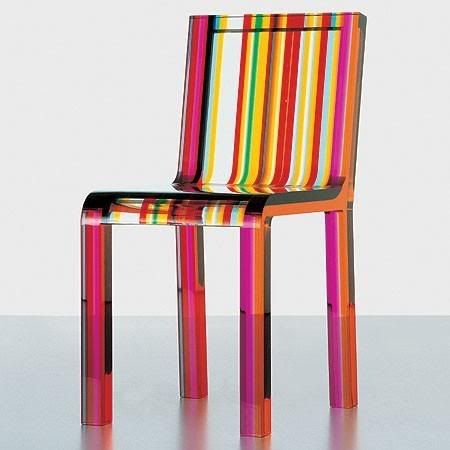 For more of the latest design ideas, do it yourself advice, and designer's trade secrets, subscribe to my monthly email design tips.


Tags: Aether & Hemera, cappellini, Christian Flindt, Colors, dining chair, Dining Room, Europe by Net, furniture design, interior design portland, modern design, MOMA, Museum of Modern Art, Patrick Norguet, Seating, Trends, Unica Home
Posted in Colors, Cool Ideas, Cool Stuff, Dining Room, Interior Design, Outdoor Furniture, Seating, Trends, Uncategorized | No Comments »