Posts Tagged 'Fireplace'
Friday, August 3rd, 2012
The fireplace is a huge focal point of many rooms, so you cannot forget about the style of the built-ins that surround it.  This ideabook will help you decide what items to display and how to display them while acheiving the perfect amount of storage for your room.
Browse Lighting on Houzz- For Example:
Tags: built-ins, cabinets, Design Tips, design trends, Displays, Fireplace, Interior Design, storage
Posted in Cool Ideas, Cool Stuff, DIY, Design Tips, Fireplace, Interior Design, Storage Solutions, Wall Treatments, redesign | No Comments »
Tuesday, November 15th, 2011
So you're telling me that you can't spend half a year's salary on original art work for the hallway? That's okay. There are many alternatives for great wall decor without breaking the bank. Get creative with fabrics, found objects, natural elements, texture and even fish — oh yes, I did say fish! — to add your own personality and charm and fill your home with your unique style.


Browse Home Office Products on Houzz- For Example:
Get the Latest On Hot Design Trends, Trade Secrets, DIY Tips & Design Advice

Tags: Art, Bathroom, Bedroom, color, Design Tips, design trends, Dining Room, fabrics, Fireplace, found objects, hallway, Interior Design, Kitchen, Living Room, loft, Lofts, modern design, natural elements, texture, wall decor
Posted in Achievements, Art, Bathroom, Bedroom, Cool Ideas, Cool Stuff, DIY, Design Tips, Dining Room, Fireplace, Home Office, Interior Design, Kitchen, Lofts, Mistakes: Avoiding & Fixing, Pearl District, Shopping, Space Planning, Storage Solutions, Top Ten, Uncategorized, Upholstery, Wall Treatments | No Comments »
Friday, November 4th, 2011
If you are a TV addict and you want to make sure you don't miss a minute of your favorite shows, there's always a way to sneak a TV into any room, whether you want to watch your soaps in the Kitchen or bath tub, sitcoms in the living room, or sports in your man-cave.


Browse Outdoor Products on Houzz- For Example:
Get the Latest On Hot Design Trends, Trade Secrets, DIY Tips & Design Advice

Tags: bath tub, Bathroom, Bedroom, Design Tips, Dining Room, Fireplace, Flat screen, furniture arrangement, home theater, Interior Design, Kitchen, Living Room, Lofts, man cave, modern design, Space Planning, storage, tv, tv placement
Posted in Bathroom, Bedroom, Cool Ideas, Design Tips, Dining Room, Fireplace, Home Office, Interior Design, Kitchen, Live/Work Spaces, Living Room, Lofts, Mistakes: Avoiding & Fixing, Seating, Space Planning, Storage Solutions, Uncategorized | No Comments »
Thursday, December 9th, 2010
I hope you have a sense of humor today. You'll need one for this!
Working as an interior designer has given me an opportunity to  design custom furniture for many of my clients. So with so much available on the market, why should you have a designer create custom furniture for you? My clients rarely start a project thinking specifically that they will want custom designs, but here are a few reasons that make great sense.
* Have you ever seen a chair – bed – sofa – whatever and just loved it! — except that it is too short – too tall – too brown – too whatever? Designing a custom piece can get you the exact look you want but in just the right height – color – shape – whatever. A piece of furniture that is perfect for YOU!
* Have you looked for months, trying to find a piece of furniture that performs exactly the combination of functions you want – but to no avail? Maybe you need a piece that serves as a buffet – wine storage – and display for your antique pipe collection? Or maybe you want a piece that provides storage for books, houses your media components including TV and also has a built-in ventless fireplace? Well, you could spend a year looking for those and never find exactly the right combination of functions, let alone find it all in the right style. A designer can create a piece that performs every function you want it to, precisely fits the space it is supposed to go in and works with your decor.
So, if you are having trouble finding just the right piece of furniture, we should talk.
Now, here is where you need the sense of humor. I'm all for innovation in design and creating custom furniture pieces that perform the functions that you need — but a WALKING table? I just have to ask myself WHY?? Click on the picture below to see the video. Seriously? Does anybody need to push a table around this much? Have they never heard of casters? I swear, my custom designs will be more useful to you than this!
Oh well … hope you get a laugh!
Tags: bed, bespoke design, buffet, chair, custom furniture, Fireplace, functional design, furniture pieces, innovation, Interior Design, interior designer, media components, piece of furniture, sofa, storage, Storage Solutions, table, wine storage
Posted in Cool Ideas, Furniture, Interior Design, Storage Solutions, Uncategorized | No Comments »
Friday, June 25th, 2010
If you read Part 1 on Ambient Lighting and Part 2 on Task Lighting you may be thinking that once your kitchen is nice and bright and you can see what you're doing, why would you need any other lights? But your kitchen can be taken to a level of beauty you hadn't realized possible when adding accent lighting. These are lights which highlight features or also lights which may simply be beautiful in their own right. Sometimes people separate those into two categories of decorative and accent lighting – but I think of them in the same group. Their job is to add or highlight beauty. Chandeliers and pendant lights fall into this category doing double duty – adding beauty while also providing ambient or task lighting. But there are a couple others that shouldn't be overlooked.
In the kitchen below, contemporary pendant lights are nice accents above the island, providing task light also. Spot lights above the fireplace wall highlight the unique texture, adding interest to the room.
source
Cabinet top lights - If you have cabinets that have space between the top of the cabinet and the ceiling, putting some light up here can give a beautiful glow that makes the ceiling feel higher. And if you also have room up there for some nice sized accessories, lighting them will add to the effect. The very same lights used as under cabinet lights will work here. You can also use rope lights if all you need is a soft glow. There are rarely electrical outlets up above the cabinets, so this improvement generally calls for an electrician to be involved. But it's really worth it. It is also possible to add lights below your base cabinets to illuminate softly around the toe-kick area. I confess that to me, this feels like overkill and a great way to remind me how long it's been since I swept. But if you get up for a lot of late night snacks & don't want to turn on the overhead lights – perhaps this type of lighting could keep you from stubbing a toe.
Wall Sconces – Since wall sconces are generally mounted about 5 to 6 feet from the floor, they are very visible and can be a nice decorative touch. Not only can they be beautiful themselves, but they can wash light over a wall highlighting an interesting texture such as stone tile. You can also highlight art with a wall mounted spot light above the piece.
Candle Light - Don't forget that candles can add a warm glow to your kitchen. Sometimes, when I'm in the mood, I light a  candle and pour myself a glass of wine to have while I'm cooking. Makes it more fun! This is an especially attractive type of light to include when entertaining as guests tend to gravitate to the kitchen. Just like all other accessories, choose candle holders that are sized in an appropriate scale for their place and in a style to complement the room.
The kitchen below has cabinet top lights to illuminate the high ceiling area and also lights in glass front cabinets.
source
Display Lighting - If you have open display shelves in the kitchen or glass front cabinets, it may be appropriate to add lighting here. Small hidden spot lights are generally called for in these types of places and hiding the electrical wires is essential so they don't distract from the items being displayed.
Dimmer Switches – Whatever you do, don't forget the dimmer switches! It's great to have the lights on full blast when you are in full work mode. But if you are just relaxing with a cup of coffee it might be nicer to have softer light. And think about when you get up in the night for a drink or snack. Nicer to have soft lights then instead of being jarred awake with the full available wattage. Under cabinet lights take on the role of accent lighting when dimmed.
Read Part 1 On Ambient Lighting For Your Kitchen
Read Part 2 On Task Lighting For Your Kitchen
You May Also Like:
Modern & Minimal Kitchen Design
Soaring Ceilings and What To Do With Them

Tags: accent lighting, Ambient lighting, cabinet top lights, candle light, dimmer switch, display cabinet, Fireplace, Interior Design, Kitchen, kitchen island, Lighting, rope lights, spot light, task lighting, wall sconce
Posted in Interior Design, Kitchen, Lighting, Uncategorized | 1 Comment »
Monday, October 26th, 2009
As the rain has started to come down in sheets and the nights have turned COLD, my fireplace has been put into use in a big way. Many years ago, urban living in lofts, condos and apartments meant living without a fireplace. But technology has changed all of that. One potential client who recently contacted me said his one concession in buying a condo in the John Ross Condomiums in the South Waterfront district was to forego a fireplace — but we have a solution for him. Another client in The Wyatt high rise apartments in the Pearl District had a fireplace listed as one of her first items to add to her decor. I was also in the 937 Condominiums in the Pearl District last week and felt sad that for almost half a million dollars, you end up with no fireplace! So, this post is for you! Whether you have a condo in the Pearl or South Waterfront, or a house where there is no built-in fireplace, with today's technology, there is now a fireplace for everyone, every room, and just about every budget!
*
Pangaea's Picks: Top Ten Fireplaces:
1.  Harry Leenders – Hands down, my fave for a suspended, rotating fireplace. Love the sleek lines.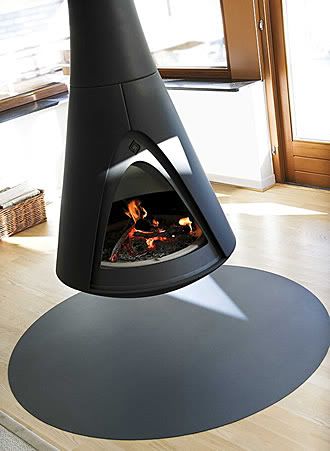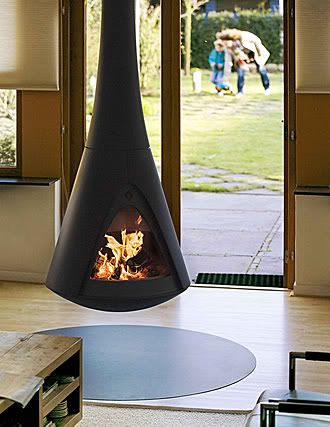 *
2.  EcoSmart's Denatured Ethanol burning fireplaces can be set into a built in display or they have many free-standing styles. Environmentally friendly and renewable fuel is a plus.
*


*
3. This Eurofocus has nice clean lines and is angled to look great in a corner.
*

*
4. Rais is just simple and lovely.
*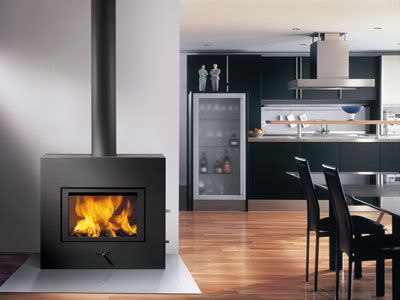 *

5. What top ten list would be complete without the modern classic Fireorb?
*

*
6. Schulte Design has inset this little beauty into a modern coffee table. Open to use the fire and push the two sides together to conceal it and just use the coffee table. Brilliant!
*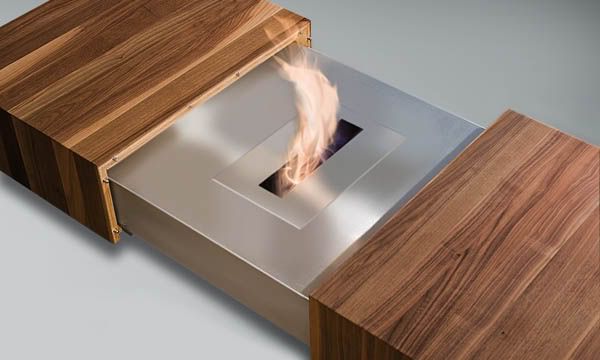 *
7. Sparkfires has this wonderful 6 foot long Ribbon Fire. It really makes a great statement in a big room.
*


*
8. Of all the wall hung, ventless, flueless fireplaces, I love this one by Superior Fires called Scandium.
*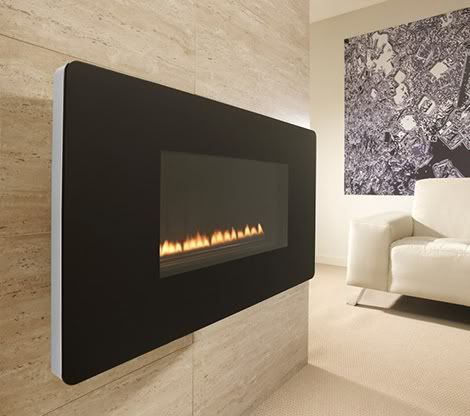 *
9. This is probably the most unique style I've seen for free standing ventless, flueless fireplaces. It's minimal and beautiful. Wonder if I can just roll it along with me wherever I go?
*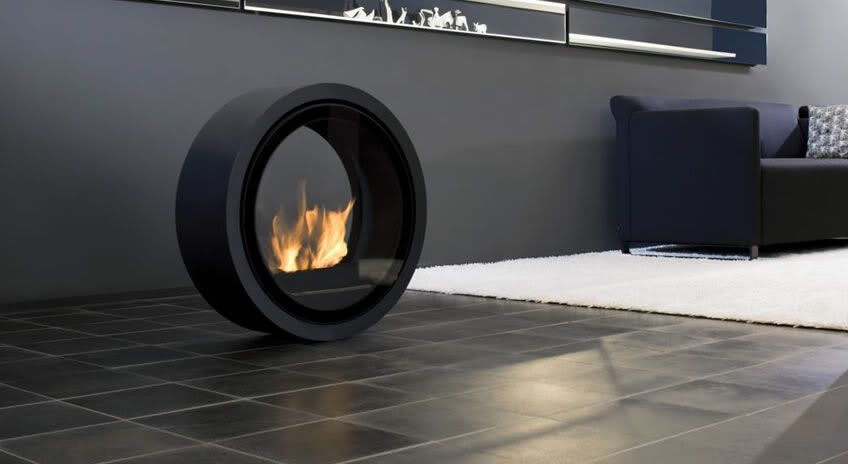 *
10. I love fireplaces that incorporate a place to store the firewood. What a great idea! This Wittus Cubic wood burning stove stores plenty of wood and is large enough to feel like a built-in architectural feature.
*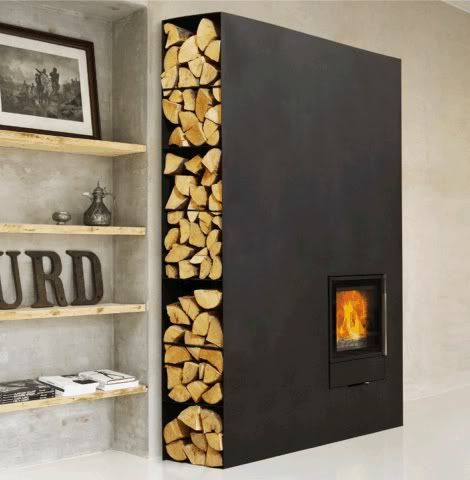 *
1   Harry Leenders Suspended, Rotating Fireplace
2   EcoSmart Denatured Ethanol Burning Fireplace
3   Eurofocus Angled Corner Fireplace
4   Rais
5   Fireorb
6   Schulte Design Fire Furniture
7   Sparkfires Fire Ribbon
8   Superior Fires Scandium Wall Hung Fireplace
9   Conmoto Roll Fire
10  Wittus Cubic Fireplace
Related Posts:
The Warmth of Cool: Adding Visual Warmth With Accessories

Tags: 937 Condominiums, denatured ethanol, environmentally friendly, Fireplace, flueless fireplace, John Ross Condominiums, Pearl District, penthouse, South Waterfront District, sustainable style, The Wyatt, Top Ten, ventless fireplace, wood burning stove
Posted in Cool Stuff, Design Tips, Fireplace, Interior Design, Pearl District, South Waterfront, Sustainable style, Top Ten, Uncategorized | No Comments »
Saturday, October 10th, 2009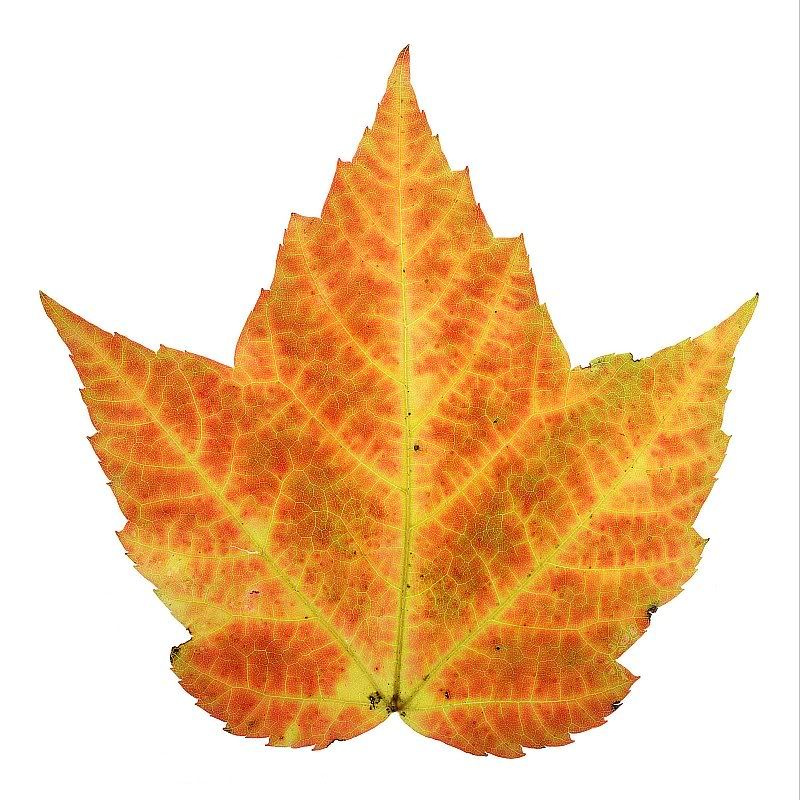 Although I am looking at a bright blue, sunny sky as I write this … I am eyeing the rapidly rising pile of leaves on my deck that tell me gray skies and cooler weather are coming up fast. Brrrrrr! Soon we will be looking for ways to be warmer. Lighting the fireplace is the first thing that pops into my mind, and I suppose I could rake those leaves to warm myself up. But there are plenty of easy ways to turn up the heat without ….. well ……… actually turning up the heat! Adding elements to your home that provide "visual warmth" can make you feel warmer  without ever striking a match.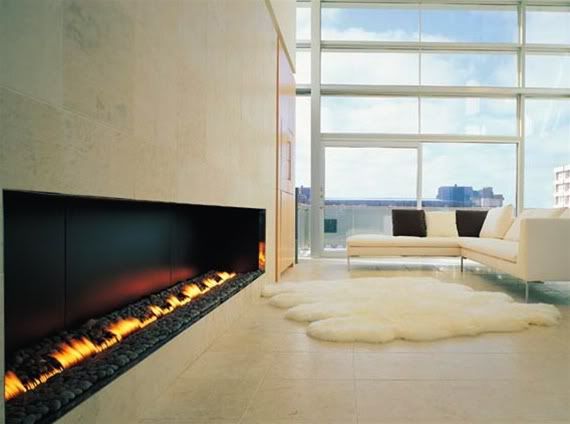 photo courtesy of Burke Decor
Here are Portland Interior Designer, Pangaea's tips for some very cool ways to add warmth to any space without touching your thermostat:
Colors are referred to as "cool" or "warm" for a reason. All white rooms, or rooms that are decorated in cool colors like pale blues & greens, literally feel warmer when colors like red, golden yellow, brick, rust, burgundy & plum are added.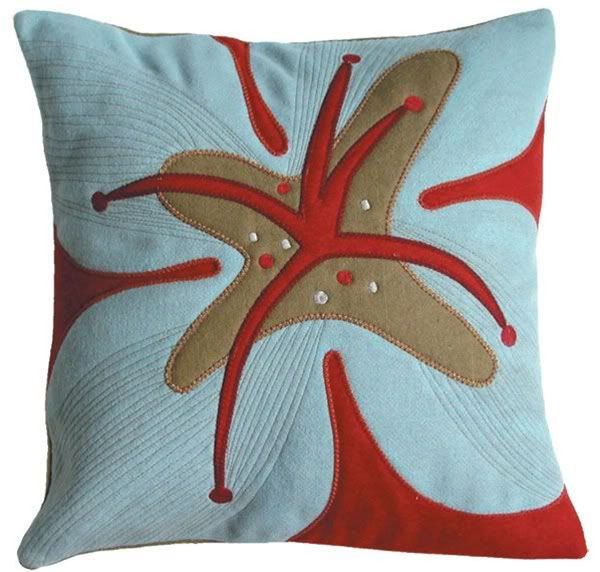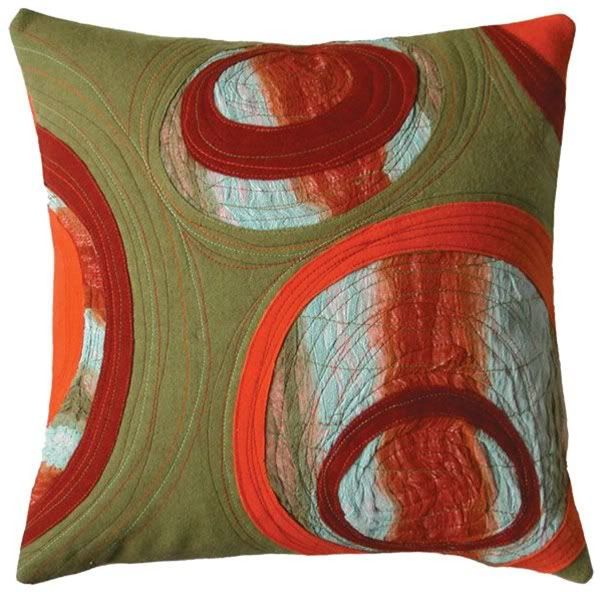 These throw pillows by Koko are a great mix of cool & warm colors. The wool felt fabric is warm to the touch and they are like little works of art to boot!
When I feel goosebumps coming on I reach for a luxurious faux fur throw. This one by PreFurs in Lynx is absolutely amazing! The look of fur is warm and inviting, and on the practical side, it keeps you toasty on the coldest of evenings.
The addition of an area rug in a super deep tufted wool or sheepskin is a great way to add warm texture in a large way and feels great on bare feet. I love this giant multiple sheepskin rug in the top photo from Burke Decor.
No fireplace to light up? No problem. Candles are an easy way to add the primal comfort of fire. Instead of slim tapers, use the larger pillars in pale colors so the fire glows through the wax giving a larger visual impact. If you position your candles near mirrors you'll get reflected light as well, doubling the effect.
If you really want the look of a larger fire though, these new flueless fireplaces by EcoSmart can be used even in condos and apartments. With styles that are free standing or that can be mounted  on a wall, there is a style suitable for any home and you can have one in any room. They burn denatured alcohol, a renewable resource, so they are environmentally friendly.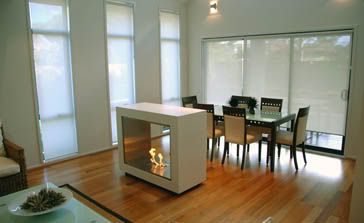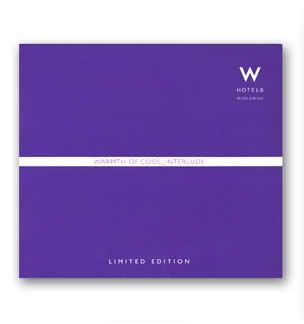 Finally, just for fun, this is my favorite CD to listen to when I'm snuggled up in my faux fur throw with my candles lit drinking a cup of hot mulled cider. And, it just happens to be the inspiration for the title of this article. It's a compilation CD called "Warmth of Cool: Interlude". You can click on the album image to find out where to buy it. Enjoy!
Related Posts:
Perk Up Your Place: The Power of Throw Pillows
Baby It's Cold Outside! Pangaea's Picks: Top Ten Fireplaces
Tags: area rug, Autumn, color, EcoSmart, environmentally friendly, Fireplace, flueless fireplace, interior design portland, Koko, portland interior design, PreFurs, sustainable style, visual warmth
Posted in Cool Stuff, Design Tips, Interior Design, Sustainable style, Uncategorized | 2 Comments »
Wednesday, September 9th, 2009
Interior Design in Portland pretty much always involves making the most of available light and incorporates an appreciation of the beauty of the outdoors. Since sunny days are at a premium, making the most of them by creating an outdoor room will expand your living space and dramatically increase your enjoyment of yard, patio, deck or balcony
Here are my Top 10 Tips for creating the Perfect Outdoor Room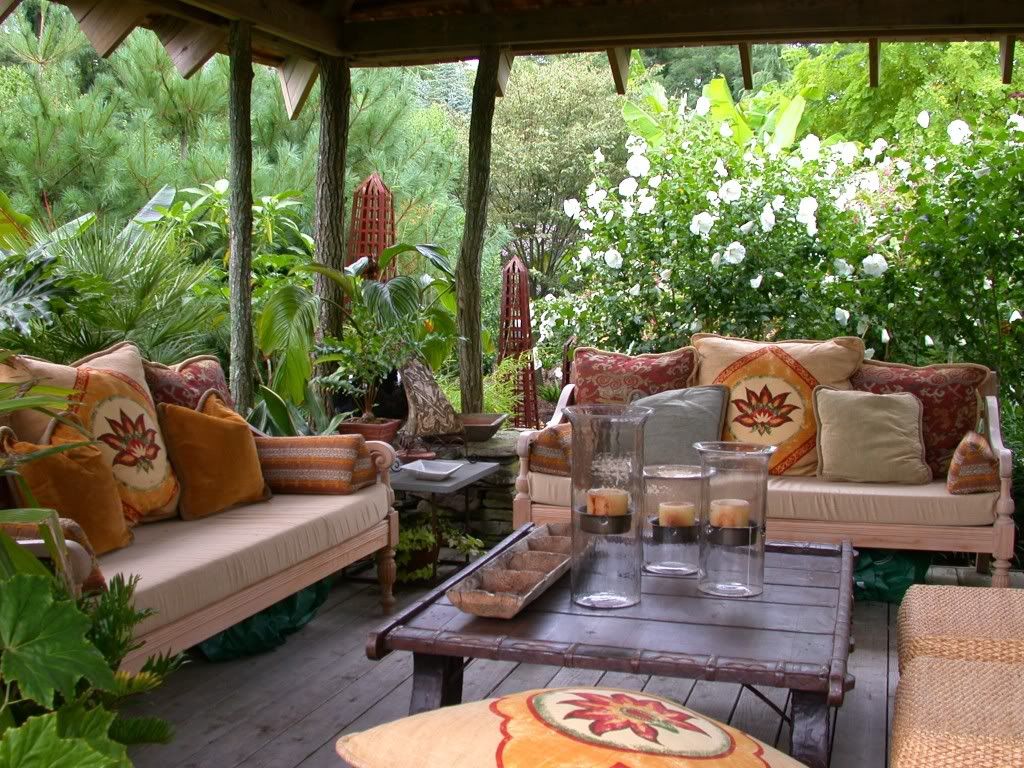 1. Create a furniture grouping for conversation. Just as you do in your living room, put some comfortable seating in an intimate arrangement so friends can sit close and hear each other easily. Provide side tables, a dining table or coffee table to hold drinks & snacks.
2. An outdoor area rug will give the furniture grouping a cozy look and feel nice under bare feet too.
3. If evenings are cool, one of the best additions to your grouping will be a place to have a fire. There is something very primal and comforting about sitting around a fire. You could build in a fireplace, or use a portable fire pit made of steel or copper. There are also beautiful, contemporary propane burning "fire features" that are safe to use on condominium patios, and eliminate the need to have stacks of firewood. If your space is a small condominium balcony with just enough room for a bistro set, consider using either free standing or table models of oil burning lamps to give you a flame that provides more light than candles and won't blow out at the smallest breeze.
4.     Lighting is just as important as it is indoors. If you have a covered space, consider hanging a chandelier.Manufacturers are now making table lamps and floor lamps that are specially made to use outdoors. The soft light of a lamp is much more pleasant than an outdoor flood light! Accent lighting shining on your landscaping will allow you to enjoy the scenery at night too. Don't forget oil lamps and candles for ambience.
5.     Art elevates the look of any space and this is true in your outdoor rooms also. Select pieces that can handle the elements if your space is not completely protected from rain. You can find artwork such as metal wall sculptures or paintings on metal that can be outside. A muralist can even paint directly on an outside wall for your space.
6.     Water features add a lovely visual and relaxing sound. There's a water feature in the right size for you … large or small free-standing fountains, wall hung fountains, and table top models.
7.     Remember to accessorize, just like you would indoors. Candles, and colorfully glazed ceramic pieces add color and interest to the setting.
8.     Defining your room and providing privacy can be very important, especially if your room is visible to neighbors. You can use outdoor fabric drapery panels that can be pulled closed to give privacy. In their open position, they provide color and texture. Free-standing, folding room dividers can be placed wherever you need them and put aside when not in use. Consider creating a wall of wood shutters that can be opened to let breezes through or closed to protect privacy.
9.     Protection from sun and rain makes your room usable in less than perfect weather. Umbrellas, awnings, and gazebos are all common ways to provide shade or shelter from rain. Solar shades can be hung from your shade structure's ceiling and lowered to protect from late afternoon sun. "Shade sails" are those large canvases suspended in the air, stretched on cables attached on at least 3 points. They are a dramatic and sculptural way to shade and define your room. If the right fabric is selected they can protect from rain too!
10. The most important element of an outdoor room? Friends of course! Once you set up your room, invite some friends over, mix up Mojitos or your favorite iced tea and enjoy the last weeks of summer! Use serving trays or a rolling serving cart to make it easy to bring refreshments outdoors.
You may also like:
Serving Up Style: Sustainably Made Serving Trays
Two Cool Ways to Go Green: Sustainable Options for Outdoor Furniture
Tags: Art, awning, Fireplace, fountains, gazebo, Interior Design, Lighting, Outdoor Furniture, portland interior design, rug, shade sail, umbrella, water features
Posted in Art, Design Tips, Fireplace, Interior Design, Lighting, Outdoor Furniture, Seating, Space Planning, Top Ten, Uncategorized | 1 Comment »