Posts Tagged 'environmentally friendly'
Wednesday, August 15th, 2012
Wanting to try something new?  Wood countertops just may be the right thing for you.  Wood can add an immense amount of visual warmth to your home.  And with the right kind of sealer, type of wood, and quality of construction used you can enjoy beautiful wood countertops in your kitchen or bathroom.
Browse Kids Products on Houzz- For Example:
Tags: Bathroom, butcher block, countertops, Design Tips, design trends, environmentally friendly, Interior Design, Kitchen, sealer, wood construction, wood countertops
Posted in Bathroom, Cool Ideas, Cool Stuff, DIY, Design Tips, Interior Design, Kitchen, Mistakes: Avoiding & Fixing, Trends | No Comments »
Thursday, December 3rd, 2009
During the holidays, if you are the type who loves to entertain, serve up your refreshments on sustainable and stylish serving trays. Whether you use serving trays to place on an ottoman in your living room in lieu of a coffee table, or you want a convenient way to get your hors d'oeuvres (yes, I had to look up the spelling) from the kitchen to your dining table or buffet, these trays will make a design statement while being kind to the environment. I hope you see one that will work with your decor. I'm a fanatic about detail and color coordination, so I have different trays to complement my color palette and design style for the living room, family room, dining room and my bedroom. One of my personal indulgences is to have coffee in bed every morning. It's enticing to have a beautifully set tray and an inexpensive way to add a little elegance and style to your entertaining.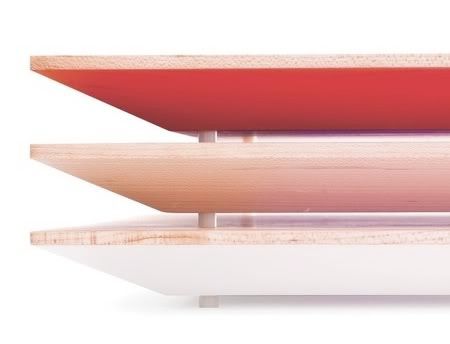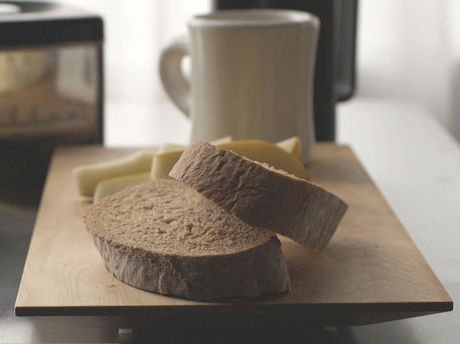 This first tray will complement even the most minimal modern decor. The Enos serving tray produced by Staach is hand made in the USA out of solid maple from domestic wood from certified sources . The bottom is lacquered in clear, white or red and the top is finished with food safe mineral oil. I think it is destined to be a classic design icon. Found at 2modern.com.
The Ibride Tray is made from reclaimed wood and totally rocks in an eclectic decor. Hang this up on your wall as art in between use. Found at Clio-Home.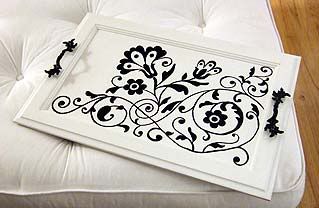 And for you DIY types, here's a fun project. Find an old cupboard door and use paint, handles and a little creativity to make your own serving tray in any color or style you like. This one is from Craftynest.  It would be very fun to do a collage on one of these if you don't have painting skills. A great way to recycle and re-purpose. Remember to use zero VOC paints, adhesives and finishes.

Tags: 2modern, Art, color, Dining Room, DIY, do it yourself, entertaining, environmentally friendly, green design, modern design, portland interior design, serving tray, sustainable, sustainable materials, sustainable style
Posted in Art, Bedroom, Cool Ideas, Cool Stuff, DIY, Dining Room, Kitchen, Living Room, Sustainable style, Uncategorized | No Comments »
Monday, October 26th, 2009
As the rain has started to come down in sheets and the nights have turned COLD, my fireplace has been put into use in a big way. Many years ago, urban living in lofts, condos and apartments meant living without a fireplace. But technology has changed all of that. One potential client who recently contacted me said his one concession in buying a condo in the John Ross Condomiums in the South Waterfront district was to forego a fireplace — but we have a solution for him. Another client in The Wyatt high rise apartments in the Pearl District had a fireplace listed as one of her first items to add to her decor. I was also in the 937 Condominiums in the Pearl District last week and felt sad that for almost half a million dollars, you end up with no fireplace! So, this post is for you! Whether you have a condo in the Pearl or South Waterfront, or a house where there is no built-in fireplace, with today's technology, there is now a fireplace for everyone, every room, and just about every budget!
*
Pangaea's Picks: Top Ten Fireplaces:
1.  Harry Leenders – Hands down, my fave for a suspended, rotating fireplace. Love the sleek lines.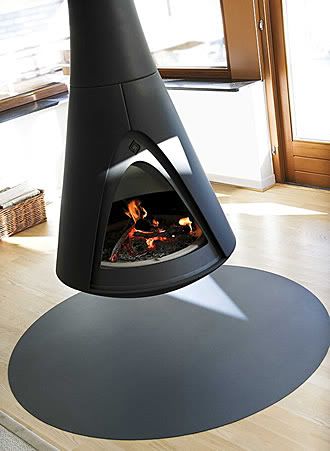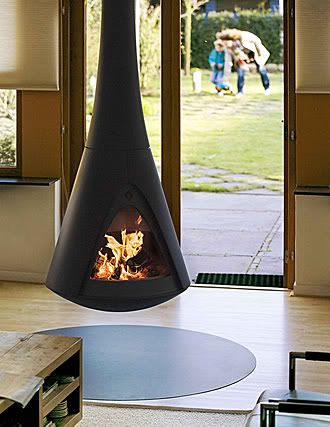 *
2.  EcoSmart's Denatured Ethanol burning fireplaces can be set into a built in display or they have many free-standing styles. Environmentally friendly and renewable fuel is a plus.
*


*
3. This Eurofocus has nice clean lines and is angled to look great in a corner.
*

*
4. Rais is just simple and lovely.
*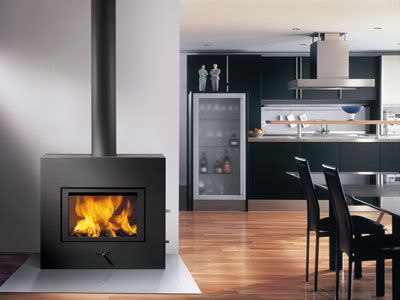 *

5. What top ten list would be complete without the modern classic Fireorb?
*

*
6. Schulte Design has inset this little beauty into a modern coffee table. Open to use the fire and push the two sides together to conceal it and just use the coffee table. Brilliant!
*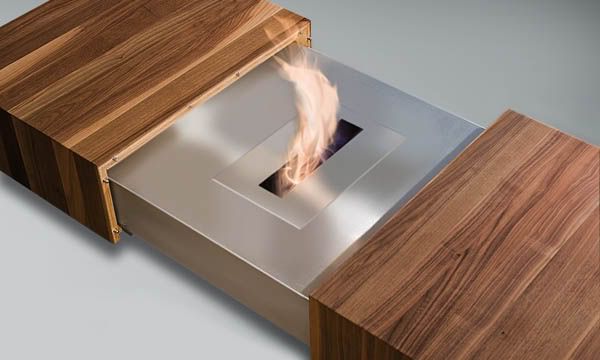 *
7. Sparkfires has this wonderful 6 foot long Ribbon Fire. It really makes a great statement in a big room.
*


*
8. Of all the wall hung, ventless, flueless fireplaces, I love this one by Superior Fires called Scandium.
*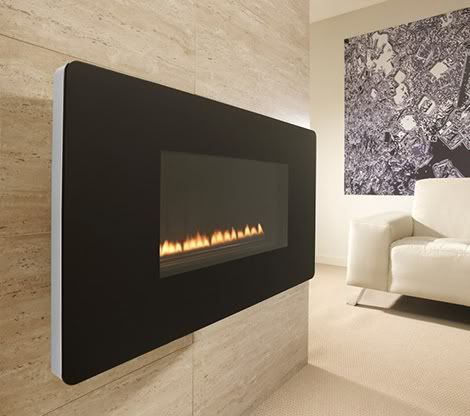 *
9. This is probably the most unique style I've seen for free standing ventless, flueless fireplaces. It's minimal and beautiful. Wonder if I can just roll it along with me wherever I go?
*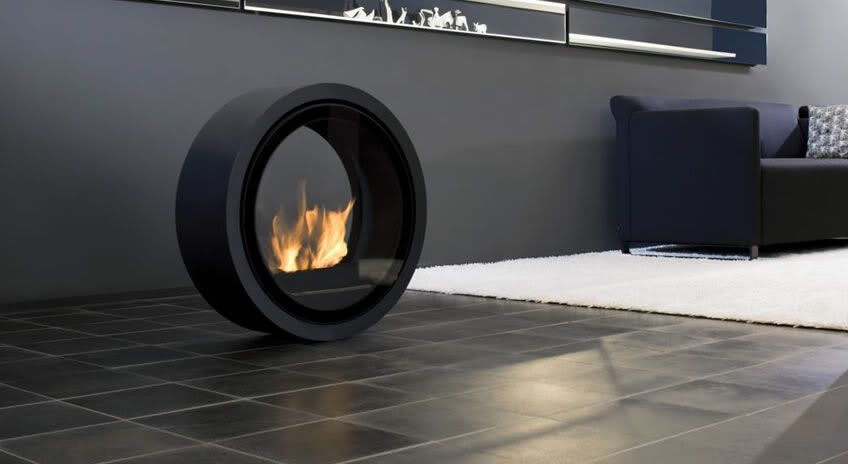 *
10. I love fireplaces that incorporate a place to store the firewood. What a great idea! This Wittus Cubic wood burning stove stores plenty of wood and is large enough to feel like a built-in architectural feature.
*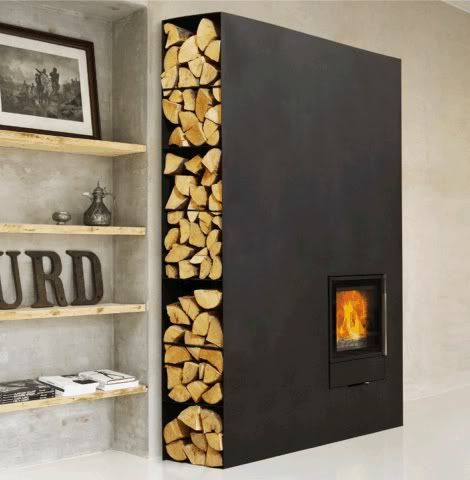 *
1   Harry Leenders Suspended, Rotating Fireplace
2   EcoSmart Denatured Ethanol Burning Fireplace
3   Eurofocus Angled Corner Fireplace
4   Rais
5   Fireorb
6   Schulte Design Fire Furniture
7   Sparkfires Fire Ribbon
8   Superior Fires Scandium Wall Hung Fireplace
9   Conmoto Roll Fire
10  Wittus Cubic Fireplace
Related Posts:
The Warmth of Cool: Adding Visual Warmth With Accessories

Tags: 937 Condominiums, denatured ethanol, environmentally friendly, Fireplace, flueless fireplace, John Ross Condominiums, Pearl District, penthouse, South Waterfront District, sustainable style, The Wyatt, Top Ten, ventless fireplace, wood burning stove
Posted in Cool Stuff, Design Tips, Fireplace, Interior Design, Pearl District, South Waterfront, Sustainable style, Top Ten, Uncategorized | No Comments »
Saturday, October 10th, 2009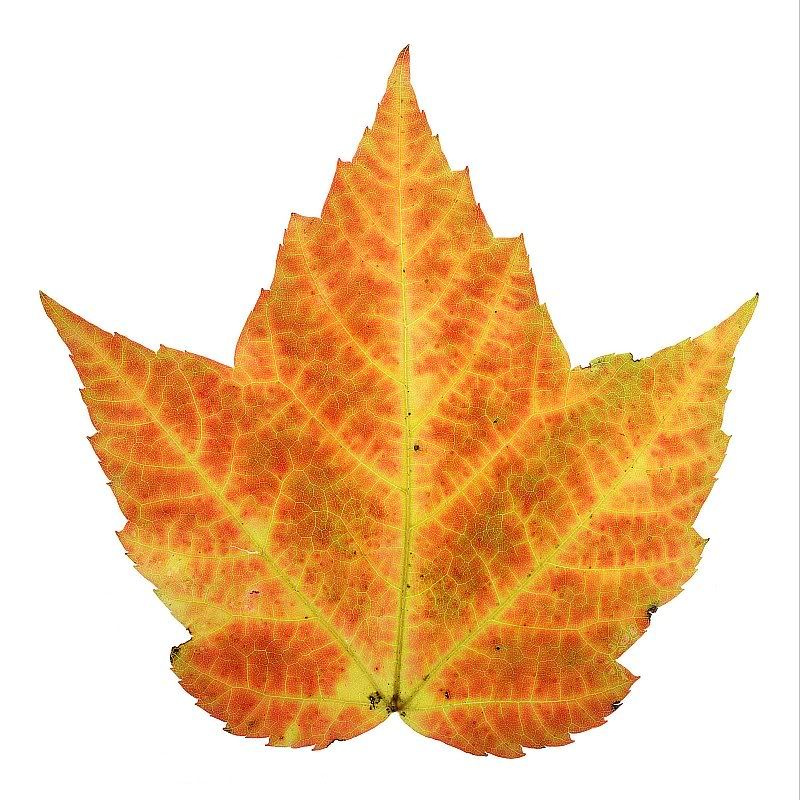 Although I am looking at a bright blue, sunny sky as I write this … I am eyeing the rapidly rising pile of leaves on my deck that tell me gray skies and cooler weather are coming up fast. Brrrrrr! Soon we will be looking for ways to be warmer. Lighting the fireplace is the first thing that pops into my mind, and I suppose I could rake those leaves to warm myself up. But there are plenty of easy ways to turn up the heat without ….. well ……… actually turning up the heat! Adding elements to your home that provide "visual warmth" can make you feel warmer  without ever striking a match.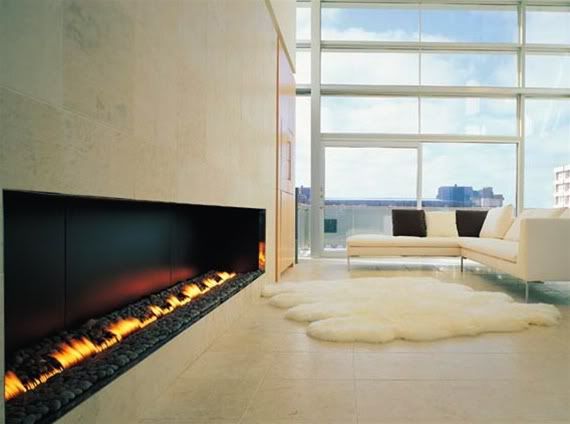 photo courtesy of Burke Decor
Here are Portland Interior Designer, Pangaea's tips for some very cool ways to add warmth to any space without touching your thermostat:
Colors are referred to as "cool" or "warm" for a reason. All white rooms, or rooms that are decorated in cool colors like pale blues & greens, literally feel warmer when colors like red, golden yellow, brick, rust, burgundy & plum are added.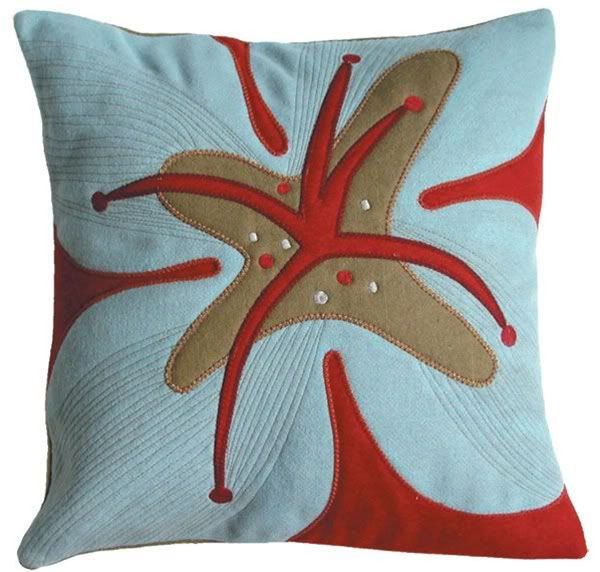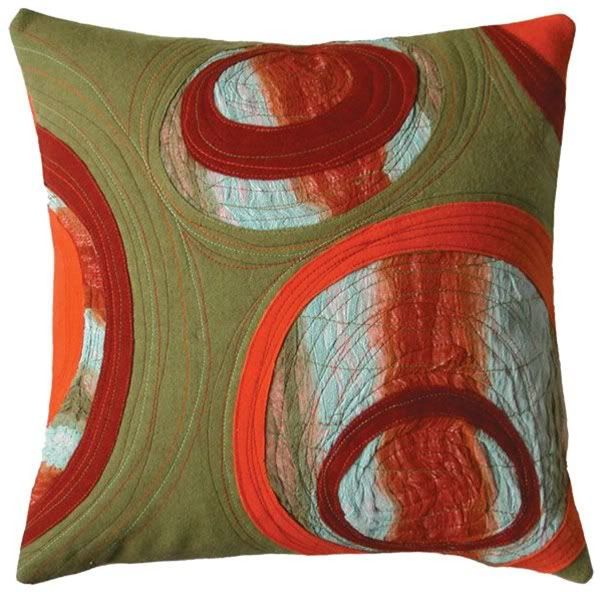 These throw pillows by Koko are a great mix of cool & warm colors. The wool felt fabric is warm to the touch and they are like little works of art to boot!
When I feel goosebumps coming on I reach for a luxurious faux fur throw. This one by PreFurs in Lynx is absolutely amazing! The look of fur is warm and inviting, and on the practical side, it keeps you toasty on the coldest of evenings.
The addition of an area rug in a super deep tufted wool or sheepskin is a great way to add warm texture in a large way and feels great on bare feet. I love this giant multiple sheepskin rug in the top photo from Burke Decor.
No fireplace to light up? No problem. Candles are an easy way to add the primal comfort of fire. Instead of slim tapers, use the larger pillars in pale colors so the fire glows through the wax giving a larger visual impact. If you position your candles near mirrors you'll get reflected light as well, doubling the effect.
If you really want the look of a larger fire though, these new flueless fireplaces by EcoSmart can be used even in condos and apartments. With styles that are free standing or that can be mounted  on a wall, there is a style suitable for any home and you can have one in any room. They burn denatured alcohol, a renewable resource, so they are environmentally friendly.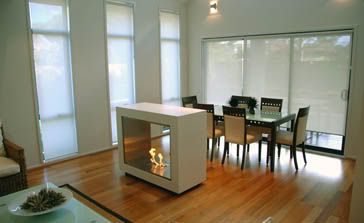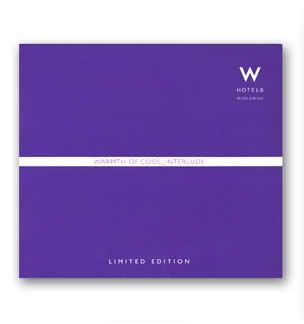 Finally, just for fun, this is my favorite CD to listen to when I'm snuggled up in my faux fur throw with my candles lit drinking a cup of hot mulled cider. And, it just happens to be the inspiration for the title of this article. It's a compilation CD called "Warmth of Cool: Interlude". You can click on the album image to find out where to buy it. Enjoy!
Related Posts:
Perk Up Your Place: The Power of Throw Pillows
Baby It's Cold Outside! Pangaea's Picks: Top Ten Fireplaces
Tags: area rug, Autumn, color, EcoSmart, environmentally friendly, Fireplace, flueless fireplace, interior design portland, Koko, portland interior design, PreFurs, sustainable style, visual warmth
Posted in Cool Stuff, Design Tips, Interior Design, Sustainable style, Uncategorized | 2 Comments »