Posts Tagged 'DIY'
Friday, March 26th, 2010
Portland Interior Designer Shares: Where to Shop In The Pearl District – PH Reed
(Photo of Dellarobbia Grant Seating Group, via PH Reed Furniture Store in Portland Pearl District)

In my work as a Portland Interior Designer, shopping in the Pearl District is one of my favorite job duties. I specialize in modern interior design emphasizing warmth, comfort, and sustainable options in home decor. Portland's Pearl District is home to some great furniture and accessory stores and also wonderful art galleries showcasing both local and national artists.
Some of my clients choose to work with an interior designer so that they can gain the access I have to shopping at "To The Trade Only" stores. But I also have many clients who are trying to keep costs down by hiring me to help them develop a decorating plan and then doing the shopping themselves. Then they bring me back again to help them decide on the best pieces once they've seen what options are out there. So, I thought I would help you along by sharing my very favorite retail furniture, accessory and lighting stores in Portland's Pearl District.
When I first came to Portland, Oregon over 4 years ago to see if I would like to live here, I spent some time checking out the Pearl District Furniture Stores to see what was available. I immediately fell in love with PH Reed on the corner of NW 11th & Glisan. I was blown away by the great selection of contemporary furnishings, accessories and lighting. When I finally moved into Portland, I purchased my platform bed, dresser and nightstands here. To this day, it is still one of my favorite sources for interior design inspiration in the Pearl District. The store is laid out in room vignettes that are packed with great modern decorating ideas. One thing that I think is cool – but you would never know just by looking at the showroom – is that the store is divided into one half with more affordable brands and the other half with higher end brands like Dellarobbia. Since they have carefully curated their collection of beautifully designed furniture lines, you would think it was all high-end. But don't let the high class look keep you standing on the sidewalk. Go on in. You'll find great design to be more affordable than you might have expected.
If you are looking for sustainably made furniture in the Pearl District, be sure to look at PH Reed's Creative Elegance Furniture – a member of the Sustainable Furniture Council. The environmentally friendly manufacturing processes and fresh, contemporary designs are a winning combination.
I help busy professionals create comfortable and contemporary spaces so they can relax and enjoy their homes. If you would like help coming up with a decorating plan and help in making your selections so that the end result is a space that looks fabulous, call me today to schedule a consultation! 503.816.4394
Get the Latest On Hot Design Trends, Trade Secrets, DIY Tips & Design Advice
Click Here To Receive Your Free Ezine!!
Tags: accessories, contemporary furniture, Creative Elegance, decorating, Dellarobbia, design advice, design trends, DIY, Furniture, Interior Design, Lighting, modern furniture, Pearl District, PH Reed, retail furniture, Shopping, sustainable design
Posted in DIY, Design Dollars, Design Tips, Furniture, Interior Design, Pearl District, Shopping, Sustainable style, Uncategorized | No Comments »
Thursday, December 3rd, 2009
During the holidays, if you are the type who loves to entertain, serve up your refreshments on sustainable and stylish serving trays. Whether you use serving trays to place on an ottoman in your living room in lieu of a coffee table, or you want a convenient way to get your hors d'oeuvres (yes, I had to look up the spelling) from the kitchen to your dining table or buffet, these trays will make a design statement while being kind to the environment. I hope you see one that will work with your decor. I'm a fanatic about detail and color coordination, so I have different trays to complement my color palette and design style for the living room, family room, dining room and my bedroom. One of my personal indulgences is to have coffee in bed every morning. It's enticing to have a beautifully set tray and an inexpensive way to add a little elegance and style to your entertaining.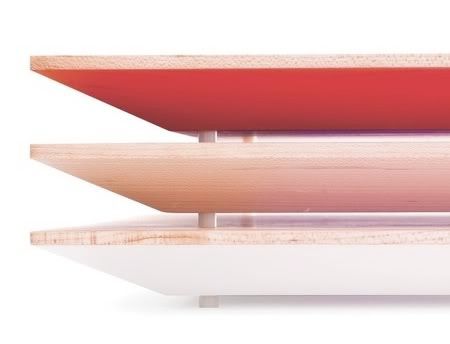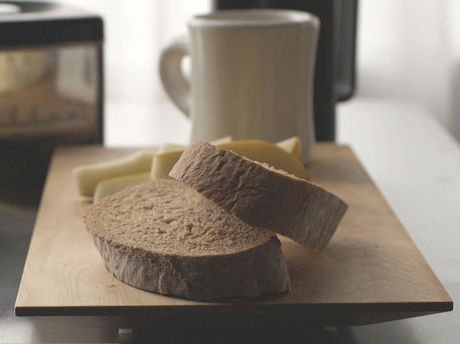 This first tray will complement even the most minimal modern decor. The Enos serving tray produced by Staach is hand made in the USA out of solid maple from domestic wood from certified sources . The bottom is lacquered in clear, white or red and the top is finished with food safe mineral oil. I think it is destined to be a classic design icon. Found at 2modern.com.
The Ibride Tray is made from reclaimed wood and totally rocks in an eclectic decor. Hang this up on your wall as art in between use. Found at Clio-Home.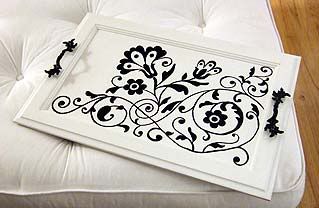 And for you DIY types, here's a fun project. Find an old cupboard door and use paint, handles and a little creativity to make your own serving tray in any color or style you like. This one is from Craftynest.  It would be very fun to do a collage on one of these if you don't have painting skills. A great way to recycle and re-purpose. Remember to use zero VOC paints, adhesives and finishes.

Tags: 2modern, Art, color, Dining Room, DIY, do it yourself, entertaining, environmentally friendly, green design, modern design, portland interior design, serving tray, sustainable, sustainable materials, sustainable style
Posted in Art, Bedroom, Cool Ideas, Cool Stuff, DIY, Dining Room, Kitchen, Living Room, Sustainable style, Uncategorized | No Comments »