Posts Tagged 'chair'
Wednesday, August 29th, 2012
If you love the feeling of being cocooned and protected all the way around, then a porter's chair might be the one for you.  This ideabook has some amazing examples of porter's chairs and great ways to incorporate them into your space.
Tags: Bedroom, chair, comfort, Design Tips, design trends, dining chair, Dining Room, furniture arrangement, Interior Design, Living Room, porter's chair, Seating
Posted in Bedroom, Cool Ideas, Cool Stuff, DIY, Design Tips, Dining Room, Furniture, Home Office, Interior Design, Living Room, Seating, Trends | No Comments »
Tuesday, December 20th, 2011
Men and women often have a difference in taste when it comes to furniture. If you are looking to add feminine style to your room, just use my "3 Cs" — curves, color and cloth — to turn up the feminine flair. Take a look at this for chairs that are all-girl!


Tags: Bedroom, chair, cloth, color, Colors, Design Tips, dining chair, Interior Design, Living Room, Lofts, portland interior design, Seating, upholstery
Posted in Bedroom, Colors, Cool Ideas, Cool Stuff, Design Tips, Dining Room, Furniture, Interior Design, Kitchen, Living Room, Lofts, Shopping, Uncategorized, Upholstery | No Comments »
Friday, November 11th, 2011
Men are starting to claim more and more territory in their homes these days, but their classic spot in the living room is their throne, or as I like to call it, their "Man Chair". Since they typically like to keep it until it is worn to the springs, here are the top nine elements that will make a new chair so appealing to the man in your life that he'll actually let you get rid of the overstuffed, raggedy monstrosity sitting in the middle of your living room — I'm talking about the chair — not the guy!


Tags: Bedroom, chair, Design Tips, furniture arrangement, Interior Design, loft, Lofts, Man Chair, modern design, Seating, Throne
Posted in Bedroom, Design Tips, Furniture, Home Office, Interior Design, Living Room, Lofts, Seating, Top Ten, Trends, Uncategorized, Upholstery | No Comments »
Wednesday, November 2nd, 2011
After shopping the 10 million-plus square feet of High Point Market last week, the soles of my tennis shoes are still smoking! I'm sharing with you my favorite chairs,  everything from updated wingbacks, to traditional dining chairs to uber contemporary swivel chairs! Check out these hot designs from Vanguard, Hickory Chair, American Leather and more!


Tags: American Leather, arm chair, Bernhard, Bolier, chair, Copeland Furniture, dining chair, Dorya, High Point Market, Interior Design, Modloft, Star International, swivel chair, Tara Shaw Maison, Taylor King, traditional chairs, traditional design, upholstery, Vanguard
Posted in Dining Room, Furniture, Interior Design, Living Room, Seating, Top Ten, Trends, Uncategorized, Upholstery | No Comments »
Wednesday, June 1st, 2011
Do you find that just about no matter where you place your sofa in your living room, it just never seems to work? With smaller homes, the living room may have doorways or windows on almost all walls making it tough to find a good direction for the sofa. Well — did you ever think that maybe you don't actually need a sofa? After all, there is no "design law" that says you must. Check out these examples of living rooms that work beautifully without a sofa in sight.
Click on the dots under the photo to navigate to other photos. Click on the text below the photo to open up the full Ideabook and also see the comments from other readers. People had definite opinions about this!


Tags: chair, chaise, couch, daybed, Design Tips, furniture arrangement, Living Room, Seating, sofa, Space Planning
Posted in Cool Ideas, Design Tips, Furniture, Interior Design, Living Room, Lofts, Seating, Space Planning, Trends, Uncategorized | No Comments »
Thursday, December 9th, 2010
I hope you have a sense of humor today. You'll need one for this!
Working as an interior designer has given me an opportunity to  design custom furniture for many of my clients. So with so much available on the market, why should you have a designer create custom furniture for you? My clients rarely start a project thinking specifically that they will want custom designs, but here are a few reasons that make great sense.
* Have you ever seen a chair – bed – sofa – whatever and just loved it! — except that it is too short – too tall – too brown – too whatever? Designing a custom piece can get you the exact look you want but in just the right height – color – shape – whatever. A piece of furniture that is perfect for YOU!
* Have you looked for months, trying to find a piece of furniture that performs exactly the combination of functions you want – but to no avail? Maybe you need a piece that serves as a buffet – wine storage – and display for your antique pipe collection? Or maybe you want a piece that provides storage for books, houses your media components including TV and also has a built-in ventless fireplace? Well, you could spend a year looking for those and never find exactly the right combination of functions, let alone find it all in the right style. A designer can create a piece that performs every function you want it to, precisely fits the space it is supposed to go in and works with your decor.
So, if you are having trouble finding just the right piece of furniture, we should talk.
Now, here is where you need the sense of humor. I'm all for innovation in design and creating custom furniture pieces that perform the functions that you need — but a WALKING table? I just have to ask myself WHY?? Click on the picture below to see the video. Seriously? Does anybody need to push a table around this much? Have they never heard of casters? I swear, my custom designs will be more useful to you than this!
Oh well … hope you get a laugh!
Tags: bed, bespoke design, buffet, chair, custom furniture, Fireplace, functional design, furniture pieces, innovation, Interior Design, interior designer, media components, piece of furniture, sofa, storage, Storage Solutions, table, wine storage
Posted in Cool Ideas, Furniture, Interior Design, Storage Solutions, Uncategorized | No Comments »
Tuesday, June 1st, 2010
Are you tired of your furniture? Is it boring?
Ho-hum?
Vanilla?
White bread?
Do you see the same styles at Costco?
When you shop for new pieces do you end up with safe, predictable and brown or beige?
Then maybe what you need are Pangaea's Picks to add some sizzle!
These chairs have as many voluptuous curves and shapely legs as a Victoria's Secret catalog. But if  lean, strong,  masculine lines are what you want, there are a couple chairs in here that would look right at home with Kellen Lutz – Calvin Klein's new male underwear model.
Here are Pangaea's Picks: Top Ten Sexy Chairs
1. Cherner Chair Barstool in Red Gum Wood

2. Maison Ventury Paris – Divine Collection Millesime 2010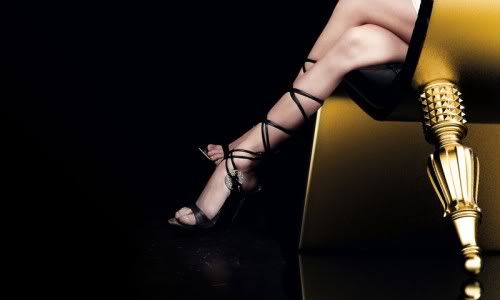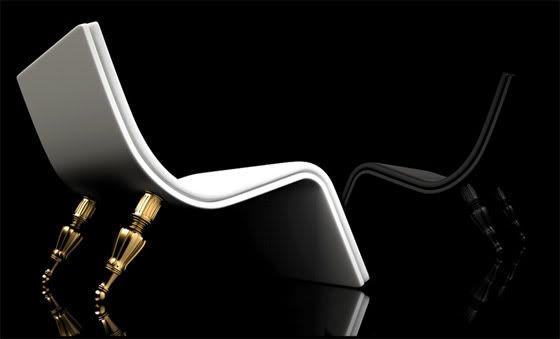 3. Perillo Lounge Chair for Zuco
5.  Ziliani Furniture Collection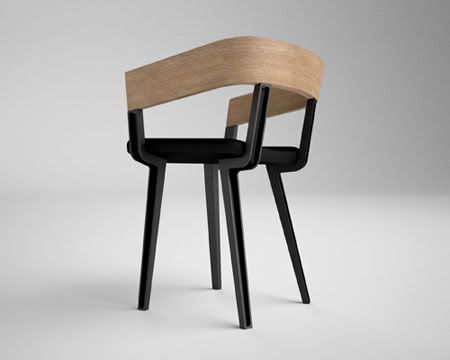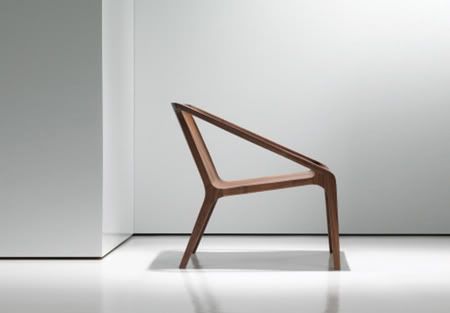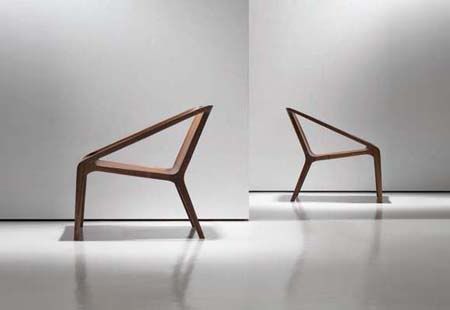 8. Christopher Guy "Chris – X" Dining Chair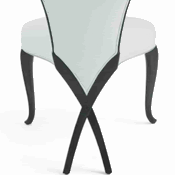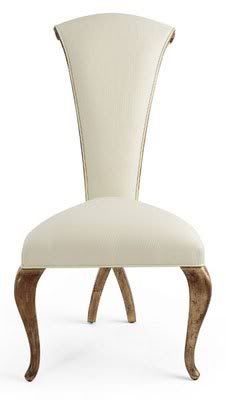 A little ho-hum in plain ivory, but it sizzles in hot pink!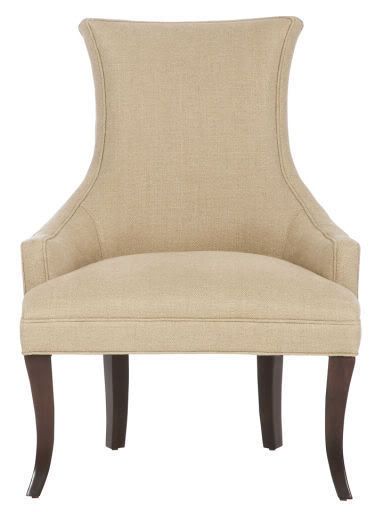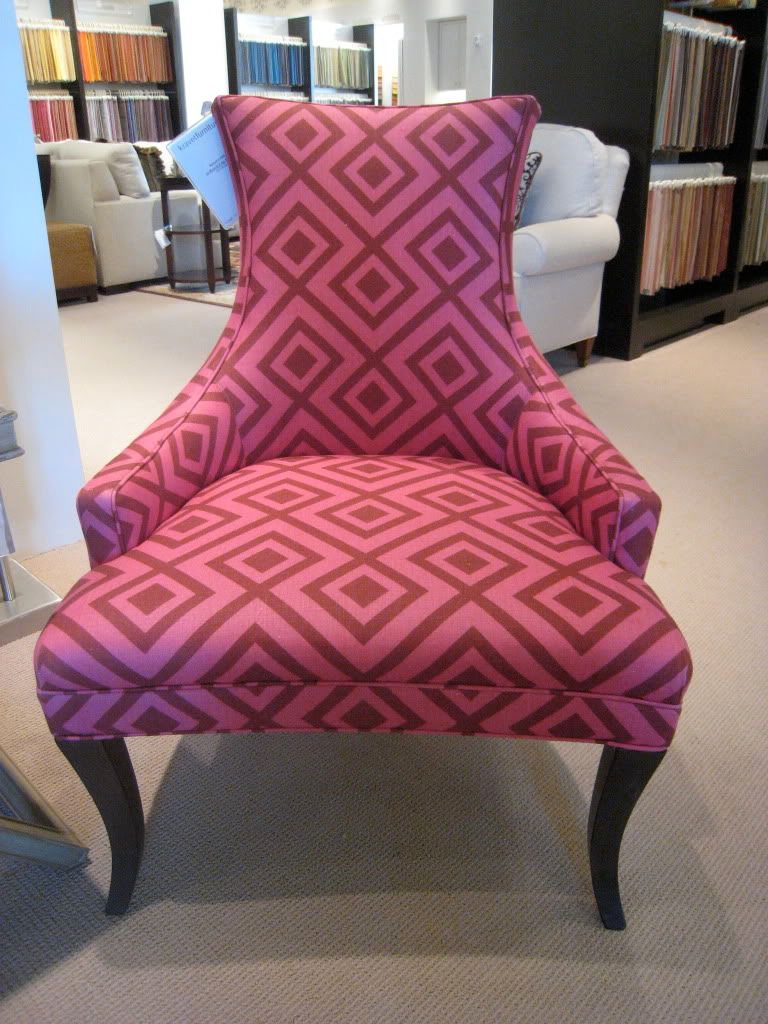 Related Posts:
A Rainbow of Cutting Edge Seating Options

Baby It's Cold Outside: Pangaea's Picks – Top Ten Fireplaces
Tags: Ad Hoc Chair, barstool, Bernhardt design, chair, Cherner, Chris X, Christopher Guy, Dania, dining chair, Divine Lounge, Jamie McClellan, Jean-Marie Massaud, Kravet, loft chair, Maison Ventury Paris, Odin chair, Perillo Lounge, pink, Seating, sexy, sleek, Turin chair, Viccarbe, Ziliani, Zuco
Posted in Cool Stuff, Dining Room, Furniture, Interior Design, Living Room, Seating, Top Ten, Uncategorized | 1 Comment »
Tuesday, April 6th, 2010
Are you selling a small home that is vacant? There is a bonus tip at the end of this article just for you!
Have you moved into a small home, either because you've downsized or it is what you felt was best for your budget? If it's feeling a little claustrophobic, it doesn't have to be that way. Click here to read Part 1:  Top Ten Tips To Make Your Small Space Look BIGGER!

6.  Paint Color Tricks of the Trade: Lighter and cool, soft colors like pale aqua, pale blue or pale green all tend to recede and help make a small room feel larger. Conversely, vibrant warm colors like red or orange, advance and feel closer to you, so opt for lighter, cooler colors. Painting adjacent rooms in the same color makes them feel visually more like they are part of the same room. This is especially effective if you have open entryways between the rooms.
7. Monochromatic Color Palette: A serene, monochromatic color palette will go a long way toward making a room feel larger. Highly contrasting color schemes and lots of pattern tend to make the room feel smaller. This doesn't mean you have to make everything beige! Not by a long shot! Look at these three rooms in shades of lavender, aqua and neutrals.
Besides a monochromatic color palette, the lavender room above also employs a see through coffee table and a minimum of furnishings. Notice there are no side tables. The floor to ceiling curtain panels make the most of the ceiling height and pull all the way back from the windows to expose the entire view.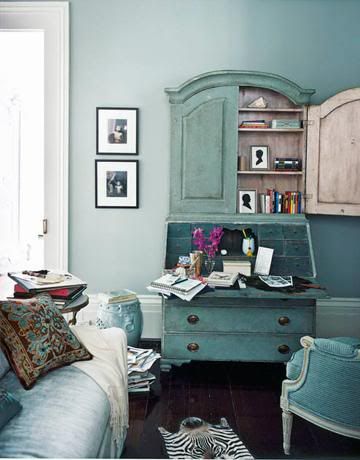 Although I would like to see all the clutter off the floor, this small room is enhanced by the shades of aqua.
Jeffrey Bilhuber
Notice that the single large painting makes the space feel big even though it just accommodates a loveseat and two smaller chairs. The side chair and coffee table are not bulky and have long legs, allowing you to see the floor. Notice also that the pattern on the rug is on the diagonal.
8. Move Away From the Wall: When furniture is all pushed back against the wall, it feels like they are lined up like prisoners in front of a firing squad. Whenever possible, create furniture groupings that are away from the walls and that leave room to walk around them. Keep natural traffic patterns clear and avoid placing the back of a sofa toward the entry. It feels like a barrier to entry and immediately psychologically shrinks the room. In super tiny rooms, you may not be able to group furniture away from the wall, but might be able to angle a loveseat in a corner. This is another great trick to making a room feel a little bigger by directing the eye along the diagonal, which is the longest line in a room.
9. Light Expands Space: A well lit room always feels bigger. Maybe it's because you can actually see the whole room! Provide lighting in all 4 corners. To preserve precious floor space, consider using track lighting, wall sconces or table lamps instead of floor lamps. Accent lamps pointing upwards and torchiere style lamps wash the ceiling with light and make the most of the volume of the room.
10. Stealthy Secret Storage: Clutter is the nemesis of a small room. But you do have "stuff" and need to keep it somewhere! Choose closed storage over open front storage to keep a room serene. A book case with doors will hide paperbacks & other less attractive belongings. Think floor to ceiling and wall to wall when building in storage units. The long lines don't break up the room and give you maximum storage space. Find secret spaces like a storage ottoman to keep extra items. Entertainment units that hide all of your dvd's, cords and audio-visual equipment are a blessing to the small room.
Bonus Tip!! Selling a Small Vacant Home: If you are selling and your property is small and presently vacant, this tip is just for you. PUT FURNITURE IN THE HOUSE!! It is absolutely true that a tiny room will look bigger when furnished than it does empty. If you are looking at the small rooms and worried that they will look crowded with furniture — potential buyers will be worrying about the same thing. A professional home stager — ME of course
— will use all of the above tips to furnish your property so buyers will see that it can look beautiful and that furniture fits with room to spare.
For more help with any of these tips for making your small space look and feel bigger, call me today to set up an in home consultation. You'll be on your way to getting the Look of Large! 503.816.4394
If you enjoyed this article and found it informative, get more like it delivered directly to you via email. Subscribe to my Free Ezine on Design. Click the box below…

Tags: aqua, Art, chair, coffee table, Decorpad, Design Tips, Flooring, Home Staging, Jeffrey Bilhuber, lavender, Lighting, monochromatic. colors, paint color, Rafael de Cardenas, small space, storage
Posted in Colors, Cool Ideas, DIY, Design Tips, Furniture, Home Staging, Interior Design, Lighting, Living Room, Space Planning, Storage Solutions, Top Ten, Uncategorized, Window Treatments | 1 Comment »
Saturday, January 16th, 2010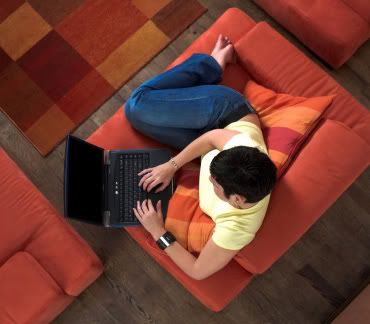 It all started last year when I finally bought a laptop computer with my Christmas money. I was so excited because I could finally do some work while I sat in the shade on our deck overlooking the river. But I still thought I would need to use my older desk top computer in my home office. Boy, was I wrong! After a whole year, I have never again sat in my office to use the desktop computer. My laptop has everything I need.
The second thing that happened — my new business coach talked to me about creating a work space that was comfortable and free of distractions. I realized my office wasn't comfortable because I hate sitting in an office style chair. I'm much more comfortable sitting in a lounge chair with my laptop — um, well — on top of my lap.
Then the third thing — one of my technologically savvy clients turned me on to various wireless technology that makes it so I no longer have to deal with a hideous mass of cords hanging under my desk.
So, I'm completely re-thinking my home office and turning it into a haven — yes, that's right, a haven — where I can retreat to focus on work. I'm re-examining everything in there to make it function just right for me. If you are ready to re-vamp your home office, or setting one up for the first time, the following questions and tips will help you create an office that works for YOU!
1.  Equipment:
Do you still use a land-line telephone? I disconnected mine when I realized that I only used my fax machine 3 times last year and I make and receive all of my calls on my cell phone. I'm saving $40 per month by getting rid of the land line. That got rid of an ugly phone and answering machine on my desk and eliminated 2 phone cords and an electrical cord – Yay!
Do you still use a desk top computer? Some people need them for the large screens. Mine was 6 years old, and my 1 year old laptop actually has 8 times as much memory capacity. So, for me, the laptop is all I need and that eliminates a whole bunch of stuff from the top of my desk.
Wireless docking stations and wireless printing: My techno-savvy client told me about these advances in modern technology. Why would an interior designer be so excited about this? Well, it means that you are no longer forced to put your desk on the wall right next to the cable or phone outlet. You don't even have to put your desk or docking station in the same room as the cable outlet! It totally eliminates so many cords hanging under your desk, so you can sit your desk in the middle of the room if you feel like it and only need to be concerned with an electrical cord or two. This is amazing design freedom!
2.  Layout:
Now that you have all this freedom to put your furniture where you want it, you can arrange things any way you like. Here are some tips on layout.
If clients come to your home office, the best impression is made by having your desk face the entrance to your office. Having your back to the door is also bad feng shui.
If you are the only one who goes into your office, then consider placing your desk to take advantage of a nice view. No view? Then treat yourself to some nice art so you have something beautiful to rest your eyes on when you're thinking.
An L-shaped desk is generally more efficient and comfortable to use (as opposed to a desk in front of you and a credenza behind you) when you have many items you need to reach for over and over. Place the things you need frequently closest to you, and the rest further away.
3.  Furnishings & Aesthetics: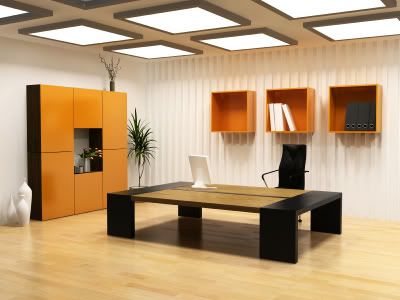 Your chair is the single most important piece of furniture in your office. If you will spend hours sitting in it, it's worth it to invest in a very comfortable one. If you sit at a desk to work, having a foot rest is great for taking stress off your lower back. I personally don't spend much time at my desk. Instead, I have a work table for when I need to do a design board. So, in my office, I brought in a deliciously comfortable lounge chair, an ottoman and a side table to hold my drink. You might like to have a sofa or loveseat if you have the space. If all your work is done via laptop — maybe you don't even need a desk!
Closed storage will hide less attractive items behind doors and keep your office feeling serene and uncluttered. Open storage is best used for items you want on display and for items you have to reach for repeatedly throughout the day. Lateral file cases are generally easier to place in a small room than traditional file drawers.
Beautiful furniture will make you feel pampered and lend an air of graciousness to your work space better than pieces that look like they belong in a commercial office.
4.  Location & Separation:
If you have a separate room for your home office, you are fortunate because you can close the door on distractions in your home and you can also close the door when you're done for the day. If you must locate your work space in the main living rooms of your home, then look for ways to give yourself some separation.
A closet turned into a workspace can be closed up when you finish work. An armoire with fold out desk can do the same thing.
Sliding doors, curtains, or free-standing screens can all be employed to provide separation as needed — either to keep distractions out or to hide the workspace when the work day is done.
This is a big subject. I haven't even addressed lighting or paint colors yet. So, keep an eye out for the e-book I'm writing on the subject. I hope to have it launched next month.
With careful thought about your personal needs, technology that gives you freedom, and the space available for your home office, you can create a place to work that will help you achieve your goals for 2010.
Tags: chair, Design Tips, desk, furniture placement, Home Office, Interior Design, layout, office, redesign, Seating, Space Planning
Posted in Cool Ideas, Design Tips, Home Office, Interior Design, Seating, Space Planning, Trends, Uncategorized | No Comments »
Monday, July 27th, 2009
Felt may be the oldest form of fabric, dating back over 5000 years, but there's nothing 'old' about Mickus Projects' futuristic take on this sustainable fabric. Their Relief Chair is made from medium density wool felt sheets adhered to each other with non-toxic, water based adhesives and sleeved over an internal steel frame. Part of their Solid/Surface/Series collection, the digitally cut, sleek contours are sculptural, while the wool felt lends tactile and visual warmth. 
The Peacock Chair by Cappellini is about as sensual as a chair can be, made from a softly ruffled single sheet of wool felt. I can imagine curling up in this beautiful soft chair. Felt is such a wonderful, tactile fabric, soft against your skin.  
And who can resist the classic style of the Bertoia Bird Lounge chair? It is available in Knoll Wool Felt. All KnollStudio seating is  GREENGUARD Indoor Air Quality Certified®  for low emitting products.
So, there you have three wonderful, eco-friendly options for modern design choices with incomparable style!
Tags: cappellini, chair, felt, Greenguard, Interior Design, knoll, Knoll Felt, knollstudio, mickus projects, modern design, Pangaea, peacock chair, relief chair, Seating, sustainable materials, sustainable style, upholstery, wool felt
Posted in Cool Stuff, Interior Design, Seating, Sustainable style, Uncategorized | No Comments »