Posts Tagged 'cabinet knobs'
Wednesday, June 30th, 2010
Are you living with a kitchen that has seen better days? I certainly am! My house – purchased almost 5 years ago – was built in the 70′s and the kitchen had not had updates of any kind. Eventually I will remodel. But when I do, it will be the kind of remodel that includes knocking down walls, moving windows, adding an exterior door and will cost tens of thousands. Business is getting better all the time, so hopefully the day is not far off when I can have the sleek and modern kitchen of my dreams like this beauty by Bulthaup.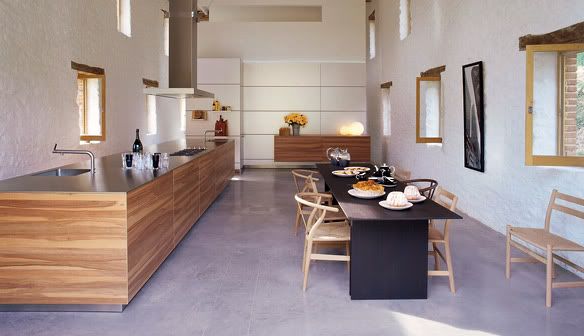 Maybe you are living with a kitchen that is outdated, or even a new construction home with a kitchen that is bland and boring. If you aren't ready for a full blown remodel, it doesn't mean you can't inject a fresh feel into your kitchen and do it affordably. In the meantime, why not make some quick and relatively inexpensive improvements that will make your kitchen more enjoyable and livable for now?
Today I'm sharing 5 ways to freshen up your kitchen without a remodel. These quick and lower cost improvements are also great for people who want to make their home look it's best before putting it on the market.
1. Lighting: Just a few improvements in your kitchen's lighting can make a dramatic impact in how warm and beautiful it looks and make your kitchen more functional. Under-cabinet lights are available in both plug-in models you can install yourself or hard-wired versions that will require an electrician. Getting ones that have a low and high setting means you can set them to bright so you can see to cook, and then turn them down to a soft glow for ambience when you are entertaining. This is especially nice in open plan homes because it makes great accent lighting. Placing them toward the front of the cabinets gives the best light over your work area. In the kitchen below, the under-cabinet lights cast a beautiful glow on the tile backsplash and light the countertop beautifully making it easy to see what you're doing.
via Gardenweb
Updating ceiling light fixtures is another quick way to improve lighting. Removing an old dropped-ceiling fluorescent fixture and replacing it with track or spot lights gives a more contemporary look and better light. If you have higher ceilings in the kitchen, consider a chandelier to replace a nondescript ceiling light or ceiling pendants above a breakfast bar or kitchen island.
2. Backsplash: Changing your backsplash is a quick way to add interest or color without all the work and expense of changing out your countertops. In the kitchen below, the single row of 6″ x 6″ glass tiles adds shine and complements the color of the painted cabinets. Although glass tile is not cheap, you don't need much to do a simple backsplash like this.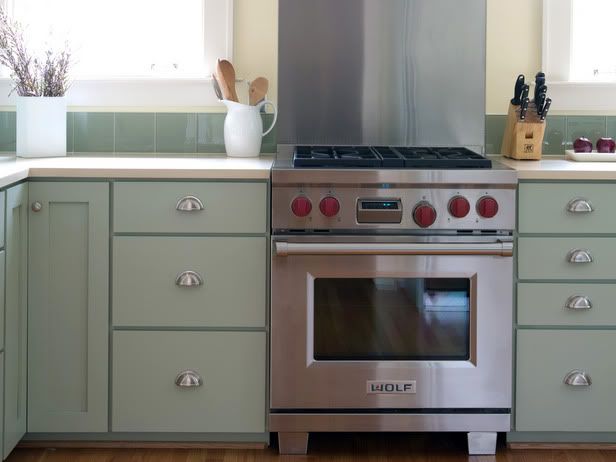 via HGTV, designed by Beth Haley
This beautiful stainless steel backsplash below is done in peel & stick tiles that require no grouting. They are carried at Lowe's and are manufactured from 60% recycled material. When adding a new backsplash, take care to choose a material that relates to something else in the kitchen. The glass tiles above relate in color to the cabinets. The steel tiles below relate in finish to the cabinet and appliance hardware.
via Lowe's
3. Paint and Paintings: Giving the walls a fresh coat of paint in a new color will give you an instant transformation. But an even easier way to add color and interest to a kitchen is to add art. Just as in other rooms, be sure to use art that is large enough for the wall to really make an impact. In the 50′s kitchen below, the bright orange countertop didn't go well with the gold linoleum. This home was going up for sale and the client didn't have the budget to change flooring or countertop. So the large colorful art with oranges, golds, reds and greens pulls together the disparate colors in the room.
You can incorporate art even when there isn't much wall space. Inexpensive printed giclee canvases are easy to wipe clean, so they can be placed anywhere. Here I used art above the backsplash and below the wall cabinets to add a bit of color to this bland kitchen. Colorful accessories continue the color scheme.
4. Flooring: Kitchen flooring takes quite a beating. If your kitchen flooring is looking shabby, and it is different from the rest of the flooring in your house as is often the case – then changing it can be a relatively inexpensive project with big results. If you have old wood floors that are beyond refinishing, consider painting them. Painted checker board patterns are popular, but the kitchen below is very contemporary. I know this is unusual, but the dramatic black floor and charcoal wall work well against the white cabinetry and yellow tile behind the stove with a bright yellow chair as accent. Light colors like soft aqua or muted yellow-green work well in a kitchen too. Again, just be sure to relate the color to other finishes in your kitchen.
via apartmenttherapy.com
Other great flooring options are cork, or Marmoleum. Cork and Marmoleum both come in tiles and can be handled by an experienced do-it-yourselfer. Linoleum comes in a great range of patterns including ones that look like stone. Installation of the large sheet material is better left to a pro.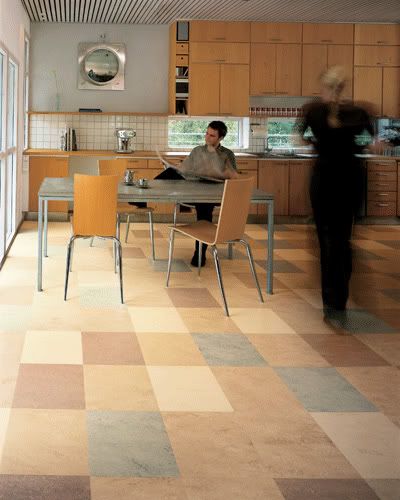 via apartmenttherapy.com
5. Hardware: If you have that shiny brass hardware from the 80′s – RUN – DON'T WALK, to your nearest hardware store! Your cabinet drawer pulls and handles and kitchen plumbing fixtures are like jewelry for your kitchen. Updating them is like getting a new tie to wear with your favorite suit, or a new necklace to wear with that classic dress you love. And just like a new tie or a new necklace, new hardware will change the look of your kitchen equally as effectively. But before you are tempted to pick the cheapest ones you can find — let me say this: hardware is something that you touch everyday. It should feel good in your hand and be of a good quality.
Choose a style and finish that works with the rest of your home. With thousands of styles available, you can create any look you want — from simple traditional or contemporary styles — to highly decorative statements. Although it is possible to successfully mix metals in your kitchen, the finish should relate to other things in your home such as your light fixtures or other metals found in adjacent and visible rooms. In the first two photos below, these simple hardware styles complement the style of the cabinetry. The turquoise glass knob echos the color of the aqua glass inserts in the  cabinets, while the ornate tree shaped pulls work well with the elaborate leaf design carved into the wood.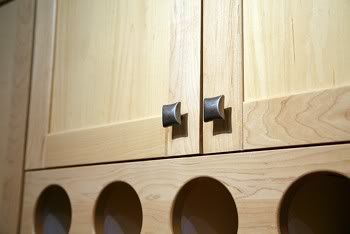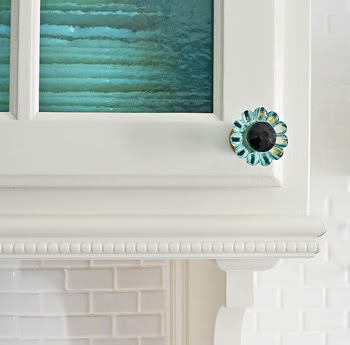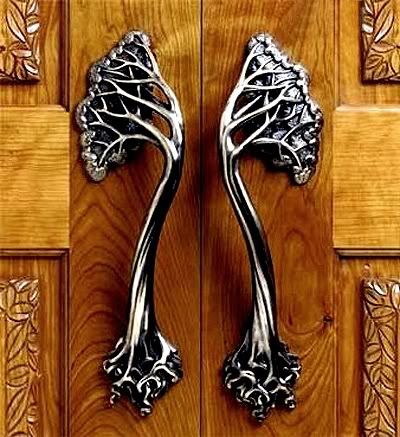 With so many choices available, it can be overwhelming. But just choose one of the above five steps to get started. For most people, the kitchen is the heart of the home, so making it more appealing will give you a big payoff in enjoyment for yourself — or in speed of sale if your house is going on the market.
If you still aren't sure which changes would be the best for your kitchen, I can help you decide your first step. Give me a call or email me today to set up an in-home visit or online consultation.
You may also like:
Painting Kitchen Cabinets: Which Color Would You Choose?
Home Staging Success: Portland Home Sold In One Day … See How
Get the Latest On Hot Design Trends, Trade Secrets, DIY Tips & Design Advice

Tags: Art, backsplash, cabinet hardware, cabinet knobs, cabinet pulls, faucet, Flooring, Kitchen, kitchen cabinets, kitchen remodel, Lighting, paint, plumbing fixtures, stainless steel
Posted in Art, Colors, Cool Ideas, DIY, Design Dollars, Design Tips, Flooring, Home Staging, Interior Design, Kitchen, Lighting, Uncategorized | No Comments »