Posts Tagged 'Art'
Wednesday, August 8th, 2012
Are you as fascinated with mosaic tile as I am?  This ideabook is full of luxurious ceramic tiles and amazing mosaics that will have you mesmerized.
Browse Kitchen Products on Houzz- For Example:
Tags: Art, Bathroom, Ceramics, Design Tips, design trends, Flooring, Interior Design, mosaic tiles, mosaics, tile, tile application, wall application
Posted in Art, Bathroom, Bedroom, Cool Ideas, Cool Stuff, DIY, Design Tips, Flooring, Interior Design, Wall Treatments | No Comments »
Friday, November 18th, 2011
What do a pack of dogs, a swimmer and shirts with too much starch have in common? Somehow all of these became unique, artistic and decorative elements in people's homes. Check out how the unexpected can add fun and show stopping excitement to your home décor.


Browse Kitchen Products on Houzz- For Example:
Get the Latest On Hot Design Trends, Trade Secrets, DIY Tips & Design Advice

Tags: Art, artistic and decorative elements, Bathroom, Bedroom, Design Tips, design trends, Dining Room, home decor, Interior Design, Kitchen, Living Room, loft, Lofts, modern design, wall decor
Posted in Art, Bathroom, Bedroom, Colors, Cool Ideas, Cool Stuff, Design Dollars, Design Tips, Dining Room, Fireplace, Home Office, Interior Design, Kitchen, Lighting, Living Room, Lofts, Sculpture, Top Ten, Trends, Uncategorized, Wall Treatments | No Comments »
Tuesday, November 15th, 2011
So you're telling me that you can't spend half a year's salary on original art work for the hallway? That's okay. There are many alternatives for great wall decor without breaking the bank. Get creative with fabrics, found objects, natural elements, texture and even fish — oh yes, I did say fish! — to add your own personality and charm and fill your home with your unique style.


Browse Home Office Products on Houzz- For Example:
Get the Latest On Hot Design Trends, Trade Secrets, DIY Tips & Design Advice

Tags: Art, Bathroom, Bedroom, color, Design Tips, design trends, Dining Room, fabrics, Fireplace, found objects, hallway, Interior Design, Kitchen, Living Room, loft, Lofts, modern design, natural elements, texture, wall decor
Posted in Achievements, Art, Bathroom, Bedroom, Cool Ideas, Cool Stuff, DIY, Design Tips, Dining Room, Fireplace, Home Office, Interior Design, Kitchen, Lofts, Mistakes: Avoiding & Fixing, Pearl District, Shopping, Space Planning, Storage Solutions, Top Ten, Uncategorized, Upholstery, Wall Treatments | No Comments »
Thursday, June 9th, 2011
If you are an art lover, you know that buying and living with art is so rewarding! But did you know that what you do with your interior decor can actually boost the impact of your art?
Browse Kids Products on Houzz- For Example:
Tags: Art, color, color palette, Design Tips, furniture arrangement, Interior Design, interior design portland
Posted in Art, Colors, Design Tips, Furniture, Interior Design, Lighting, Sculpture, Uncategorized | No Comments »
Wednesday, June 30th, 2010
Are you living with a kitchen that has seen better days? I certainly am! My house – purchased almost 5 years ago – was built in the 70′s and the kitchen had not had updates of any kind. Eventually I will remodel. But when I do, it will be the kind of remodel that includes knocking down walls, moving windows, adding an exterior door and will cost tens of thousands. Business is getting better all the time, so hopefully the day is not far off when I can have the sleek and modern kitchen of my dreams like this beauty by Bulthaup.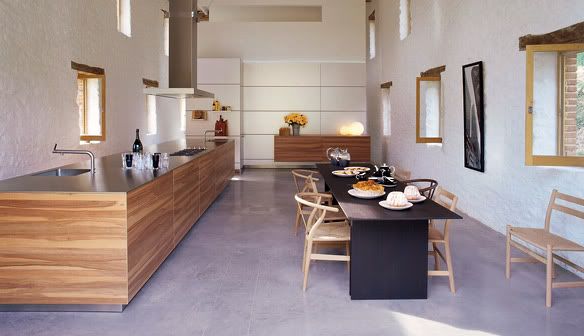 Maybe you are living with a kitchen that is outdated, or even a new construction home with a kitchen that is bland and boring. If you aren't ready for a full blown remodel, it doesn't mean you can't inject a fresh feel into your kitchen and do it affordably. In the meantime, why not make some quick and relatively inexpensive improvements that will make your kitchen more enjoyable and livable for now?
Today I'm sharing 5 ways to freshen up your kitchen without a remodel. These quick and lower cost improvements are also great for people who want to make their home look it's best before putting it on the market.
1. Lighting: Just a few improvements in your kitchen's lighting can make a dramatic impact in how warm and beautiful it looks and make your kitchen more functional. Under-cabinet lights are available in both plug-in models you can install yourself or hard-wired versions that will require an electrician. Getting ones that have a low and high setting means you can set them to bright so you can see to cook, and then turn them down to a soft glow for ambience when you are entertaining. This is especially nice in open plan homes because it makes great accent lighting. Placing them toward the front of the cabinets gives the best light over your work area. In the kitchen below, the under-cabinet lights cast a beautiful glow on the tile backsplash and light the countertop beautifully making it easy to see what you're doing.
via Gardenweb
Updating ceiling light fixtures is another quick way to improve lighting. Removing an old dropped-ceiling fluorescent fixture and replacing it with track or spot lights gives a more contemporary look and better light. If you have higher ceilings in the kitchen, consider a chandelier to replace a nondescript ceiling light or ceiling pendants above a breakfast bar or kitchen island.
2. Backsplash: Changing your backsplash is a quick way to add interest or color without all the work and expense of changing out your countertops. In the kitchen below, the single row of 6″ x 6″ glass tiles adds shine and complements the color of the painted cabinets. Although glass tile is not cheap, you don't need much to do a simple backsplash like this.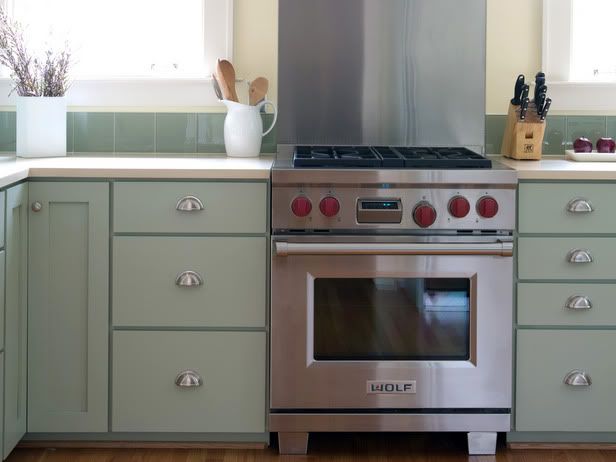 via HGTV, designed by Beth Haley
This beautiful stainless steel backsplash below is done in peel & stick tiles that require no grouting. They are carried at Lowe's and are manufactured from 60% recycled material. When adding a new backsplash, take care to choose a material that relates to something else in the kitchen. The glass tiles above relate in color to the cabinets. The steel tiles below relate in finish to the cabinet and appliance hardware.
via Lowe's
3. Paint and Paintings: Giving the walls a fresh coat of paint in a new color will give you an instant transformation. But an even easier way to add color and interest to a kitchen is to add art. Just as in other rooms, be sure to use art that is large enough for the wall to really make an impact. In the 50′s kitchen below, the bright orange countertop didn't go well with the gold linoleum. This home was going up for sale and the client didn't have the budget to change flooring or countertop. So the large colorful art with oranges, golds, reds and greens pulls together the disparate colors in the room.
You can incorporate art even when there isn't much wall space. Inexpensive printed giclee canvases are easy to wipe clean, so they can be placed anywhere. Here I used art above the backsplash and below the wall cabinets to add a bit of color to this bland kitchen. Colorful accessories continue the color scheme.
4. Flooring: Kitchen flooring takes quite a beating. If your kitchen flooring is looking shabby, and it is different from the rest of the flooring in your house as is often the case – then changing it can be a relatively inexpensive project with big results. If you have old wood floors that are beyond refinishing, consider painting them. Painted checker board patterns are popular, but the kitchen below is very contemporary. I know this is unusual, but the dramatic black floor and charcoal wall work well against the white cabinetry and yellow tile behind the stove with a bright yellow chair as accent. Light colors like soft aqua or muted yellow-green work well in a kitchen too. Again, just be sure to relate the color to other finishes in your kitchen.
via apartmenttherapy.com
Other great flooring options are cork, or Marmoleum. Cork and Marmoleum both come in tiles and can be handled by an experienced do-it-yourselfer. Linoleum comes in a great range of patterns including ones that look like stone. Installation of the large sheet material is better left to a pro.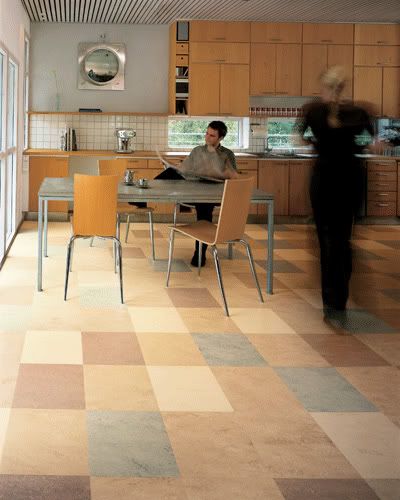 via apartmenttherapy.com
5. Hardware: If you have that shiny brass hardware from the 80′s – RUN – DON'T WALK, to your nearest hardware store! Your cabinet drawer pulls and handles and kitchen plumbing fixtures are like jewelry for your kitchen. Updating them is like getting a new tie to wear with your favorite suit, or a new necklace to wear with that classic dress you love. And just like a new tie or a new necklace, new hardware will change the look of your kitchen equally as effectively. But before you are tempted to pick the cheapest ones you can find — let me say this: hardware is something that you touch everyday. It should feel good in your hand and be of a good quality.
Choose a style and finish that works with the rest of your home. With thousands of styles available, you can create any look you want — from simple traditional or contemporary styles — to highly decorative statements. Although it is possible to successfully mix metals in your kitchen, the finish should relate to other things in your home such as your light fixtures or other metals found in adjacent and visible rooms. In the first two photos below, these simple hardware styles complement the style of the cabinetry. The turquoise glass knob echos the color of the aqua glass inserts in the  cabinets, while the ornate tree shaped pulls work well with the elaborate leaf design carved into the wood.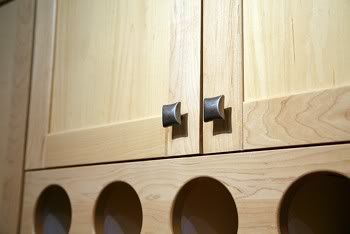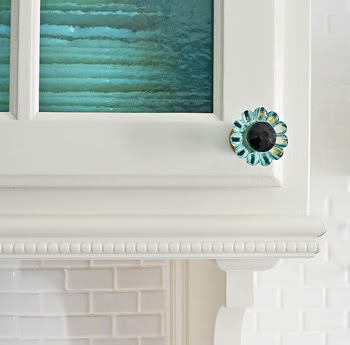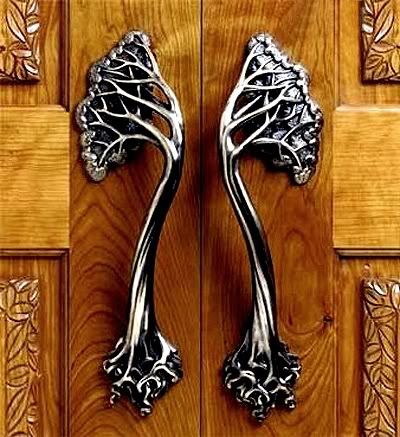 With so many choices available, it can be overwhelming. But just choose one of the above five steps to get started. For most people, the kitchen is the heart of the home, so making it more appealing will give you a big payoff in enjoyment for yourself — or in speed of sale if your house is going on the market.
If you still aren't sure which changes would be the best for your kitchen, I can help you decide your first step. Give me a call or email me today to set up an in-home visit or online consultation.
You may also like:
Painting Kitchen Cabinets: Which Color Would You Choose?
Home Staging Success: Portland Home Sold In One Day … See How
Get the Latest On Hot Design Trends, Trade Secrets, DIY Tips & Design Advice

Tags: Art, backsplash, cabinet hardware, cabinet knobs, cabinet pulls, faucet, Flooring, Kitchen, kitchen cabinets, kitchen remodel, Lighting, paint, plumbing fixtures, stainless steel
Posted in Art, Colors, Cool Ideas, DIY, Design Dollars, Design Tips, Flooring, Home Staging, Interior Design, Kitchen, Lighting, Uncategorized | No Comments »
Tuesday, April 6th, 2010
Are you selling a small home that is vacant? There is a bonus tip at the end of this article just for you!
Have you moved into a small home, either because you've downsized or it is what you felt was best for your budget? If it's feeling a little claustrophobic, it doesn't have to be that way. Click here to read Part 1:  Top Ten Tips To Make Your Small Space Look BIGGER!

6.  Paint Color Tricks of the Trade: Lighter and cool, soft colors like pale aqua, pale blue or pale green all tend to recede and help make a small room feel larger. Conversely, vibrant warm colors like red or orange, advance and feel closer to you, so opt for lighter, cooler colors. Painting adjacent rooms in the same color makes them feel visually more like they are part of the same room. This is especially effective if you have open entryways between the rooms.
7. Monochromatic Color Palette: A serene, monochromatic color palette will go a long way toward making a room feel larger. Highly contrasting color schemes and lots of pattern tend to make the room feel smaller. This doesn't mean you have to make everything beige! Not by a long shot! Look at these three rooms in shades of lavender, aqua and neutrals.
Besides a monochromatic color palette, the lavender room above also employs a see through coffee table and a minimum of furnishings. Notice there are no side tables. The floor to ceiling curtain panels make the most of the ceiling height and pull all the way back from the windows to expose the entire view.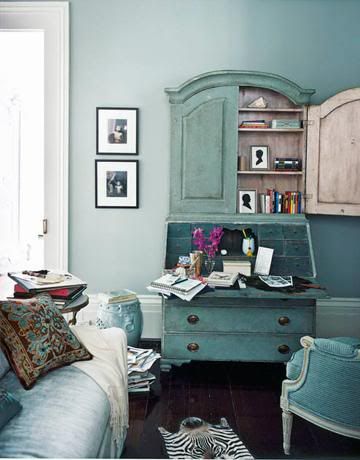 Although I would like to see all the clutter off the floor, this small room is enhanced by the shades of aqua.
Jeffrey Bilhuber
Notice that the single large painting makes the space feel big even though it just accommodates a loveseat and two smaller chairs. The side chair and coffee table are not bulky and have long legs, allowing you to see the floor. Notice also that the pattern on the rug is on the diagonal.
8. Move Away From the Wall: When furniture is all pushed back against the wall, it feels like they are lined up like prisoners in front of a firing squad. Whenever possible, create furniture groupings that are away from the walls and that leave room to walk around them. Keep natural traffic patterns clear and avoid placing the back of a sofa toward the entry. It feels like a barrier to entry and immediately psychologically shrinks the room. In super tiny rooms, you may not be able to group furniture away from the wall, but might be able to angle a loveseat in a corner. This is another great trick to making a room feel a little bigger by directing the eye along the diagonal, which is the longest line in a room.
9. Light Expands Space: A well lit room always feels bigger. Maybe it's because you can actually see the whole room! Provide lighting in all 4 corners. To preserve precious floor space, consider using track lighting, wall sconces or table lamps instead of floor lamps. Accent lamps pointing upwards and torchiere style lamps wash the ceiling with light and make the most of the volume of the room.
10. Stealthy Secret Storage: Clutter is the nemesis of a small room. But you do have "stuff" and need to keep it somewhere! Choose closed storage over open front storage to keep a room serene. A book case with doors will hide paperbacks & other less attractive belongings. Think floor to ceiling and wall to wall when building in storage units. The long lines don't break up the room and give you maximum storage space. Find secret spaces like a storage ottoman to keep extra items. Entertainment units that hide all of your dvd's, cords and audio-visual equipment are a blessing to the small room.
Bonus Tip!! Selling a Small Vacant Home: If you are selling and your property is small and presently vacant, this tip is just for you. PUT FURNITURE IN THE HOUSE!! It is absolutely true that a tiny room will look bigger when furnished than it does empty. If you are looking at the small rooms and worried that they will look crowded with furniture — potential buyers will be worrying about the same thing. A professional home stager — ME of course
— will use all of the above tips to furnish your property so buyers will see that it can look beautiful and that furniture fits with room to spare.
For more help with any of these tips for making your small space look and feel bigger, call me today to set up an in home consultation. You'll be on your way to getting the Look of Large! 503.816.4394
If you enjoyed this article and found it informative, get more like it delivered directly to you via email. Subscribe to my Free Ezine on Design. Click the box below…

Get the Latest On Hot Design Trends, Trade Secrets, DIY Tips & Design Advice

Tags: aqua, Art, chair, coffee table, Decorpad, Design Tips, Flooring, Home Staging, Jeffrey Bilhuber, lavender, Lighting, monochromatic. colors, paint color, Rafael de Cardenas, small space, storage
Posted in Colors, Cool Ideas, DIY, Design Tips, Furniture, Home Staging, Interior Design, Lighting, Living Room, Space Planning, Storage Solutions, Top Ten, Uncategorized, Window Treatments | 1 Comment »
Thursday, December 3rd, 2009
During the holidays, if you are the type who loves to entertain, serve up your refreshments on sustainable and stylish serving trays. Whether you use serving trays to place on an ottoman in your living room in lieu of a coffee table, or you want a convenient way to get your hors d'oeuvres (yes, I had to look up the spelling) from the kitchen to your dining table or buffet, these trays will make a design statement while being kind to the environment. I hope you see one that will work with your decor. I'm a fanatic about detail and color coordination, so I have different trays to complement my color palette and design style for the living room, family room, dining room and my bedroom. One of my personal indulgences is to have coffee in bed every morning. It's enticing to have a beautifully set tray and an inexpensive way to add a little elegance and style to your entertaining.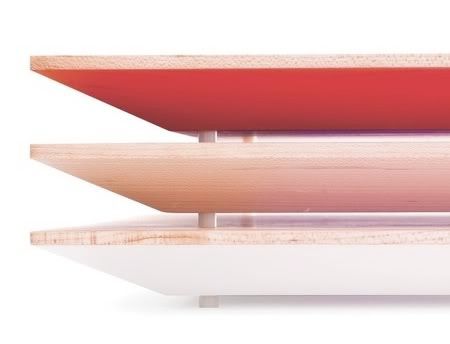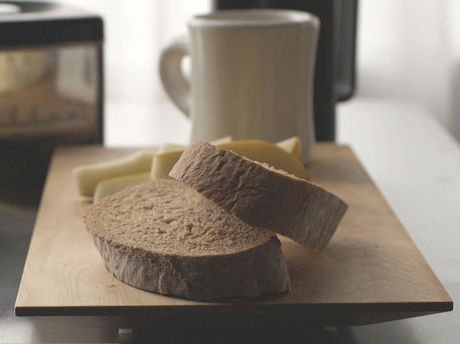 This first tray will complement even the most minimal modern decor. The Enos serving tray produced by Staach is hand made in the USA out of solid maple from domestic wood from certified sources . The bottom is lacquered in clear, white or red and the top is finished with food safe mineral oil. I think it is destined to be a classic design icon. Found at 2modern.com.
The Ibride Tray is made from reclaimed wood and totally rocks in an eclectic decor. Hang this up on your wall as art in between use. Found at Clio-Home.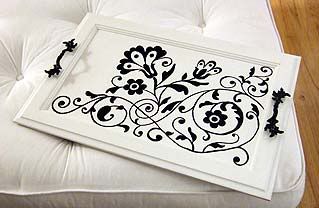 And for you DIY types, here's a fun project. Find an old cupboard door and use paint, handles and a little creativity to make your own serving tray in any color or style you like. This one is from Craftynest.  It would be very fun to do a collage on one of these if you don't have painting skills. A great way to recycle and re-purpose. Remember to use zero VOC paints, adhesives and finishes.

Tags: 2modern, Art, color, Dining Room, DIY, do it yourself, entertaining, environmentally friendly, green design, modern design, portland interior design, serving tray, sustainable, sustainable materials, sustainable style
Posted in Art, Bedroom, Cool Ideas, Cool Stuff, DIY, Dining Room, Kitchen, Living Room, Sustainable style, Uncategorized | No Comments »
Tuesday, November 24th, 2009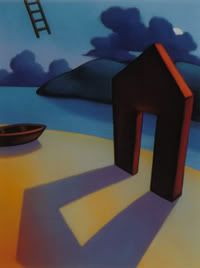 This is the first in a new series of posts about decorating with art. Although there are many ways to find a point of inspiration for your decor, my favorite starting point for interior design is art that you love. I know that many people are nervous about starting to buy art, thinking about the investment and also sometimes concerned that they don't know what is "good" art. Worried that they will make a mistake. But I believe in buying what you love and not worrying so much about whether it will appreciate in value. If you see a piece of art and it gives you a good feeling — you love the colors, or it makes you smile, or possibly brings up happy memories — then that would be a good choice for you. By far, the most common reason people buy art is because it has some connection with their life. I think those are all excellent reasons to buy art. Selecting and displaying art is a great way to express yourself and to really personalize your home. And whenever possible, I would prefer to find furniture that complements the art … not art that goes with your furniture.
So, to help my clients find art that will work for them, I've decided to post an article each month about an artist whose work I like. I hope these articles inspire you to take the plunge and add some artwork to your home.
This month's featured artist is Victoria Taylor-Gore.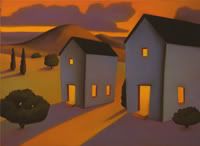 Her work is done in soft pastels. Personally, I love her color choices and the lighting in many of her pieces. My favorite time of day is the very late afternoon, sometimes referred to as the "golden hour", when the sun's light is coming from very low in the sky. It casts long shadows and is very golden in color making everything appear very saturated with color. Her work depicts "simplified architectural and landscape forms in a distorted perspective". The forms she chooses carry universal symbolism which really connects on a deep level with people. Take a look at her website. She also blogs about her work so you can learn more about it.
Tags: Art, color, Victoria Taylor-Gore
Posted in Art, Colors, Design Tips, Interior Design, Uncategorized | No Comments »
Sunday, October 11th, 2009
Today I just want to share one thought. By far, the biggest challenge for interior design clients coming to me is "where do I start?". The answer is to find a point of Inspiration. My own preference for a place to begin is with a piece of art that inspires you. In my internet wanderings I found this computer generated artwork and it just made me FLIP!! I think it is exquisite. I have written to the artist, John Haggerty, to find out how much for this piece. But in the meantime, here it is.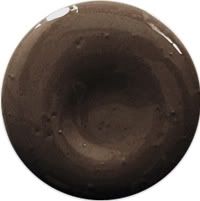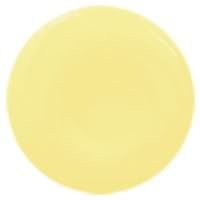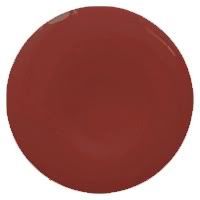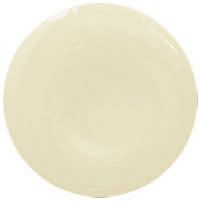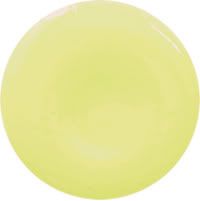 A beautiful piece of art like this gives you a starting point for your color palette. These paint colors are all inspired from the art. From here, upholstery, carpet, tile – pretty much anything you want – has a reference point.
If you found this article helpful and inspiring and would like help finding your "inspiration piece" and pulling together your decor, I'd love to help.
Tags: Art, color palette, Design Tips, inspiration, Interior Design, John Haggerty, paint color
Posted in Art, Colors, Cool Stuff, Design Tips, Interior Design, Uncategorized | No Comments »
Wednesday, September 9th, 2009
Interior Design in Portland pretty much always involves making the most of available light and incorporates an appreciation of the beauty of the outdoors. Since sunny days are at a premium, making the most of them by creating an outdoor room will expand your living space and dramatically increase your enjoyment of yard, patio, deck or balcony
Here are my Top 10 Tips for creating the Perfect Outdoor Room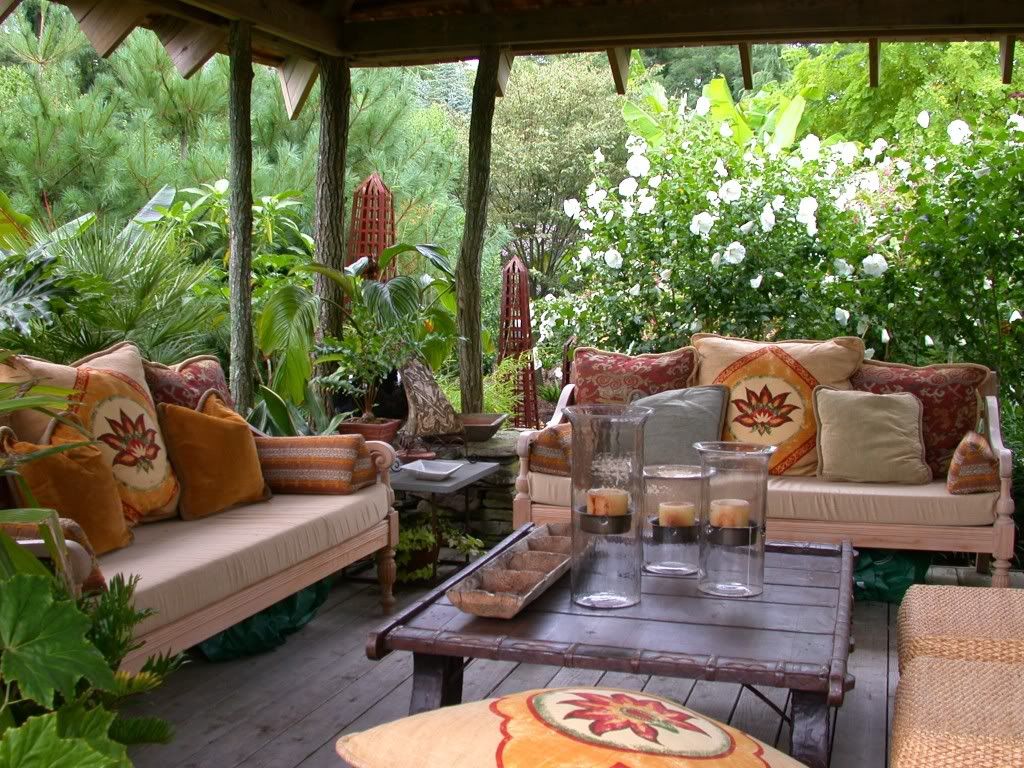 1. Create a furniture grouping for conversation. Just as you do in your living room, put some comfortable seating in an intimate arrangement so friends can sit close and hear each other easily. Provide side tables, a dining table or coffee table to hold drinks & snacks.
2. An outdoor area rug will give the furniture grouping a cozy look and feel nice under bare feet too.
3. If evenings are cool, one of the best additions to your grouping will be a place to have a fire. There is something very primal and comforting about sitting around a fire. You could build in a fireplace, or use a portable fire pit made of steel or copper. There are also beautiful, contemporary propane burning "fire features" that are safe to use on condominium patios, and eliminate the need to have stacks of firewood. If your space is a small condominium balcony with just enough room for a bistro set, consider using either free standing or table models of oil burning lamps to give you a flame that provides more light than candles and won't blow out at the smallest breeze.
4.     Lighting is just as important as it is indoors. If you have a covered space, consider hanging a chandelier.Manufacturers are now making table lamps and floor lamps that are specially made to use outdoors. The soft light of a lamp is much more pleasant than an outdoor flood light! Accent lighting shining on your landscaping will allow you to enjoy the scenery at night too. Don't forget oil lamps and candles for ambience.
5.     Art elevates the look of any space and this is true in your outdoor rooms also. Select pieces that can handle the elements if your space is not completely protected from rain. You can find artwork such as metal wall sculptures or paintings on metal that can be outside. A muralist can even paint directly on an outside wall for your space.
6.     Water features add a lovely visual and relaxing sound. There's a water feature in the right size for you … large or small free-standing fountains, wall hung fountains, and table top models.
7.     Remember to accessorize, just like you would indoors. Candles, and colorfully glazed ceramic pieces add color and interest to the setting.
8.     Defining your room and providing privacy can be very important, especially if your room is visible to neighbors. You can use outdoor fabric drapery panels that can be pulled closed to give privacy. In their open position, they provide color and texture. Free-standing, folding room dividers can be placed wherever you need them and put aside when not in use. Consider creating a wall of wood shutters that can be opened to let breezes through or closed to protect privacy.
9.     Protection from sun and rain makes your room usable in less than perfect weather. Umbrellas, awnings, and gazebos are all common ways to provide shade or shelter from rain. Solar shades can be hung from your shade structure's ceiling and lowered to protect from late afternoon sun. "Shade sails" are those large canvases suspended in the air, stretched on cables attached on at least 3 points. They are a dramatic and sculptural way to shade and define your room. If the right fabric is selected they can protect from rain too!
10. The most important element of an outdoor room? Friends of course! Once you set up your room, invite some friends over, mix up Mojitos or your favorite iced tea and enjoy the last weeks of summer! Use serving trays or a rolling serving cart to make it easy to bring refreshments outdoors.
You may also like:
Serving Up Style: Sustainably Made Serving Trays
Two Cool Ways to Go Green: Sustainable Options for Outdoor Furniture
Tags: Art, awning, Fireplace, fountains, gazebo, Interior Design, Lighting, Outdoor Furniture, portland interior design, rug, shade sail, umbrella, water features
Posted in Art, Design Tips, Fireplace, Interior Design, Lighting, Outdoor Furniture, Seating, Space Planning, Top Ten, Uncategorized | 1 Comment »