Archive for the 'windows' Category
Thursday, August 25th, 2011
If you have been struggling with decorating your home and just don't seem to be getting the room right, chances are you've made one — or two, or seven — of the top ten decorating mistakes. Check out these great examples of rooms that have successfully dealt with these common design issues. This is just half of the list, so if you don't see your particular issue, read Part ll for the second half of the list. The link is below the photo.
Navigate through the photos by clicking on the little dots under the photo, or click on the text under the photo to open the full Ideabook, complete with other readers' comments. See what others have to say on the topic.


Browse Bedroom Products on Houzz- For Example:
Click here for Part ll of Getting the Room Right: Avoid the Top 10 Decorating Mistakes

Get the Latest On Hot Design Trends, Trade Secrets, DIY Tips & Design Advice

Tags: accent lighting, curtains, dining chair, Dining Room, drapery, fabric, furniture arrangement, Lighting, Space Planning, task lighting, Window Treatments
Posted in Design Tips, Dining Room, Furniture, Interior Design, Lighting, Living Room, Mistakes: Avoiding & Fixing, Seating, Space Planning, Top Ten, Uncategorized, Window Treatments, windows | No Comments »
Tuesday, April 6th, 2010
Are you living in a smaller space than you have in the past and feeling a little cooped up? Do you want (or need) to downsize, but you're not sure how you'll feel in a smaller space? If you are selling a smaller home, your place could be perfect for those looking for smaller or starter homes. But the very people who are looking for those smaller spaces may have a hard time imagining how to live in them. Whatever your reasons are, I've got 10 great tips for making small spaces feel B-I-G-G-E-R!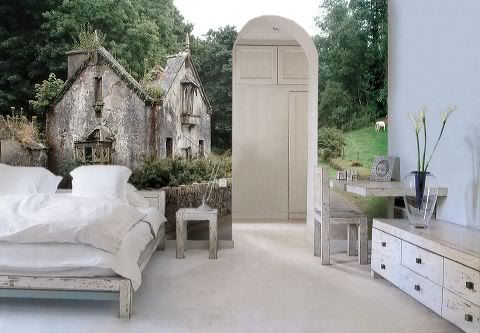 1. Fewer Pieces … of Anything! In small rooms, the more pieces of furniture you put in, the more crowded it begins to feel. Think carefully about each piece you put in. If you have a coffee table, will you really need side tables too? It also begins to feel more crowded with lots of accessories on top of tables & shelves. A few nice, large accessories will create stronger focal points and give the illusion of a spacious room. Even with art, which is hanging on the wall, a single large piece of artwork will make a place feel larger than groups of small pictures.
2. Reduce "Visual Weight" of Furnishings: Believe it or not, the style of your furniture is even more important than the actual size. Select seating pieces that have open space under the cushions (8″ or more is good) rather than upholstery or skirts down to the floor. Think "leggy"! Because you can see under the furniture, it doesn't stop your eye, and the room feels bigger. Glass table tops can be seen through, so they don't take up as much "visual space" even though they may be just as large as a wood table. No sharp corners on these because it is a bit easier to bang your shins. I'm speaking from experience here. Simple, clean lines are also easier on the eye than very ornate pieces and keep the room looking bigger. I would tell you this even if I didn't love modern design. I swear!
3. Smoke & Mirrors: Okay, well I was kidding about the smoke. That won't help you at all. But mirrors are pure magic when it comes to adding the look of large! Consider putting sheet mirror on an entire wall. In a miniscule kitchen I once had, I had mirror custom cut to fit on the wall behind the sink and continued it under the cabinets above the backsplash. It was amazing how much bigger my kitchen felt with the windows on the other side reflected in this mirror. Or you can try standing a large, framed floor mirror against a wall. It will feel like an open doorway into another room, thereby expanding the space. Just remember the one cardinal rule of mirror placement: The mirror needs to reflect something beautiful and bright – not a vacant white wall.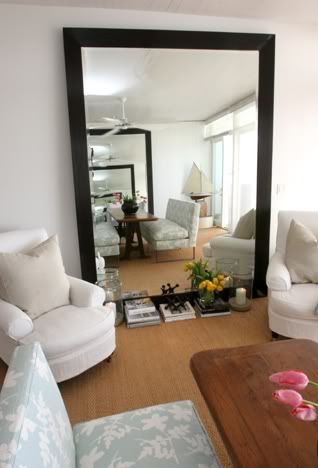 4. Floors – the Foundation for an Expansive Feel: That's expansive – not expensive! Having the same flooring continue throughout your home will allow your eye to move past the boundaries of the doorways, making each room feel a little bigger. If you have tile flooring, setting it on the diagonal always makes the room look larger than setting it square. This is a great trick for tiny bathrooms!
5. A Room With A View: Opening up any views the room has will improve the feeling of extra space. Window drapery panels should be floor to ceiling and the curtain rod holders should be set at least 8″ to 10″ past the sides of the glass so that when the drape is pushed back, it exposes the entire window and gives the maximum view. Hanging the draperies this way makes the window look larger too. Do you own your home? If you have smaller windows, replacing them with larger ones or with French doors will visually expand your space into the great outdoors. If you don't have a view, consider a full wall mural of an outdoor scene. A good one can really make you feel like you have more space.  Continue reading part 2, tips 6 through 10 … PLUS Bonus Tip For Home Sellers!
Tags: Design Tips, Flooring, floors, mirrors, small space, wall coverings, Wall You Need is Love, Window Treatments, windows
Posted in Cool Ideas, DIY, Design Tips, Flooring, Home Staging, Interior Design, Space Planning, Top Ten, Uncategorized, Window Treatments, windows | No Comments »
Thursday, December 3rd, 2009
Welcome to the first in a series of tips, advice and secrets that professional Home Stagers use.
Home Staging Tip #1:
Clear Those Windowsills!
I often go into homes that have lofty, vaulted ceilings and lovely high clerestory windows that follow the angled lines of the ceiling … only to see the view of the sky cluttered up with lines of sporting trophies, glass bottles filled with colored water, collections of ceramic tchotchkes … you name it. Then I move to the kitchen and see that windowsills are dotted with tiny potted plants, jars, candles and so on. Bathroom windowsills sprout a tacky little row of roll-on deoderants, lotions & tiny air fresheners. In fact, I have been in homes where it seems that every window in the house has something sitting on the sill, or if not on the sill, then one of those little (or giant) light catchers applied to the window with a rubber suction cup. Oh, yeah! Gorgeous!
I do get the magnetic attraction of the horizontal surface. My husband and I cannot seem to keep any table, counter, or flat railing wider than 4 inches free of objects for a period of 24 hours. But considering how much we want light, I cannot understand this penchant for sitting things on windowsills. Any objects sitting in your windows are going to reduce the light. Little objects in the windows stop your eye, therefore interfering with the view. It is clutter!
I have exactly one exception to the "nothing-on-the-windowsill-rule", and that is a LIVE CAT. No matter how many times you remove a cat from the windowsill, it will sneak right back up there … hopefully knocking all the other little tchotchkes to the floor.
So, be brave … repeat after me … "A windowsill is not a display shelf" … and put all that stuff away or in packing boxes. It may seem empty for a day or two, but soon you'll look at the window and suddenly see …
THE VIEW
Tags: Design Tips, Home Staging, home staging portland, portland home staging, windows
Posted in Design Tips, Home Staging, Uncategorized, windows | No Comments »