Archive for the 'Window Treatments' Category
Monday, July 30th, 2012
If you crave truly beautiful draperies, take a look at these luxurious examples of drapes and learn how you can create these looks in your own home.
Browse Home Office Products on Houzz- For Example:
Tags: Design Tips, Dining Room, drapes, fabrics, Interior Design, Living Room, luxurious draperies, Window Treatments, windows
Posted in Cool Ideas, Cool Stuff, DIY, Design Tips, Interior Design, Trends, Window Treatments | No Comments »
Sunday, December 4th, 2011
Coming up with a successful color palette for your home interior can be stressful. Because of this, many people default to a neutral color palette only to end up with a lifeless and dull sea of beige! A mix of texture, pattern, quality materials and varying shades all play an important role in designing a neutral colored interior that is soothing and sophisticated.


Browse Kitchen Products on Houzz- For Example:
Get the Latest On Hot Design Trends, Trade Secrets, DIY Tips & Design Advice

Tags: Bathroom, Bedroom, color, color palette, Colors, Design Tips, design trends, Flooring, home interior, Interior Design, interior design portland, Lighting, Living Room, neutral color palette, pattern, texture, upholstery, Window Treatments
Posted in Bathroom, Bedroom, Colors, DIY, Design Tips, Dining Room, Flooring, Furniture, Home Office, Interior Design, Lighting, Living Room, Mistakes: Avoiding & Fixing, Uncategorized, Upholstery, Wall Treatments, Window Treatments | No Comments »
Thursday, August 25th, 2011
If you have been struggling with decorating your home and just don't seem to be getting the room right, chances are you've made one — or two, or seven — of the top ten decorating mistakes. Check out these great examples of rooms that have successfully dealt with these common design issues. This is just half of the list, so if you don't see your particular issue, read Part ll for the second half of the list. The link is below the photo.
Navigate through the photos by clicking on the little dots under the photo, or click on the text under the photo to open the full Ideabook, complete with other readers' comments. See what others have to say on the topic.


Browse Bedroom Products on Houzz- For Example:
Click here for Part ll of Getting the Room Right: Avoid the Top 10 Decorating Mistakes

Get the Latest On Hot Design Trends, Trade Secrets, DIY Tips & Design Advice

Tags: accent lighting, curtains, dining chair, Dining Room, drapery, fabric, furniture arrangement, Lighting, Space Planning, task lighting, Window Treatments
Posted in Design Tips, Dining Room, Furniture, Interior Design, Lighting, Living Room, Mistakes: Avoiding & Fixing, Seating, Space Planning, Top Ten, Uncategorized, Window Treatments, windows | No Comments »
Tuesday, April 6th, 2010
Are you selling a small home that is vacant? There is a bonus tip at the end of this article just for you!
Have you moved into a small home, either because you've downsized or it is what you felt was best for your budget? If it's feeling a little claustrophobic, it doesn't have to be that way. Click here to read Part 1:  Top Ten Tips To Make Your Small Space Look BIGGER!

6.  Paint Color Tricks of the Trade: Lighter and cool, soft colors like pale aqua, pale blue or pale green all tend to recede and help make a small room feel larger. Conversely, vibrant warm colors like red or orange, advance and feel closer to you, so opt for lighter, cooler colors. Painting adjacent rooms in the same color makes them feel visually more like they are part of the same room. This is especially effective if you have open entryways between the rooms.
7. Monochromatic Color Palette: A serene, monochromatic color palette will go a long way toward making a room feel larger. Highly contrasting color schemes and lots of pattern tend to make the room feel smaller. This doesn't mean you have to make everything beige! Not by a long shot! Look at these three rooms in shades of lavender, aqua and neutrals.
Besides a monochromatic color palette, the lavender room above also employs a see through coffee table and a minimum of furnishings. Notice there are no side tables. The floor to ceiling curtain panels make the most of the ceiling height and pull all the way back from the windows to expose the entire view.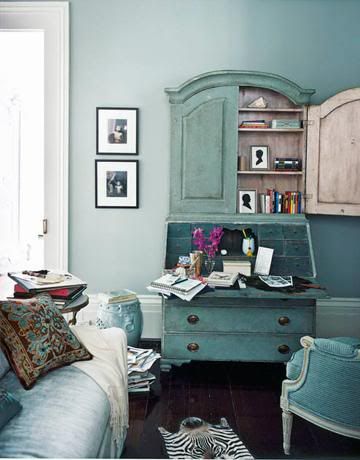 Although I would like to see all the clutter off the floor, this small room is enhanced by the shades of aqua.
Jeffrey Bilhuber
Notice that the single large painting makes the space feel big even though it just accommodates a loveseat and two smaller chairs. The side chair and coffee table are not bulky and have long legs, allowing you to see the floor. Notice also that the pattern on the rug is on the diagonal.
8. Move Away From the Wall: When furniture is all pushed back against the wall, it feels like they are lined up like prisoners in front of a firing squad. Whenever possible, create furniture groupings that are away from the walls and that leave room to walk around them. Keep natural traffic patterns clear and avoid placing the back of a sofa toward the entry. It feels like a barrier to entry and immediately psychologically shrinks the room. In super tiny rooms, you may not be able to group furniture away from the wall, but might be able to angle a loveseat in a corner. This is another great trick to making a room feel a little bigger by directing the eye along the diagonal, which is the longest line in a room.
9. Light Expands Space: A well lit room always feels bigger. Maybe it's because you can actually see the whole room! Provide lighting in all 4 corners. To preserve precious floor space, consider using track lighting, wall sconces or table lamps instead of floor lamps. Accent lamps pointing upwards and torchiere style lamps wash the ceiling with light and make the most of the volume of the room.
10. Stealthy Secret Storage: Clutter is the nemesis of a small room. But you do have "stuff" and need to keep it somewhere! Choose closed storage over open front storage to keep a room serene. A book case with doors will hide paperbacks & other less attractive belongings. Think floor to ceiling and wall to wall when building in storage units. The long lines don't break up the room and give you maximum storage space. Find secret spaces like a storage ottoman to keep extra items. Entertainment units that hide all of your dvd's, cords and audio-visual equipment are a blessing to the small room.
Bonus Tip!! Selling a Small Vacant Home: If you are selling and your property is small and presently vacant, this tip is just for you. PUT FURNITURE IN THE HOUSE!! It is absolutely true that a tiny room will look bigger when furnished than it does empty. If you are looking at the small rooms and worried that they will look crowded with furniture — potential buyers will be worrying about the same thing. A professional home stager — ME of course
— will use all of the above tips to furnish your property so buyers will see that it can look beautiful and that furniture fits with room to spare.
For more help with any of these tips for making your small space look and feel bigger, call me today to set up an in home consultation. You'll be on your way to getting the Look of Large! 503.816.4394
If you enjoyed this article and found it informative, get more like it delivered directly to you via email. Subscribe to my Free Ezine on Design. Click the box below…

Get the Latest On Hot Design Trends, Trade Secrets, DIY Tips & Design Advice

Tags: aqua, Art, chair, coffee table, Decorpad, Design Tips, Flooring, Home Staging, Jeffrey Bilhuber, lavender, Lighting, monochromatic. colors, paint color, Rafael de Cardenas, small space, storage
Posted in Colors, Cool Ideas, DIY, Design Tips, Furniture, Home Staging, Interior Design, Lighting, Living Room, Space Planning, Storage Solutions, Top Ten, Uncategorized, Window Treatments | 1 Comment »
Tuesday, April 6th, 2010
Are you living in a smaller space than you have in the past and feeling a little cooped up? Do you want (or need) to downsize, but you're not sure how you'll feel in a smaller space? If you are selling a smaller home, your place could be perfect for those looking for smaller or starter homes. But the very people who are looking for those smaller spaces may have a hard time imagining how to live in them. Whatever your reasons are, I've got 10 great tips for making small spaces feel B-I-G-G-E-R!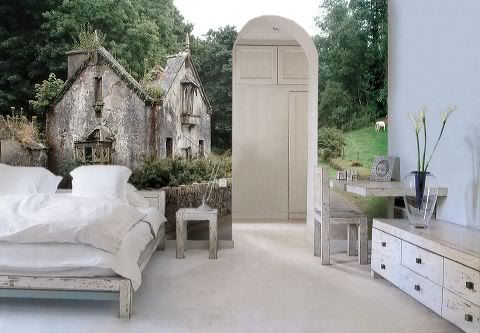 1. Fewer Pieces … of Anything! In small rooms, the more pieces of furniture you put in, the more crowded it begins to feel. Think carefully about each piece you put in. If you have a coffee table, will you really need side tables too? It also begins to feel more crowded with lots of accessories on top of tables & shelves. A few nice, large accessories will create stronger focal points and give the illusion of a spacious room. Even with art, which is hanging on the wall, a single large piece of artwork will make a place feel larger than groups of small pictures.
2. Reduce "Visual Weight" of Furnishings: Believe it or not, the style of your furniture is even more important than the actual size. Select seating pieces that have open space under the cushions (8″ or more is good) rather than upholstery or skirts down to the floor. Think "leggy"! Because you can see under the furniture, it doesn't stop your eye, and the room feels bigger. Glass table tops can be seen through, so they don't take up as much "visual space" even though they may be just as large as a wood table. No sharp corners on these because it is a bit easier to bang your shins. I'm speaking from experience here. Simple, clean lines are also easier on the eye than very ornate pieces and keep the room looking bigger. I would tell you this even if I didn't love modern design. I swear!
3. Smoke & Mirrors: Okay, well I was kidding about the smoke. That won't help you at all. But mirrors are pure magic when it comes to adding the look of large! Consider putting sheet mirror on an entire wall. In a miniscule kitchen I once had, I had mirror custom cut to fit on the wall behind the sink and continued it under the cabinets above the backsplash. It was amazing how much bigger my kitchen felt with the windows on the other side reflected in this mirror. Or you can try standing a large, framed floor mirror against a wall. It will feel like an open doorway into another room, thereby expanding the space. Just remember the one cardinal rule of mirror placement: The mirror needs to reflect something beautiful and bright – not a vacant white wall.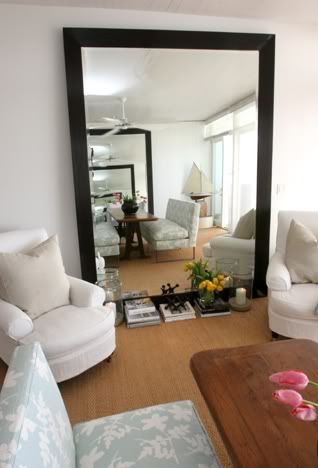 4. Floors – the Foundation for an Expansive Feel: That's expansive – not expensive! Having the same flooring continue throughout your home will allow your eye to move past the boundaries of the doorways, making each room feel a little bigger. If you have tile flooring, setting it on the diagonal always makes the room look larger than setting it square. This is a great trick for tiny bathrooms!
5. A Room With A View: Opening up any views the room has will improve the feeling of extra space. Window drapery panels should be floor to ceiling and the curtain rod holders should be set at least 8″ to 10″ past the sides of the glass so that when the drape is pushed back, it exposes the entire window and gives the maximum view. Hanging the draperies this way makes the window look larger too. Do you own your home? If you have smaller windows, replacing them with larger ones or with French doors will visually expand your space into the great outdoors. If you don't have a view, consider a full wall mural of an outdoor scene. A good one can really make you feel like you have more space.  Continue reading part 2, tips 6 through 10 … PLUS Bonus Tip For Home Sellers!
Tags: Design Tips, Flooring, floors, mirrors, small space, wall coverings, Wall You Need is Love, Window Treatments, windows
Posted in Cool Ideas, DIY, Design Tips, Flooring, Home Staging, Interior Design, Space Planning, Top Ten, Uncategorized, Window Treatments, windows | No Comments »
Thursday, July 23rd, 2009
So, you have floor to ceiling windows and a wonderful view, but unfortunately, so do your neighbors across the street … and they are looking right at YOU! How do you afford yourself some privacy when you need it without giving up your light and your view? Here are a couple of ideas that I absolutely LOVE!!
In this first photo of a bedroom in the Belmont Street Lofts in Portland's Belmont District, my client wanted some privacy while still being able to enjoy light and the view of those awesome leaves even when he was in bed. Look carefully at the windows. There are roller shades installed at the top of the windows where you would expect to see them … but he also has a roller shade installed on the crossbar above the LOWER window. That way he can pull that one down, but leave the upper ones open while he is lying in bed. 
These lovely drapes in the Streetcar Lofts in Portland's Pearl District are hung on rods fixed on one end that can be swung open or closed without having to pull the drapes back and forth. There is a sheer drape and an opaque silk drape. Both can be gathered together at the center with a fabric holder that snaps, thereby exposing the view softened with the fabric, or the sheer can be left hanging down with just the silk portion gathered, which gives some privacy while admitting light. If both the sheer and silk drapes are down, they have total privacy, or the rods can be swung away from the windows opening up the view entirely. Quite a bit of versatility!
Another type of window treatment I love for contemporary spaces are the sliding window panels. These are high-end Chilewich brand panels. They can be slid independently to close or open as much of your window as you like. Perfect for sliding glass doors!
Below are shades that slide either up or down. These come in varying styles, both translucent and opaque. A set of these combined with opaque drapes would give you all sorts of options to block out whatever portion of your window you like. 
So, there are great options for every need. Call me today to find the perfect solution for your windows and glass doors.
Tags: Belmont District, blinds, curtains, Design Tips, drapes, Hawthorne District, Interior Design, Lofts, Pearl District, solar shades, Window Treatments, windows
Posted in Design Tips, Interior Design, Lofts, Window Treatments | No Comments »