Archive for the 'Shopping' Category
Tuesday, December 20th, 2011
Men and women often have a difference in taste when it comes to furniture. If you are looking to add feminine style to your room, just use my "3 Cs" — curves, color and cloth — to turn up the feminine flair. Take a look at this for chairs that are all-girl!


Browse Furniture on Houzz- For Example:
Get the Latest On Hot Design Trends, Trade Secrets, DIY Tips & Design Advice

Tags: Bedroom, chair, cloth, color, Colors, Design Tips, dining chair, Interior Design, Living Room, Lofts, portland interior design, Seating, upholstery
Posted in Bedroom, Colors, Cool Ideas, Cool Stuff, Design Tips, Dining Room, Furniture, Interior Design, Kitchen, Living Room, Lofts, Shopping, Uncategorized, Upholstery | No Comments »
Tuesday, November 15th, 2011
So you're telling me that you can't spend half a year's salary on original art work for the hallway? That's okay. There are many alternatives for great wall decor without breaking the bank. Get creative with fabrics, found objects, natural elements, texture and even fish — oh yes, I did say fish! — to add your own personality and charm and fill your home with your unique style.


Browse Home Office Products on Houzz- For Example:
Get the Latest On Hot Design Trends, Trade Secrets, DIY Tips & Design Advice

Tags: Art, Bathroom, Bedroom, color, Design Tips, design trends, Dining Room, fabrics, Fireplace, found objects, hallway, Interior Design, Kitchen, Living Room, loft, Lofts, modern design, natural elements, texture, wall decor
Posted in Achievements, Art, Bathroom, Bedroom, Cool Ideas, Cool Stuff, DIY, Design Tips, Dining Room, Fireplace, Home Office, Interior Design, Kitchen, Lofts, Mistakes: Avoiding & Fixing, Pearl District, Shopping, Space Planning, Storage Solutions, Top Ten, Uncategorized, Upholstery, Wall Treatments | No Comments »
Wednesday, November 9th, 2011
When finding that perfect bedside table there are SO many things to consider, and who says it even needs to be a table? Well I certainly don't. If you have been spending hours shopping around to find the perfect side tables to hold your bonbons & that nightly glass of wine, check out all the things to consider when finding your dream nightstands.


Browse Furniture on Houzz- For Example:
Get the Latest On Hot Design Trends, Trade Secrets, DIY Tips & Design Advice

Tags: Bedroom, bedside tables, Design Tips, end tables, furniture arrangement, Interior Design, Lighting, Night stands, pedestals, Space Planning, storage, task lighting
Posted in Bedroom, Colors, Cool Ideas, Cool Stuff, Design Tips, Furniture, Interior Design, Lighting, Shopping, Trends, Uncategorized | No Comments »
Monday, April 4th, 2011
Ch-ch-ch-ch-Changes!!
Great song, isn't it? If anyone knows how to make changes, it's David Bowie! Some people just have a knack — other people — not so much.
When it comes to your interior decor, making changes can give you a real lift — or it can be a big disappointment if it doesn't turn out well. So it's no wonder that people often hesitate to make desired changes. We hold such hopes that the change we plan will be exactly what we need — and simultaneously worry that we will make a big and costly mistake.
Have you been putting off making changes to your home? Worried it won't turn out right? Not sure where to start? Can't do everything you'd like right now so you think you shouldn't do anything? The strategy you use to implement those changes can make all the difference. Read on for my …

5 Tips For Success in Changing or Updating Your Decor
1.  Make a List of ALL the Projects You Plan To Do Now and Eventually
When I start with a new client I ask them to write down this list for me. It keeps me from inadvertently advising them to do something now that will create problems for a future project I didn't know they were contemplating.
Once you have this list, prioritizing and deciding where to start will be much easier. You may realize there is a project you need to complete before one that you'd like to do right away. But knowing this can save you from having to re-do work or from finding that a project will be more costly because of poor planning. Going over this list with your interior designer or contractor can help you sort out and avoid any potential trouble spots.
2. Enlist the Aid of Your Interior Designer Right From the Beginning of Your Projects
An experienced interior designer will help you plan your projects so they are done right the first time saving you time and money.  If you are planning a remodel it should be your interior designer helping you to select your tile – carpet – counters – cabinets – paint and so on, NOT your building or paint contractors. Now before my contractor and house painter friends get all insulted — this doesn't mean that I don't think a contractor can have good taste or that a house painter can't have a great eye for color. But your contractors are not involved with the big picture. They will not also be helping you in the selection of your upholstered pieces, window treatments, art and accessories, so their choices may hem you in when you get to those later parts of your project.
I talk to people all the time who are sorry about choices that were made in the selection of finishes in their remodel or new construction and are now calling in a designer because they can't find things to go with their tile, carpet, ________ (insert whatever your big mistake was). A few hours of consultation right up front can save lots of grief down the road.
3.  Don't Throw Good Money After Bad
Never continue to work with a mistake. If there is something in your space that was a mistake and you try to "fix" it by using your other decor decisions to make it better, you just end up compounding the error.
You'll be most tempted to do this when you have two items you love — but that just don't work together in the same room. Because you love both things, you try to convince yourself that
Sometimes the fix is easy — move that new clashing chair into a different room or reupholster it. But sometimes you have to bite the bullet and make a serious change — like when a counter top clashes badly with the flooring. Making the tough decision and fixing the mistake will keep you from sending more money down the drain with attempts to force clashing elements to work.
4. Know When To Be a Don't-Try-To-Do-It-Yourselfer
DIY television shows abound. They make everything look so easy, don't they? Watch enough HGTV and you'll almost feel guilty that you're not installing bathtubs — laying hardwood floors — and building custom upholstered furniture from scratch. Sometimes in our zeal to save money, we take on projects that are better left to a professional.
Do you think I've never made this kind of mistake? Oh no … I've learned many lessons the hard way. I know how to set tile — oh yes, I do! But tiling my own floors with Saltillo paver tiles took me months! A pro could have done in a few days. On top of that it was heavy – dirty – physically grueling work and my back will never be the same.
I've done just about every DIY project you can imagine in my life before my Interior Design career. Many projects went well. Some projects turned out beautifully, but cost me way too much in time and energy or unexpected expenses and then some projects just didn't turn out as well as they could have — which is why I now have a very good grasp of what is better left to a pro. Remember to put a value on your own time and energy and to know your strengths and limitations. Get help when it makes sense.
5. Mock-Up Whenever Possible
Do you have a hard time visualizing how a new element in your decor will look along with everything else? You are not alone! Most people can't see in their mind how the new chair will look with the old sofa — or how the new counter top will look with the floor tile. It's hard enough to visualize when you're only changing one thing — but when you are changing all kinds of things in a room, it's impossible for most people.
I help my clients by creating various mock-ups of the elements we want to combine so that as closely as possible, they can see how things will look together. I actually have 3D software I can use to give clients a very good picture of what their project will look like when it's finished. If you don't have access to 3D software, here are things you can do to help yourself visualize.
Get samples or pictures of the items you are selecting and put them in the room where you plan to use them so you can see them next to all elements in the room.
Take photos and samples of all your room elements — fabrics, paint colors, tiles, furniture you already have — with you when you shop. Although you might remember what your 3 year old sofa looks like when you are out looking for accent chairs — it is enormously helpful to be able to have a photo of it right there in the store when you are looking at the chairs under consideration.
Using photos side by side of furniture and other elements is a tool I use all of the time to help clients visualize. I've even used a photo of their room and pasted a picture into it of a new piece of furniture. Anything you can do to give yourself a "picture" of what items will look like together will help you make better choices.
You May Also Like …
Throw Pillows To The Rescue: Fixing a Common Design Mistake
Interior Design Starts With an Inspiration Piece
Tags: Design Tips, Interior Design, portland interior designer
Posted in DIY, Design Dollars, Design Tips, Interior Design, Mistakes: Avoiding & Fixing, Shopping | No Comments »
Thursday, February 10th, 2011
Thought I would share this video highlighting the interior design trends at the Las Vegas Design Market. I particularly noticed so many natural materials such as live edge wood pieces and bleached wood in furniture. Enjoy the video!
Tags: color, color palette, design trends, honeysuckle, Interior Design, Las Vegas Design Market, Lighting, Living Room, modern design, pantone, portland interior design
Posted in Colors, Cool Stuff, Furniture, Interior Design, Lighting, Living Room, Shopping, Trends, Uncategorized | No Comments »
Tuesday, December 28th, 2010
You're probably wondering why I have a picture of birds on an interior design blog. Trust me — there is a method to my madness. And before you go there — no smart remarks about my design advice being for the birds!
Last week a client was talking to me a few days before our paint color consultation at her new home. When I asked her if she already had furnishings that would affect our color choices, she shook her head and said "I know, I know. I'm doing this absolutely backwards. I know I'm supposed to pick the furniture first and paint is supposed to be the last thing — I get it. But it's going to be a long time before I can buy new furniture and I can't stand the thought of being surrounded by white walls."
Have you been in that position? Choosing paint colors for a new home or remodel can be daunting if you don't have anything yet to work from. But you can use anything that has a beautiful grouping of colors to be your guide — even if it won't actually be something in your house later.
So, now about the birds. The above photograph by Andrew Zuckerman is of 2 Lear's Macaws. I was completely smitten with their blend of blue, aqua, soft gray-violet and hints of coppery tones. Below are photos of things I found that could be put into a room that would carry off this color scheme. Remember, I saw the birds first, then chose things that went with their colors. The chairs pick up the soft blue-greens, the draperies bring in the gray, and the artwork and the vase both have multiple colors found in the Macaw's plumage. The colors below the photos are some possible directions you could go with paint colors.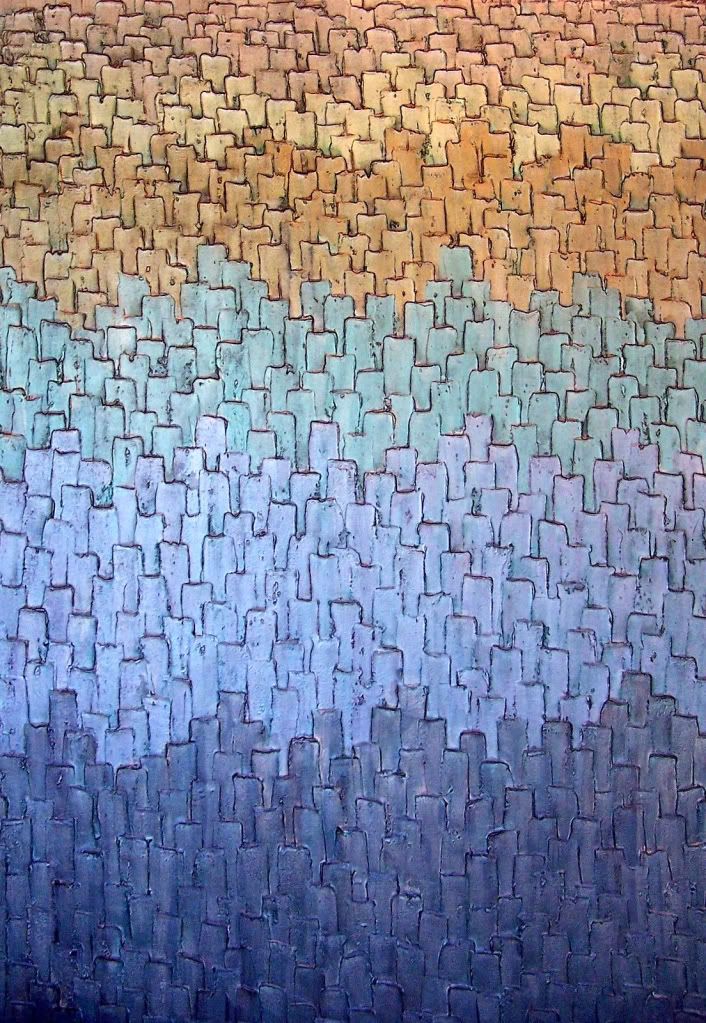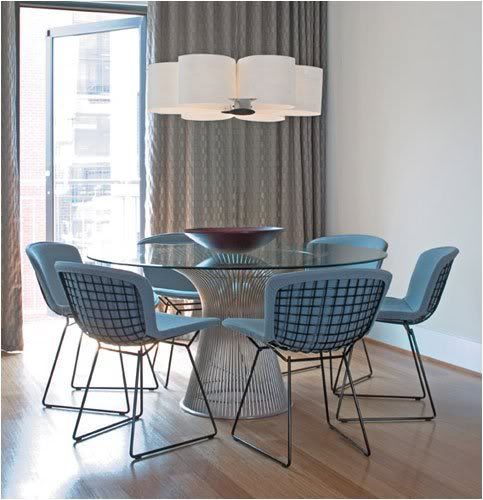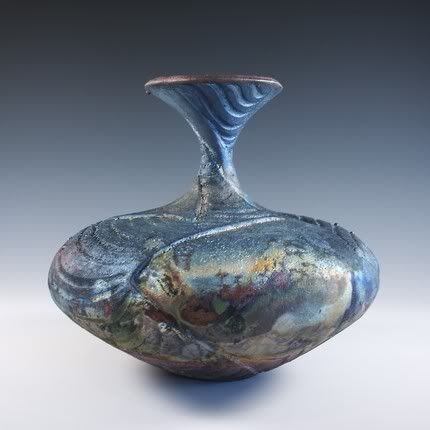 If you're looking for color inspiration, it's okay to think outside the box. Design magazines aren't the only place to find great ideas! Check out Andrew Zuckerman's book "Birds" for some wonderful photography and some color inspiration. If Macaws and Parrots are too colorful for you there are Hawks, Owls and Eagles for some beautiful ranges of neutral colors.
You may also like:
An Inspiration Piece for Client's Interior Decor
Art: Interior Design Starts With an Inspiration Piece
Get the Latest On Hot Design Trends, Trade Secrets, DIY Tips & Design Advice

Tags: color, color palette, Design Tips, Interior Design, interior design portland, paint, paint color, paint consultation, portland interior design, portland interior designer
Posted in Colors, Cool Ideas, Design Tips, Interior Design, Shopping, Uncategorized | 4 Comments »
Friday, May 21st, 2010
Has your decor been feeling a little ho-hum? Bored to tears with your brown and beige? No big budget available for a total re-do?
Then it's time to perk up your place with pillows! Now, I'll tell you straight up that I've never been the kind of person to have 17 throw pillows sitting on my bed. I'm definitely a minimalist at heart. But the pillows below are so unique and make such an impact that just a few will go a long way toward adding some pizzazz to tired looking rooms.
These may cost more than the average throw pillow, but I think you get a lot of bang for your buck with these. They'll rev up your room in a way that no $8 red pillow from Ross ever will.
So, which ones do you like?
These butterfly pillows by FJS are two sides of the same pillow. Amazingly rich colors and such a strong graphic!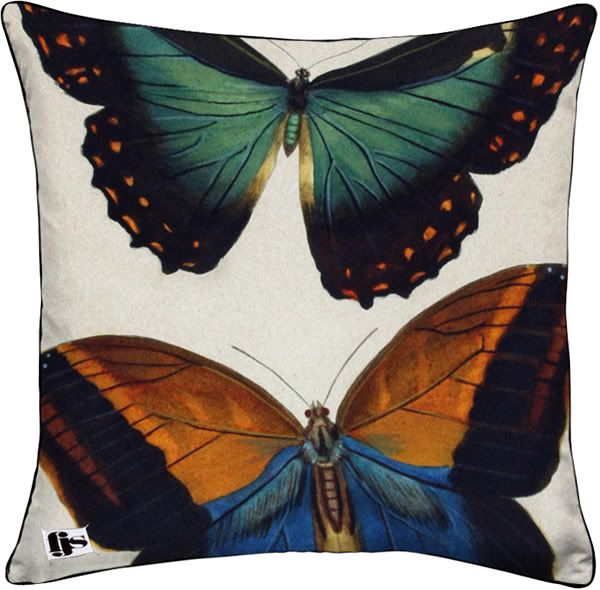 If bugs aren't your thing, check out these beautiful abstract pillows. Again, by FJS and two sides of the same pillow.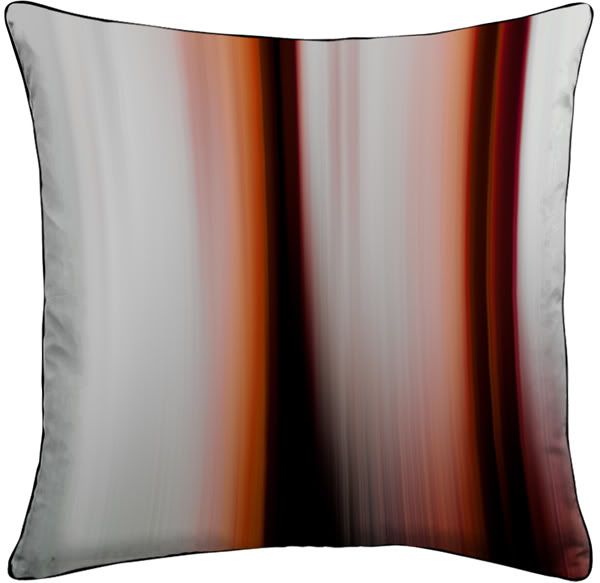 Who could possibly resist these little doggy queen pillows?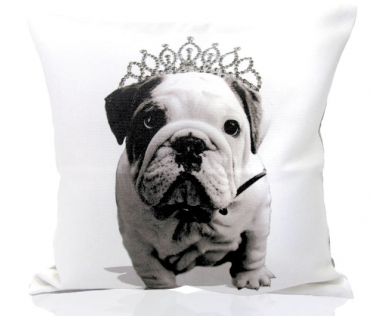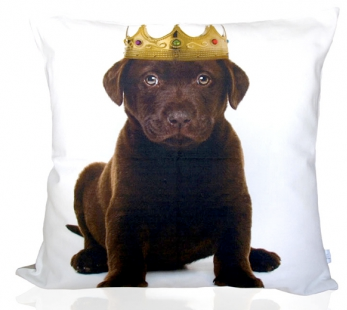 These cityscape pillows would be perfect for an urban loft.
If these don't wake up your decor I don't know what will?! Found all of these via www.pillowsandthrows.com and www.teojasmine.com. I'm always on the lookout for unique accessories that will add drama to your decor. If you could use help finding just the right accessories to bring your room to life, give me a call for rates and to schedule an appointment. 503.816.4394
Related Posts:
The Warmth of Cool – adding visual warmth with accessories
Mixing the High With the Low: A Strategy for Maximizing Your Design Dollars

Tags: color, pillowsandthrows.com, teojasmine.com, throw pillows, tips
Posted in Colors, Cool Stuff, Design Tips, Interior Design, Shopping, Uncategorized | No Comments »
Friday, March 26th, 2010
Portland Interior Designer Shares: Where to Shop in The Pearl District – Lux Lighting
(Photo: Pearl District Bridgeport Condo featuring monorail lighting, George Kovacs Floor Lamp, Kartell pendant lamps – interior by Pangaea Interior Design)
If you are moving to the Portland, Oregon Pearl District from somewhere in California (who isn't? — I did!) or any other sunny place, you are probably noticing that there just isn't as much light here with the cloudy and rainy days we often have. In fact, for the whole first year I lived here, I would think it was around 5:00 or 6:00 in the evening when it was only 2:00pm!! So today I'm sharing a little of my expertise on designing lighting plans and where to buy the coolest contemporary lighting fixtures and lamps.
Many of my clients living in the Pearl District are in one of the wonderful Lofts, Condos or Townhomes in buildings like 937 Condominiums, Bridgeport Condos, Streetcar Lofts, The Elizabeth, Indigo @ Twelve West, The Encore, The Wyatt or The Henry – just to name a handful. If you are not lucky enough to have a corner unit, although you may have floor to ceiling windows, they are probably all on one side and you have big lighting issues further back in your home. To complicate matters, you may have concrete ceilings or walls and steel studs. Enough to stop the DIY design enthusiast in their tracks! Many of my clients call me for help in designing a lighting plan for their Pearl District loft or condo. If you want a truly unique and upscale look, I have many "To-The-Trade" resources. But lots of my clients hire me to help them come up with a lighting plan, and they want to do their own shopping at retail stores to keep their costs down. They then run their favorite options past me for advice before making their final decisions.This is a great way to avoid any expensive mistakes! With a lighting plan consultation you can be sure you have all your lighting needs addressed and that it all looks great together.
So, I'm sharing my favorite retail lighting specialty store in the Pearl District. It's Lux Lighting on the corner of NW Glisan & NW 13th. Their showroom will just knock your socks off with the latest in modern, contemporary and transitional lighting. They carry a huge array of brands. Some of my personal favorites are Foscarini (I have their Big Bang Chandelier in my own entryway – fabulous!,) Flos, George Kovacs, Luceplan, Modernica, Robert Abbey, Pablo and many, many more! They have amazing and unique high-end light fixtures and lamps as well as amazingly affordable and beautiful designs. I have always found Lux Lighting's sales staff to be knowledgeable and willing to help with tricky lighting design issues.
Here in Portland, and especially in the Pearl District's high rise lofts and condos, coming up with a great lighting plan is important to feeling good in your home.
** The first layer of light, ambient lighting (or overall general lighting) can be addressed through ceiling fixtures. Monorail and track lighting are two solutions that give a great amount of flexibility to your lighting through the myriad choice of spot lights and pendants. This will be especially important in the deeper recesses of lofts, condos or townhomes that have windows on a single side. Balance the amount of light so you have as much light toward the back of the space as you do near the windows.
** Task lighting is the next layer. Reading lamps and above counter lights in the kitchen are two good examples of lights that make it easier for you to function in your home. Think about the tasks you perform – cooking, reading, working at a desk – and add extra light to shine directly on your work space.
** Accent lighting is what really brings your space to life and adds that designer look. This includes lighting for your art, "up lights" that wash light onto the ceiling, and decorative lamps that are beautiful in their own right. Since many of the newer construction buildings feature lofts or condos with high ceilings, this is the perfect opportunity to add drama with a spectacular chandelier.
I also want to recommend Red's Electric as my go-to resource for installation of all lighting elements in high rise condos, lofts and townhomes in the Pearl District. They have experience in these buildings and know how to work with all of the concrete, steel and special restrictions. Please tell them Pangaea sent you!
If you have one of these great Pearl District lofts, condos or townhomes and need help lighting up your space, call me today to schedule a lighting plan consultation! 503.816.4394
Get all the Latest On Hot Design Trends, Trade Secrets, DIY Tips & Design Advice!
Click here to Receive Pangaea Interior Design's Free Ezine on Design!
Tags: 937 Condominiums, accent lighting, Ambient lighting, Big Bang Chandelier, Bridgeport Condos, condo, floor lamp, Flos, Foscarini, George Kovacs, Indigo @ Twelve West, Interior Design, Lighting, loft, Luceplan, Modernica, monorail lighting, Pablo, Robert Abbey, Streetcar Lofts, task lighting, The Elizabeth, The Encore, The Henry, The Wyatt, track lighting
Posted in DIY, Design Dollars, Design Tips, Interior Design, Lighting, Lofts, Pearl District, Shopping, Uncategorized | No Comments »
Friday, March 26th, 2010
Portland Interior Designer Shares: Where to Shop In The Pearl District – PH Reed
(Photo of Dellarobbia Grant Seating Group, via PH Reed Furniture Store in Portland Pearl District)

In my work as a Portland Interior Designer, shopping in the Pearl District is one of my favorite job duties. I specialize in modern interior design emphasizing warmth, comfort, and sustainable options in home decor. Portland's Pearl District is home to some great furniture and accessory stores and also wonderful art galleries showcasing both local and national artists.
Some of my clients choose to work with an interior designer so that they can gain the access I have to shopping at "To The Trade Only" stores. But I also have many clients who are trying to keep costs down by hiring me to help them develop a decorating plan and then doing the shopping themselves. Then they bring me back again to help them decide on the best pieces once they've seen what options are out there. So, I thought I would help you along by sharing my very favorite retail furniture, accessory and lighting stores in Portland's Pearl District.
When I first came to Portland, Oregon over 4 years ago to see if I would like to live here, I spent some time checking out the Pearl District Furniture Stores to see what was available. I immediately fell in love with PH Reed on the corner of NW 11th & Glisan. I was blown away by the great selection of contemporary furnishings, accessories and lighting. When I finally moved into Portland, I purchased my platform bed, dresser and nightstands here. To this day, it is still one of my favorite sources for interior design inspiration in the Pearl District. The store is laid out in room vignettes that are packed with great modern decorating ideas. One thing that I think is cool – but you would never know just by looking at the showroom – is that the store is divided into one half with more affordable brands and the other half with higher end brands like Dellarobbia. Since they have carefully curated their collection of beautifully designed furniture lines, you would think it was all high-end. But don't let the high class look keep you standing on the sidewalk. Go on in. You'll find great design to be more affordable than you might have expected.
If you are looking for sustainably made furniture in the Pearl District, be sure to look at PH Reed's Creative Elegance Furniture – a member of the Sustainable Furniture Council. The environmentally friendly manufacturing processes and fresh, contemporary designs are a winning combination.
I help busy professionals create comfortable and contemporary spaces so they can relax and enjoy their homes. If you would like help coming up with a decorating plan and help in making your selections so that the end result is a space that looks fabulous, call me today to schedule a consultation! 503.816.4394
Get the Latest On Hot Design Trends, Trade Secrets, DIY Tips & Design Advice
Click Here To Receive Your Free Ezine!!
Tags: accessories, contemporary furniture, Creative Elegance, decorating, Dellarobbia, design advice, design trends, DIY, Furniture, Interior Design, Lighting, modern furniture, Pearl District, PH Reed, retail furniture, Shopping, sustainable design
Posted in DIY, Design Dollars, Design Tips, Furniture, Interior Design, Pearl District, Shopping, Sustainable style, Uncategorized | No Comments »