Archive for the 'Pearl District' Category
Tuesday, November 15th, 2011
So you're telling me that you can't spend half a year's salary on original art work for the hallway? That's okay. There are many alternatives for great wall decor without breaking the bank. Get creative with fabrics, found objects, natural elements, texture and even fish — oh yes, I did say fish! — to add your own personality and charm and fill your home with your unique style.


Browse Home Office Products on Houzz- For Example:
Get the Latest On Hot Design Trends, Trade Secrets, DIY Tips & Design Advice

Tags: Art, Bathroom, Bedroom, color, Design Tips, design trends, Dining Room, fabrics, Fireplace, found objects, hallway, Interior Design, Kitchen, Living Room, loft, Lofts, modern design, natural elements, texture, wall decor
Posted in Achievements, Art, Bathroom, Bedroom, Cool Ideas, Cool Stuff, DIY, Design Tips, Dining Room, Fireplace, Home Office, Interior Design, Kitchen, Lofts, Mistakes: Avoiding & Fixing, Pearl District, Shopping, Space Planning, Storage Solutions, Top Ten, Uncategorized, Upholstery, Wall Treatments | No Comments »
Friday, March 26th, 2010
Portland Interior Designer Shares: Where to Shop in The Pearl District – Lux Lighting
(Photo: Pearl District Bridgeport Condo featuring monorail lighting, George Kovacs Floor Lamp, Kartell pendant lamps – interior by Pangaea Interior Design)
If you are moving to the Portland, Oregon Pearl District from somewhere in California (who isn't? — I did!) or any other sunny place, you are probably noticing that there just isn't as much light here with the cloudy and rainy days we often have. In fact, for the whole first year I lived here, I would think it was around 5:00 or 6:00 in the evening when it was only 2:00pm!! So today I'm sharing a little of my expertise on designing lighting plans and where to buy the coolest contemporary lighting fixtures and lamps.
Many of my clients living in the Pearl District are in one of the wonderful Lofts, Condos or Townhomes in buildings like 937 Condominiums, Bridgeport Condos, Streetcar Lofts, The Elizabeth, Indigo @ Twelve West, The Encore, The Wyatt or The Henry – just to name a handful. If you are not lucky enough to have a corner unit, although you may have floor to ceiling windows, they are probably all on one side and you have big lighting issues further back in your home. To complicate matters, you may have concrete ceilings or walls and steel studs. Enough to stop the DIY design enthusiast in their tracks! Many of my clients call me for help in designing a lighting plan for their Pearl District loft or condo. If you want a truly unique and upscale look, I have many "To-The-Trade" resources. But lots of my clients hire me to help them come up with a lighting plan, and they want to do their own shopping at retail stores to keep their costs down. They then run their favorite options past me for advice before making their final decisions.This is a great way to avoid any expensive mistakes! With a lighting plan consultation you can be sure you have all your lighting needs addressed and that it all looks great together.
So, I'm sharing my favorite retail lighting specialty store in the Pearl District. It's Lux Lighting on the corner of NW Glisan & NW 13th. Their showroom will just knock your socks off with the latest in modern, contemporary and transitional lighting. They carry a huge array of brands. Some of my personal favorites are Foscarini (I have their Big Bang Chandelier in my own entryway – fabulous!,) Flos, George Kovacs, Luceplan, Modernica, Robert Abbey, Pablo and many, many more! They have amazing and unique high-end light fixtures and lamps as well as amazingly affordable and beautiful designs. I have always found Lux Lighting's sales staff to be knowledgeable and willing to help with tricky lighting design issues.
Here in Portland, and especially in the Pearl District's high rise lofts and condos, coming up with a great lighting plan is important to feeling good in your home.
** The first layer of light, ambient lighting (or overall general lighting) can be addressed through ceiling fixtures. Monorail and track lighting are two solutions that give a great amount of flexibility to your lighting through the myriad choice of spot lights and pendants. This will be especially important in the deeper recesses of lofts, condos or townhomes that have windows on a single side. Balance the amount of light so you have as much light toward the back of the space as you do near the windows.
** Task lighting is the next layer. Reading lamps and above counter lights in the kitchen are two good examples of lights that make it easier for you to function in your home. Think about the tasks you perform – cooking, reading, working at a desk – and add extra light to shine directly on your work space.
** Accent lighting is what really brings your space to life and adds that designer look. This includes lighting for your art, "up lights" that wash light onto the ceiling, and decorative lamps that are beautiful in their own right. Since many of the newer construction buildings feature lofts or condos with high ceilings, this is the perfect opportunity to add drama with a spectacular chandelier.
I also want to recommend Red's Electric as my go-to resource for installation of all lighting elements in high rise condos, lofts and townhomes in the Pearl District. They have experience in these buildings and know how to work with all of the concrete, steel and special restrictions. Please tell them Pangaea sent you!
If you have one of these great Pearl District lofts, condos or townhomes and need help lighting up your space, call me today to schedule a lighting plan consultation! 503.816.4394
Get all the Latest On Hot Design Trends, Trade Secrets, DIY Tips & Design Advice!
Click here to Receive Pangaea Interior Design's Free Ezine on Design!
Tags: 937 Condominiums, accent lighting, Ambient lighting, Big Bang Chandelier, Bridgeport Condos, condo, floor lamp, Flos, Foscarini, George Kovacs, Indigo @ Twelve West, Interior Design, Lighting, loft, Luceplan, Modernica, monorail lighting, Pablo, Robert Abbey, Streetcar Lofts, task lighting, The Elizabeth, The Encore, The Henry, The Wyatt, track lighting
Posted in DIY, Design Dollars, Design Tips, Interior Design, Lighting, Lofts, Pearl District, Shopping, Uncategorized | No Comments »
Friday, March 26th, 2010
Portland Interior Designer Shares: Where to Shop In The Pearl District – PH Reed
(Photo of Dellarobbia Grant Seating Group, via PH Reed Furniture Store in Portland Pearl District)

In my work as a Portland Interior Designer, shopping in the Pearl District is one of my favorite job duties. I specialize in modern interior design emphasizing warmth, comfort, and sustainable options in home decor. Portland's Pearl District is home to some great furniture and accessory stores and also wonderful art galleries showcasing both local and national artists.
Some of my clients choose to work with an interior designer so that they can gain the access I have to shopping at "To The Trade Only" stores. But I also have many clients who are trying to keep costs down by hiring me to help them develop a decorating plan and then doing the shopping themselves. Then they bring me back again to help them decide on the best pieces once they've seen what options are out there. So, I thought I would help you along by sharing my very favorite retail furniture, accessory and lighting stores in Portland's Pearl District.
When I first came to Portland, Oregon over 4 years ago to see if I would like to live here, I spent some time checking out the Pearl District Furniture Stores to see what was available. I immediately fell in love with PH Reed on the corner of NW 11th & Glisan. I was blown away by the great selection of contemporary furnishings, accessories and lighting. When I finally moved into Portland, I purchased my platform bed, dresser and nightstands here. To this day, it is still one of my favorite sources for interior design inspiration in the Pearl District. The store is laid out in room vignettes that are packed with great modern decorating ideas. One thing that I think is cool – but you would never know just by looking at the showroom – is that the store is divided into one half with more affordable brands and the other half with higher end brands like Dellarobbia. Since they have carefully curated their collection of beautifully designed furniture lines, you would think it was all high-end. But don't let the high class look keep you standing on the sidewalk. Go on in. You'll find great design to be more affordable than you might have expected.
If you are looking for sustainably made furniture in the Pearl District, be sure to look at PH Reed's Creative Elegance Furniture – a member of the Sustainable Furniture Council. The environmentally friendly manufacturing processes and fresh, contemporary designs are a winning combination.
I help busy professionals create comfortable and contemporary spaces so they can relax and enjoy their homes. If you would like help coming up with a decorating plan and help in making your selections so that the end result is a space that looks fabulous, call me today to schedule a consultation! 503.816.4394
Get the Latest On Hot Design Trends, Trade Secrets, DIY Tips & Design Advice
Click Here To Receive Your Free Ezine!!
Tags: accessories, contemporary furniture, Creative Elegance, decorating, Dellarobbia, design advice, design trends, DIY, Furniture, Interior Design, Lighting, modern furniture, Pearl District, PH Reed, retail furniture, Shopping, sustainable design
Posted in DIY, Design Dollars, Design Tips, Furniture, Interior Design, Pearl District, Shopping, Sustainable style, Uncategorized | No Comments »
Wednesday, March 10th, 2010
Today I'm getting ready for a color consultation with a client who has a great studio loft in The Wyatt, located in Portland's Pearl District. I'm thinking Amethyst for her accent wall because of other furniture she already has and because of the colors in her artwork. I'm selecting inspiration photos showing bedrooms and living rooms with various shades of Amethyst. Shades of purple, including amethyst and plum, are HOT this year. Try pairing it with oranges like in the natural amethyst crystal in the photo. Stunning color combination!
This Rock Star glamorous bedroom is sensational with it's silver chandelier and mirror frame. I also love the crisp white headboard, bedding and accents next to the slightly smoky amethyst wall in the room below, right. My client's style is a cross between the two. Hollywood glamorous curves, but using more white than silver. Below center, the deep amethyst walls with taupe furnishings is a very rich and restful combination.
For help pulling together the latest color trends in your home, get my FREE Ezine on Design Trends, Trade Secrets, DIY Tips, & Design Advice. Or, give me a call and we'll set up a visit to help you get started surrounding yourself with color that you love!
Photo sources: Via Harmony and Home – Home-Designing – Apartment Therapy

Tags: accent wall, amethyst, Bedroom, color consultation, color palette, Interior Design, loft, orange, Pearl District, plum, purple, studio, The Wyatt
Posted in Bedroom, Colors, Interior Design, Lofts, Pearl District, Trends, Uncategorized | No Comments »
Monday, October 26th, 2009
As the rain has started to come down in sheets and the nights have turned COLD, my fireplace has been put into use in a big way. Many years ago, urban living in lofts, condos and apartments meant living without a fireplace. But technology has changed all of that. One potential client who recently contacted me said his one concession in buying a condo in the John Ross Condomiums in the South Waterfront district was to forego a fireplace — but we have a solution for him. Another client in The Wyatt high rise apartments in the Pearl District had a fireplace listed as one of her first items to add to her decor. I was also in the 937 Condominiums in the Pearl District last week and felt sad that for almost half a million dollars, you end up with no fireplace! So, this post is for you! Whether you have a condo in the Pearl or South Waterfront, or a house where there is no built-in fireplace, with today's technology, there is now a fireplace for everyone, every room, and just about every budget!
*
Pangaea's Picks: Top Ten Fireplaces:
1.  Harry Leenders – Hands down, my fave for a suspended, rotating fireplace. Love the sleek lines.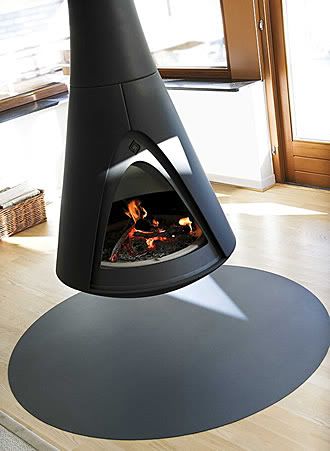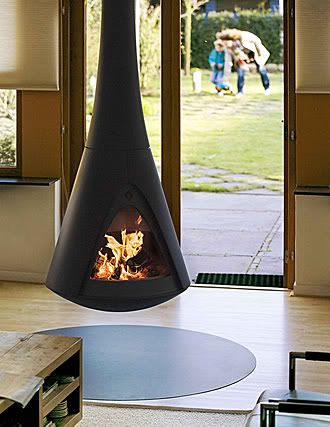 *
2.  EcoSmart's Denatured Ethanol burning fireplaces can be set into a built in display or they have many free-standing styles. Environmentally friendly and renewable fuel is a plus.
*


*
3. This Eurofocus has nice clean lines and is angled to look great in a corner.
*

*
4. Rais is just simple and lovely.
*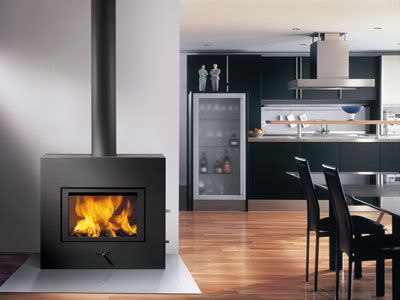 *

5. What top ten list would be complete without the modern classic Fireorb?
*

*
6. Schulte Design has inset this little beauty into a modern coffee table. Open to use the fire and push the two sides together to conceal it and just use the coffee table. Brilliant!
*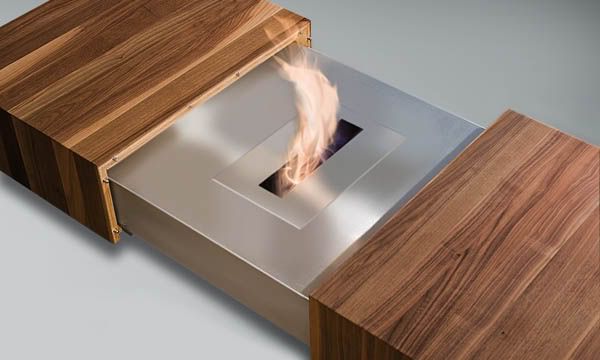 *
7. Sparkfires has this wonderful 6 foot long Ribbon Fire. It really makes a great statement in a big room.
*


*
8. Of all the wall hung, ventless, flueless fireplaces, I love this one by Superior Fires called Scandium.
*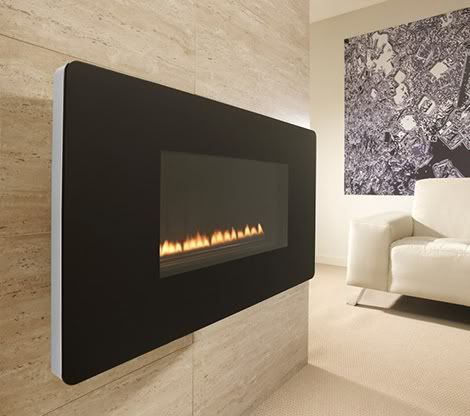 *
9. This is probably the most unique style I've seen for free standing ventless, flueless fireplaces. It's minimal and beautiful. Wonder if I can just roll it along with me wherever I go?
*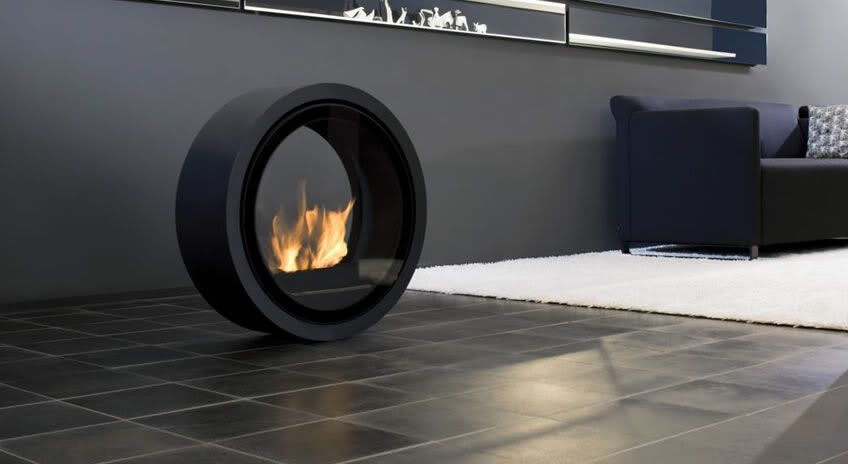 *
10. I love fireplaces that incorporate a place to store the firewood. What a great idea! This Wittus Cubic wood burning stove stores plenty of wood and is large enough to feel like a built-in architectural feature.
*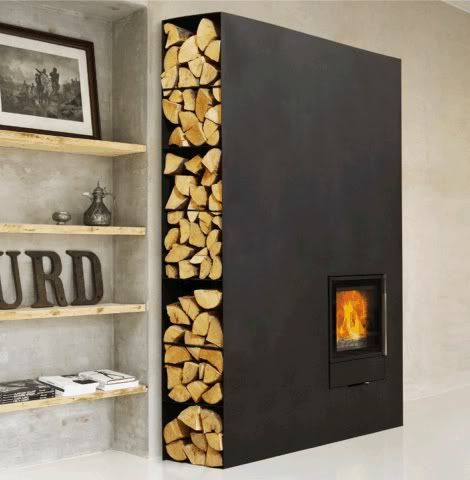 *
1   Harry Leenders Suspended, Rotating Fireplace
2   EcoSmart Denatured Ethanol Burning Fireplace
3   Eurofocus Angled Corner Fireplace
4   Rais
5   Fireorb
6   Schulte Design Fire Furniture
7   Sparkfires Fire Ribbon
8   Superior Fires Scandium Wall Hung Fireplace
9   Conmoto Roll Fire
10  Wittus Cubic Fireplace
Related Posts:
The Warmth of Cool: Adding Visual Warmth With Accessories

Tags: 937 Condominiums, denatured ethanol, environmentally friendly, Fireplace, flueless fireplace, John Ross Condominiums, Pearl District, penthouse, South Waterfront District, sustainable style, The Wyatt, Top Ten, ventless fireplace, wood burning stove
Posted in Cool Stuff, Design Tips, Fireplace, Interior Design, Pearl District, South Waterfront, Sustainable style, Top Ten, Uncategorized | No Comments »
Thursday, July 30th, 2009
My favorite jobs are the ones providing home staging in Portland's Pearl District and South Waterfront Lofts, Condos & Penthouses.
I love these condos and lofts for their floor to ceiling windows and open floor plans. If you saw my post about "Little Boxes on the Hillside", then you already know that one of the challenges to selling these lofts and condos is making them stand out from their competition.
When you are ready to list your loft or condo in the Pearl District or South Waterfront, look at the other listings already in your building.
**  Are they vacant or occupied?    
**  Are they re-sales or still new?    
**  How do they compare in amenities? Floor plan? Upgrades to finishes? Their view?
This is your competition. All of the buyers wanting to purchase a loft or condo in the Pearl District or South Waterfront know that there are many to choose from and they are comparing your listing with all the others available. Did you know that over 84% of people looking for homes will look at properties on the internet before they ever call their broker to go look? They have a list of properties they want to see ready before they ever get in their car — or on the MAX — to go look. If you are in a high-rise condo, there are no "FOR SALE" signs outside your place attracting interest, so what is going to get them to come look in the first place? It's your listing photos. It is essential to professionally stage your condo or loft in the Pearl District and South Waterfront and have professional quality photos taken in order to stand out from all the other condos on the market in your area. In these two sets of before & after photos, which condo would you take the time to go see if you were shopping?
Speak with your broker and find out who is in your "target market".
**  Are they younger and single?
**  First time buyers?
**  Do they work out of their homes?
**  Have children?
**  Older and more established?
**  Is this likely to be a second vacation home?
Hire a home stager who offers the right look and feel for the Pearl District or South Waterfront. A stager who understands the tastes and needs of your target market will do a better job of tailoring the staging to appeal to potential buyers. They will determine if the condo or loft needs a fresh contemporary look for younger buyers with an office set up for live/work, or a more transitional and upscale look for buyers who are more established. In the photos below:
**  The first before and after are of a studio condo in the Portland South Park Blocks staged to appeal to young, first time buyers.
**  The second before and after photos are of a professionally staged, Pearl District penthouse loft appealing to high-end buyers and it fits the upscale, contemporary architecture of the property.
**  The third set of before & after photos is of a high-end studio loft in Portland's South Waterfront John Ross Condominiums with home staging geared toward buyers of vacation or second homes. 
Finally, hire a professional stager who is familiar with the special rules and regulations for staging work in condos. Parking and elevator use restrictions require knowledge and careful planning.
 
Pangaea Interior Design specializes in home staging for Portland's Pearl District, Downtown, Cultural District, South Waterfront and North Waterfront Condos, Lofts and Penthouses. We have the right inventory for everything from starter properties to high end luxury penthouses. For expert help with vacant and occupied properties, call today for your free, no-obligation home staging proposal. 503.816.4394
Tags: Home Staging, Lofts, Pearl District, penthouse, South Waterfront, staging condos, staging lofts, staging luxury homes
Posted in Home Staging, Lofts, Pearl District, South Waterfront, Uncategorized | No Comments »