Archive for the 'Design Dollars' Category
Tuesday, January 17th, 2012
Looking to add character, distinction, or even value to your home? Architecturally, it can be one of the best ways to do so! Crown molding can add a timeless and sophisticated sense of presence to any room.

If you need help deciding what style or size is the best for homes ranging from traditional to contemporary, I have the perfect Ideabook for you! Learn how to add Crown molding that is within your budget, plus other great design tips!




Browse Window Treatments on Houzz- For Example:

Get the Latest On Hot Design Trends, Trade Secrets, DIY Tips & Design Advice






Tags: Bathroom, Bedroom, contemporary, crown molding, Design Tips, design trends, Dining Room, Interior Design, interior design portland, Living Room, loft, modern design, traditional
Posted in Bathroom, Bedroom, Cool Ideas, Cool Stuff, Design Dollars, Design Tips, Dining Room, Interior Design, Kitchen, Live/Work Spaces, Living Room, Lofts, Wall Treatments | No Comments »
Friday, November 18th, 2011
What do a pack of dogs, a swimmer and shirts with too much starch have in common? Somehow all of these became unique, artistic and decorative elements in people's homes. Check out how the unexpected can add fun and show stopping excitement to your home décor.


Browse Kitchen Products on Houzz- For Example:
Get the Latest On Hot Design Trends, Trade Secrets, DIY Tips & Design Advice

Tags: Art, artistic and decorative elements, Bathroom, Bedroom, Design Tips, design trends, Dining Room, home decor, Interior Design, Kitchen, Living Room, loft, Lofts, modern design, wall decor
Posted in Art, Bathroom, Bedroom, Colors, Cool Ideas, Cool Stuff, Design Dollars, Design Tips, Dining Room, Fireplace, Home Office, Interior Design, Kitchen, Lighting, Living Room, Lofts, Sculpture, Top Ten, Trends, Uncategorized, Wall Treatments | No Comments »
Monday, April 4th, 2011
Okay, I am not going to launch into the misery of the housing market right now. What I will say is that competition is fierce for the sales being made. If you want your house to sell, you absolutely must do all you can to prepare your home to show it at its very best.
So what changes should you make to your property before you sell?
And what should you leave alone?

1. Kitchens: This is not the time to do a major kitchen remodel. You will not get your money out of it and it's too late for you to enjoy the new kitchen. But you can make updates that count and will really appeal to buyers. Paint older wood cabinets that are too old to appeal to buyers looking for contemporary style and too new to appeal to buyers looking for historical properties. 1980′s oak is not vintage and it's never coming back in style! White cabinets are more popular than ever, so painting your cabinets white is almost a no-brainer. If you have brass colored cabinet hardware or the hardware is cheap looking – replace it. Satin nickel or oil rubbed bronze continue to be the most popular and your choice depends on the rest of the kitchen finishes. Only replace the counter top or sink if they are in bad condition or not a neutral color. Remove wallpaper and paint a fresh, current color on the walls.
2. Bathrooms: Again, this is not the time to do a major remodel.. But you should update outdated bathrooms as much as possible. Attractive, up to date lighting fixtures and hardware are relatively easy upgrades that make a big difference. Again — get rid of brass and replace with satin nickel or oil rubbed bronze. It can also be worth it to replace the vanity and sink with a current style if yours is outdated or is in poor condition. Replacing a builder wall-to-wall plate glass mirror with a beautifully framed mirror is another simple and affordable upgrade that appeals to current buyers. Only re-tile the tub surround if the tile is in poor shape or not neutral in color. Remove wallpaper and paint a fresh color on the walls.
3. Flooring: If your carpeting is not a neutral color or it is worn out or stained you need to replace it – period. Do not even THINK about leaving it and offering a carpet allowance. The very sight of a worn, stained, or colored carpet is a deal breaker for buyers. The only buyer interested in a home with a worn, stained or colored carpet is a professional house flipper. They will scoff at your carpet allowance and offer you a low-ball price so low it will take you a week to get your jaw back up off of your worn, stained or colored carpet.
Kitchen Flooring especially takes a beating. It is often a different flooring than the rest of the house, so replacing it can be affordable and go a long way toward making the kitchen feel new and fresh.
4. Entry: Your front door needs to look wonderful! Remove screen or storm doors from your front door. If your door is a beautiful one that is just in need of paint or stain, then freshen it up that way. But if you have a front door that doesn't even look pretty painted, it is worth it to install a new front door. Check out this blog I wrote to see before and after photos that show just how big of an improvement a beautiful front door can make.
New Front Door & Exterior Paint Color Selection: Just Two Changes Make a Huge Difference
5. Paint: Remove wallpaper, and paint any room that has beat up looking paint or that is a color which will not have wide appeal to buyers. It does not matter how tasteful – cheerful – cute – beautiful – vintage – _________ (insert your glowing adjective here) you think your wallpaper is. Having wallpaper — ANY wallpaper — will seriously reduce the percentage of buyers that will consider buying your house.
Is the exterior paint on your house in poor shape or a dated color scheme? Tan with forest green trim? Dark brown with tan trim? White with brown trim? Or perhaps a strong color? Bright yellow? Bright blue? Then you need to paint your exterior also. Exterior paint colors can be tricky to select. A a paint color consultation will help you get it right the first time. When I give exterior paint color consultations I take into consideration any stone or brick on the house, your roof color, and the neighbors' house colors to be sure that yours will look attractive.
For a little help on interior paint colors to select when selling your home check out this blog I wrote.
Paint Color to Sell Your House: It Isn't White!
Tags: Bathroom, color, Design Tips, Flooring, Home Staging, home staging portland, Kitchen, Lighting, paint, portland home staging
Posted in Bathroom, Colors, DIY, Design Dollars, Design Tips, Flooring, Home Staging, Kitchen, Lighting, Mistakes: Avoiding & Fixing, Uncategorized | No Comments »
Monday, April 4th, 2011
Ch-ch-ch-ch-Changes!!
Great song, isn't it? If anyone knows how to make changes, it's David Bowie! Some people just have a knack — other people — not so much.
When it comes to your interior decor, making changes can give you a real lift — or it can be a big disappointment if it doesn't turn out well. So it's no wonder that people often hesitate to make desired changes. We hold such hopes that the change we plan will be exactly what we need — and simultaneously worry that we will make a big and costly mistake.
Have you been putting off making changes to your home? Worried it won't turn out right? Not sure where to start? Can't do everything you'd like right now so you think you shouldn't do anything? The strategy you use to implement those changes can make all the difference. Read on for my …

5 Tips For Success in Changing or Updating Your Decor
1.  Make a List of ALL the Projects You Plan To Do Now and Eventually
When I start with a new client I ask them to write down this list for me. It keeps me from inadvertently advising them to do something now that will create problems for a future project I didn't know they were contemplating.
Once you have this list, prioritizing and deciding where to start will be much easier. You may realize there is a project you need to complete before one that you'd like to do right away. But knowing this can save you from having to re-do work or from finding that a project will be more costly because of poor planning. Going over this list with your interior designer or contractor can help you sort out and avoid any potential trouble spots.
2. Enlist the Aid of Your Interior Designer Right From the Beginning of Your Projects
An experienced interior designer will help you plan your projects so they are done right the first time saving you time and money.  If you are planning a remodel it should be your interior designer helping you to select your tile – carpet – counters – cabinets – paint and so on, NOT your building or paint contractors. Now before my contractor and house painter friends get all insulted — this doesn't mean that I don't think a contractor can have good taste or that a house painter can't have a great eye for color. But your contractors are not involved with the big picture. They will not also be helping you in the selection of your upholstered pieces, window treatments, art and accessories, so their choices may hem you in when you get to those later parts of your project.
I talk to people all the time who are sorry about choices that were made in the selection of finishes in their remodel or new construction and are now calling in a designer because they can't find things to go with their tile, carpet, ________ (insert whatever your big mistake was). A few hours of consultation right up front can save lots of grief down the road.
3.  Don't Throw Good Money After Bad
Never continue to work with a mistake. If there is something in your space that was a mistake and you try to "fix" it by using your other decor decisions to make it better, you just end up compounding the error.
You'll be most tempted to do this when you have two items you love — but that just don't work together in the same room. Because you love both things, you try to convince yourself that
Sometimes the fix is easy — move that new clashing chair into a different room or reupholster it. But sometimes you have to bite the bullet and make a serious change — like when a counter top clashes badly with the flooring. Making the tough decision and fixing the mistake will keep you from sending more money down the drain with attempts to force clashing elements to work.
4. Know When To Be a Don't-Try-To-Do-It-Yourselfer
DIY television shows abound. They make everything look so easy, don't they? Watch enough HGTV and you'll almost feel guilty that you're not installing bathtubs — laying hardwood floors — and building custom upholstered furniture from scratch. Sometimes in our zeal to save money, we take on projects that are better left to a professional.
Do you think I've never made this kind of mistake? Oh no … I've learned many lessons the hard way. I know how to set tile — oh yes, I do! But tiling my own floors with Saltillo paver tiles took me months! A pro could have done in a few days. On top of that it was heavy – dirty – physically grueling work and my back will never be the same.
I've done just about every DIY project you can imagine in my life before my Interior Design career. Many projects went well. Some projects turned out beautifully, but cost me way too much in time and energy or unexpected expenses and then some projects just didn't turn out as well as they could have — which is why I now have a very good grasp of what is better left to a pro. Remember to put a value on your own time and energy and to know your strengths and limitations. Get help when it makes sense.
5. Mock-Up Whenever Possible
Do you have a hard time visualizing how a new element in your decor will look along with everything else? You are not alone! Most people can't see in their mind how the new chair will look with the old sofa — or how the new counter top will look with the floor tile. It's hard enough to visualize when you're only changing one thing — but when you are changing all kinds of things in a room, it's impossible for most people.
I help my clients by creating various mock-ups of the elements we want to combine so that as closely as possible, they can see how things will look together. I actually have 3D software I can use to give clients a very good picture of what their project will look like when it's finished. If you don't have access to 3D software, here are things you can do to help yourself visualize.
Get samples or pictures of the items you are selecting and put them in the room where you plan to use them so you can see them next to all elements in the room.
Take photos and samples of all your room elements — fabrics, paint colors, tiles, furniture you already have — with you when you shop. Although you might remember what your 3 year old sofa looks like when you are out looking for accent chairs — it is enormously helpful to be able to have a photo of it right there in the store when you are looking at the chairs under consideration.
Using photos side by side of furniture and other elements is a tool I use all of the time to help clients visualize. I've even used a photo of their room and pasted a picture into it of a new piece of furniture. Anything you can do to give yourself a "picture" of what items will look like together will help you make better choices.
You May Also Like …
Throw Pillows To The Rescue: Fixing a Common Design Mistake
Interior Design Starts With an Inspiration Piece
Tags: Design Tips, Interior Design, portland interior designer
Posted in DIY, Design Dollars, Design Tips, Interior Design, Mistakes: Avoiding & Fixing, Shopping | No Comments »
Friday, July 16th, 2010
I read a lot of blogs. Most of them are Interior Design blogs, but some of them are on other topics of interest to me. One of the blogs I like is called The Calm Space and the topics are about Happiness and Serenity. Yesterday the writer, Vitania M. Liscio posted an article that is all about using what you already have to redecorate your home and freshen it up. It fit my sentiments exactly! After all, my work in Interior Design is really all about helping my clients be more happy with their homes.  It isn't all about buying new stuff (although that is fun!). But if the things you already have can be arranged, changed and displayed to improve the feel of your home, then that's a great way to get started on making your surroundings the best they can be. Plus, she gives great tips, so I thought I would share it with you.
Happiness is Wanting What You've Got!
~~photo is of one of my paintings displayed in a penthouse I staged~~
So, how do I redecorate my own home with what I've already got? Well, I enjoy painting as a hobby, plus I buy a lot of inexpensive and colorful art for my work in home staging. When I need a change, I rotate my art, bringing out pieces I haven't seen in awhile and putting others away.  It is an easy way to change the whole look and color palette of my home without having to buy anything new.
Interior Designers usually refer to this rearranging and re-purposing of your furniture, art and accessories as "Re-Design" and it's one of the services I offer. One great bonus is that this is a very sustainable way to redecorate because you don't have to find a place to get rid of your older things. It's also a thrifty way to allocate your design dollars.
Do you love the idea of re-designing your rooms with what you have, but just can't imagine where to start? After living with your belongings in one arrangement for so long, it can be tough to imagine them any other way. A fresh pair of eyes can be very helpful. If you'd like help with re-designing your space, pick up the phone and give me a call. I'd love to help! 503.816.4394
Tags: decorate, Interior Design, redecorate, redesign, the calm space, Vitania M. Liscio
Posted in Art, Cool Ideas, DIY, Design Dollars, Design Tips, Fireplace, Home Staging, Interior Design, Sustainable style, redesign | 1 Comment »
Thursday, July 1st, 2010
Do you ever find yourself giving great advice (you KNOW what someone else should do) but not taking it yourself?
I've given advice to countless clients to paint outdated cabinets or unattractive brick to freshen up a space. And I have done it in past homes of my own. But for over 4 years now, I've been living with a kitchen that is very outdated and not so very functional because I don't have the funds right now to do the BIG KITCHEN REMODEL. I put that in all caps because it really will be an enormous task that will require taking out a wall, moving plumbing lines and lots and lots of money.
I have done a few things. The photos above show the kitchen as it was when we bought our home and then after my first mini-makeover. It had navy blue wallpaper and a refrigerator that stuck out into the kitchen.
The first thing I did was to chop off the end of my kitchen counter & cabinets so I could fit in a wider, counter depth refrigerator. I did that with a circular saw my first week here and the raw end of the cabinet has been the same ever since because I didn't want to put in new countertops or cabinetry until I can remodel. Not a pretty sight as you can see in the picture below. But I do have a piece of the old cabinet that I can use as a door and reconstruct the end to be functional. I also took out the wallpaper and painted colors that I like. I know – they are pretty wild. I would not force these colors on a client, so don't be frightened!
I also tore out some upper cabinets that were between the kitchen & family room. No photos of that yet. You had to stoop to look under them and they closed off the space. But there is still the raw end of the remaining cabinets showing and a couple holes in the ceiling. But the last couple years have been … well, you know how they've been … so I am not buying new cabinets. Not even Ikea cabinets! Not even just the uppers! And the last improvement I made was to remove the dropped ceiling fluorescent light fixture and replace it with halogen recessed spot lights. Much better! But I've made no further improvements for over a year and a half now.
Then a few things happened that got me thinking I should take my own advice. Last week I sent out my newsletter and wrote about 5 Quick & Affordable Pick-Me-Ups For a Tired Kitchen. And then I read a great post -  Sometimes "Good Enough" Is Good Enough by Anna at Door Sixteen. An excellent post on not requiring perfection out of yourself so that you have time to enjoy life. And on top of that, my neighbor and friend is buying a home built in the 70′s – like mine – and has asked me to help her remodel her kitchen. I have kitchens on the brain right now.
So, I'm finally taking my own advice and making some relatively small and affordable improvements in my kitchen so I can enjoy it for now and stop feeling embarrassed about it.
First: I'm painting the cabinets. Trust me – the wood looks a lot better in the photos than it does in person. I'm using deep warm gray on the base cabinets (Benjamin Moore Dragon's Breath) and white white white on the wall cabinets.
Next: I am replacing the cabinet hardware. I only needed handles for the base cabinets so this is very inexpensive. I went with Ikea handles. They are good enough for now.
Last: I will move one upper cabinet to the other side of the kitchen to replace the one with the raw end. Then I will put up open shelves to replace the cabinet I'm moving. This will give me upper cabinets on only one side of the kitchen. I think it's going to feel more open and a bonus will be that I can unload my dishwasher quickly onto open shelves — well the dishes anyway.
That will be it for this mini-makeover. New countertops, backsplash & flooring will have to wait.
So, for now I am painting and re-drilling holes for the handles. I'll post photos as I go along, so stay tuned.
What "good enough" improvements are you making in your own homes?
Tags: cabinet hardware, Kitchen, makeover, open shelves, painting cabinets
Posted in Colors, DIY, Design Dollars, Interior Design, Kitchen, Storage Solutions, Uncategorized | No Comments »
Wednesday, June 30th, 2010
Are you living with a kitchen that has seen better days? I certainly am! My house – purchased almost 5 years ago – was built in the 70′s and the kitchen had not had updates of any kind. Eventually I will remodel. But when I do, it will be the kind of remodel that includes knocking down walls, moving windows, adding an exterior door and will cost tens of thousands. Business is getting better all the time, so hopefully the day is not far off when I can have the sleek and modern kitchen of my dreams like this beauty by Bulthaup.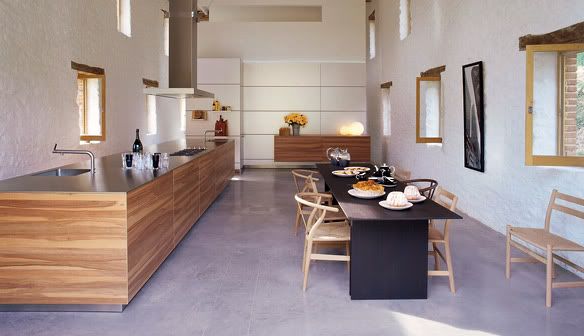 Maybe you are living with a kitchen that is outdated, or even a new construction home with a kitchen that is bland and boring. If you aren't ready for a full blown remodel, it doesn't mean you can't inject a fresh feel into your kitchen and do it affordably. In the meantime, why not make some quick and relatively inexpensive improvements that will make your kitchen more enjoyable and livable for now?
Today I'm sharing 5 ways to freshen up your kitchen without a remodel. These quick and lower cost improvements are also great for people who want to make their home look it's best before putting it on the market.
1. Lighting: Just a few improvements in your kitchen's lighting can make a dramatic impact in how warm and beautiful it looks and make your kitchen more functional. Under-cabinet lights are available in both plug-in models you can install yourself or hard-wired versions that will require an electrician. Getting ones that have a low and high setting means you can set them to bright so you can see to cook, and then turn them down to a soft glow for ambience when you are entertaining. This is especially nice in open plan homes because it makes great accent lighting. Placing them toward the front of the cabinets gives the best light over your work area. In the kitchen below, the under-cabinet lights cast a beautiful glow on the tile backsplash and light the countertop beautifully making it easy to see what you're doing.
via Gardenweb
Updating ceiling light fixtures is another quick way to improve lighting. Removing an old dropped-ceiling fluorescent fixture and replacing it with track or spot lights gives a more contemporary look and better light. If you have higher ceilings in the kitchen, consider a chandelier to replace a nondescript ceiling light or ceiling pendants above a breakfast bar or kitchen island.
2. Backsplash: Changing your backsplash is a quick way to add interest or color without all the work and expense of changing out your countertops. In the kitchen below, the single row of 6″ x 6″ glass tiles adds shine and complements the color of the painted cabinets. Although glass tile is not cheap, you don't need much to do a simple backsplash like this.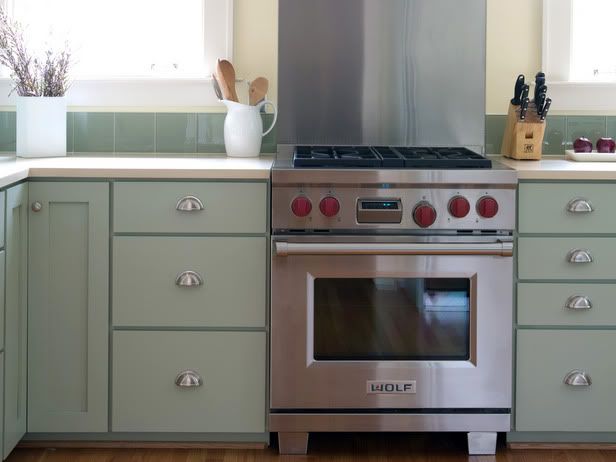 via HGTV, designed by Beth Haley
This beautiful stainless steel backsplash below is done in peel & stick tiles that require no grouting. They are carried at Lowe's and are manufactured from 60% recycled material. When adding a new backsplash, take care to choose a material that relates to something else in the kitchen. The glass tiles above relate in color to the cabinets. The steel tiles below relate in finish to the cabinet and appliance hardware.
via Lowe's
3. Paint and Paintings: Giving the walls a fresh coat of paint in a new color will give you an instant transformation. But an even easier way to add color and interest to a kitchen is to add art. Just as in other rooms, be sure to use art that is large enough for the wall to really make an impact. In the 50′s kitchen below, the bright orange countertop didn't go well with the gold linoleum. This home was going up for sale and the client didn't have the budget to change flooring or countertop. So the large colorful art with oranges, golds, reds and greens pulls together the disparate colors in the room.
You can incorporate art even when there isn't much wall space. Inexpensive printed giclee canvases are easy to wipe clean, so they can be placed anywhere. Here I used art above the backsplash and below the wall cabinets to add a bit of color to this bland kitchen. Colorful accessories continue the color scheme.
4. Flooring: Kitchen flooring takes quite a beating. If your kitchen flooring is looking shabby, and it is different from the rest of the flooring in your house as is often the case – then changing it can be a relatively inexpensive project with big results. If you have old wood floors that are beyond refinishing, consider painting them. Painted checker board patterns are popular, but the kitchen below is very contemporary. I know this is unusual, but the dramatic black floor and charcoal wall work well against the white cabinetry and yellow tile behind the stove with a bright yellow chair as accent. Light colors like soft aqua or muted yellow-green work well in a kitchen too. Again, just be sure to relate the color to other finishes in your kitchen.
via apartmenttherapy.com
Other great flooring options are cork, or Marmoleum. Cork and Marmoleum both come in tiles and can be handled by an experienced do-it-yourselfer. Linoleum comes in a great range of patterns including ones that look like stone. Installation of the large sheet material is better left to a pro.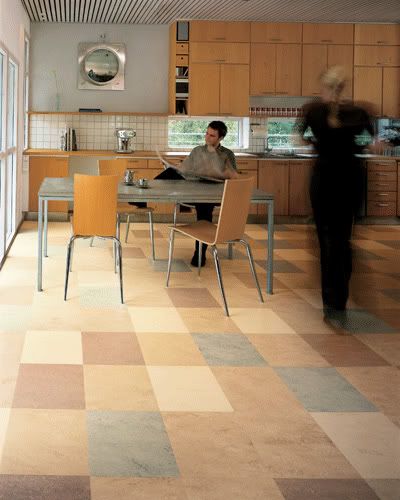 via apartmenttherapy.com
5. Hardware: If you have that shiny brass hardware from the 80′s – RUN – DON'T WALK, to your nearest hardware store! Your cabinet drawer pulls and handles and kitchen plumbing fixtures are like jewelry for your kitchen. Updating them is like getting a new tie to wear with your favorite suit, or a new necklace to wear with that classic dress you love. And just like a new tie or a new necklace, new hardware will change the look of your kitchen equally as effectively. But before you are tempted to pick the cheapest ones you can find — let me say this: hardware is something that you touch everyday. It should feel good in your hand and be of a good quality.
Choose a style and finish that works with the rest of your home. With thousands of styles available, you can create any look you want — from simple traditional or contemporary styles — to highly decorative statements. Although it is possible to successfully mix metals in your kitchen, the finish should relate to other things in your home such as your light fixtures or other metals found in adjacent and visible rooms. In the first two photos below, these simple hardware styles complement the style of the cabinetry. The turquoise glass knob echos the color of the aqua glass inserts in the  cabinets, while the ornate tree shaped pulls work well with the elaborate leaf design carved into the wood.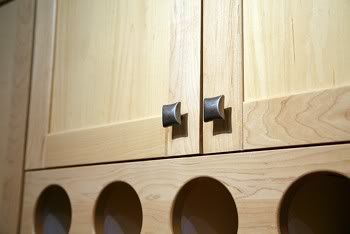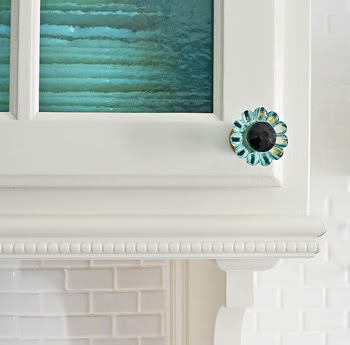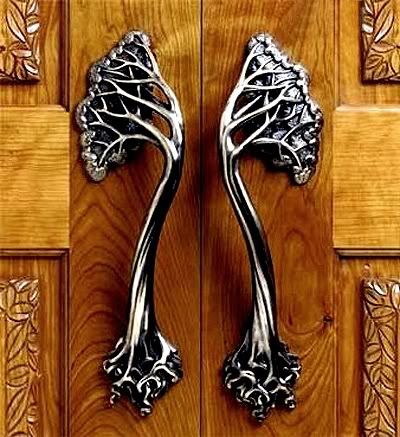 With so many choices available, it can be overwhelming. But just choose one of the above five steps to get started. For most people, the kitchen is the heart of the home, so making it more appealing will give you a big payoff in enjoyment for yourself — or in speed of sale if your house is going on the market.
If you still aren't sure which changes would be the best for your kitchen, I can help you decide your first step. Give me a call or email me today to set up an in-home visit or online consultation.
You may also like:
Painting Kitchen Cabinets: Which Color Would You Choose?
Home Staging Success: Portland Home Sold In One Day … See How
Get the Latest On Hot Design Trends, Trade Secrets, DIY Tips & Design Advice

Tags: Art, backsplash, cabinet hardware, cabinet knobs, cabinet pulls, faucet, Flooring, Kitchen, kitchen cabinets, kitchen remodel, Lighting, paint, plumbing fixtures, stainless steel
Posted in Art, Colors, Cool Ideas, DIY, Design Dollars, Design Tips, Flooring, Home Staging, Interior Design, Kitchen, Lighting, Uncategorized | No Comments »
Thursday, May 27th, 2010
I am always looking for beautifully designed multi-purpose pieces of furniture that work for lofts, small spaces and live/work spaces. In my relentless searching on the internet for these space saving furniture ideas, I've come across almost all of these. But I just found this great demonstration video from Resource Furniture in New York, showing how these pieces work. I'm including photos of just one of their designs – but you've really got to watch the video to get the full awesomeness of these pieces!
Watch the video here: Space Saving & Multi-Purpose Furniture
The sofa below is beautiful! It SO does not look like your parents' over-stuffed sofa-sleeper.
If you need extra space for overnight guests and don't have a guest room, this sofa would be fabulous in the living room. So many sofa sleepers either look big and clunky or they look very skimpy and cheap. I'd put this one in any high-end loft without batting an eye.
If you have a live/work space or a home office set up in your guest room, the desks on the video that can be converted to beds are a great multi-purpose option. It's all about wise use of space.With the advances in technology making it possible for more and more people to work from home, it's nice to know that advances in furniture design are making it possible to have more flexible use of your space.
Although these pieces run more than your average sofa, desk or bed – when you think about the fact that you are buying only one piece of furniture to take the place of two, and you save all that space, they are a pretty smart use of your design dollars too.
Related posts:

Ten Great Tips to Make Your Small Space Look B-I-G-G-E-R! part 1
Ten Great Tips to Make Your Small Space Look B-I-G-G-E-R! part 2

Designing a Home Office That Works for YOU!

Get the Latest On Hot Design Trends, Trade Secrets, DIY Tips & Design Advice

Tags: bed, desk, Home Office, live-work, Lofts, multi-purpose, open plan homes, Resource Furniture, small spaces, sofa
Posted in Bedroom, Cool Ideas, Cool Stuff, Design Dollars, Furniture, Home Office, Interior Design, Live/Work Spaces, Living Room, Lofts, Seating, Space Planning, Storage Solutions, Trends, Uncategorized | No Comments »
Friday, March 26th, 2010
Portland Interior Designer Shares: Where to Shop in The Pearl District – Lux Lighting
(Photo: Pearl District Bridgeport Condo featuring monorail lighting, George Kovacs Floor Lamp, Kartell pendant lamps – interior by Pangaea Interior Design)
If you are moving to the Portland, Oregon Pearl District from somewhere in California (who isn't? — I did!) or any other sunny place, you are probably noticing that there just isn't as much light here with the cloudy and rainy days we often have. In fact, for the whole first year I lived here, I would think it was around 5:00 or 6:00 in the evening when it was only 2:00pm!! So today I'm sharing a little of my expertise on designing lighting plans and where to buy the coolest contemporary lighting fixtures and lamps.
Many of my clients living in the Pearl District are in one of the wonderful Lofts, Condos or Townhomes in buildings like 937 Condominiums, Bridgeport Condos, Streetcar Lofts, The Elizabeth, Indigo @ Twelve West, The Encore, The Wyatt or The Henry – just to name a handful. If you are not lucky enough to have a corner unit, although you may have floor to ceiling windows, they are probably all on one side and you have big lighting issues further back in your home. To complicate matters, you may have concrete ceilings or walls and steel studs. Enough to stop the DIY design enthusiast in their tracks! Many of my clients call me for help in designing a lighting plan for their Pearl District loft or condo. If you want a truly unique and upscale look, I have many "To-The-Trade" resources. But lots of my clients hire me to help them come up with a lighting plan, and they want to do their own shopping at retail stores to keep their costs down. They then run their favorite options past me for advice before making their final decisions.This is a great way to avoid any expensive mistakes! With a lighting plan consultation you can be sure you have all your lighting needs addressed and that it all looks great together.
So, I'm sharing my favorite retail lighting specialty store in the Pearl District. It's Lux Lighting on the corner of NW Glisan & NW 13th. Their showroom will just knock your socks off with the latest in modern, contemporary and transitional lighting. They carry a huge array of brands. Some of my personal favorites are Foscarini (I have their Big Bang Chandelier in my own entryway – fabulous!,) Flos, George Kovacs, Luceplan, Modernica, Robert Abbey, Pablo and many, many more! They have amazing and unique high-end light fixtures and lamps as well as amazingly affordable and beautiful designs. I have always found Lux Lighting's sales staff to be knowledgeable and willing to help with tricky lighting design issues.
Here in Portland, and especially in the Pearl District's high rise lofts and condos, coming up with a great lighting plan is important to feeling good in your home.
** The first layer of light, ambient lighting (or overall general lighting) can be addressed through ceiling fixtures. Monorail and track lighting are two solutions that give a great amount of flexibility to your lighting through the myriad choice of spot lights and pendants. This will be especially important in the deeper recesses of lofts, condos or townhomes that have windows on a single side. Balance the amount of light so you have as much light toward the back of the space as you do near the windows.
** Task lighting is the next layer. Reading lamps and above counter lights in the kitchen are two good examples of lights that make it easier for you to function in your home. Think about the tasks you perform – cooking, reading, working at a desk – and add extra light to shine directly on your work space.
** Accent lighting is what really brings your space to life and adds that designer look. This includes lighting for your art, "up lights" that wash light onto the ceiling, and decorative lamps that are beautiful in their own right. Since many of the newer construction buildings feature lofts or condos with high ceilings, this is the perfect opportunity to add drama with a spectacular chandelier.
I also want to recommend Red's Electric as my go-to resource for installation of all lighting elements in high rise condos, lofts and townhomes in the Pearl District. They have experience in these buildings and know how to work with all of the concrete, steel and special restrictions. Please tell them Pangaea sent you!
If you have one of these great Pearl District lofts, condos or townhomes and need help lighting up your space, call me today to schedule a lighting plan consultation! 503.816.4394
Get all the Latest On Hot Design Trends, Trade Secrets, DIY Tips & Design Advice!
Click here to Receive Pangaea Interior Design's Free Ezine on Design!
Tags: 937 Condominiums, accent lighting, Ambient lighting, Big Bang Chandelier, Bridgeport Condos, condo, floor lamp, Flos, Foscarini, George Kovacs, Indigo @ Twelve West, Interior Design, Lighting, loft, Luceplan, Modernica, monorail lighting, Pablo, Robert Abbey, Streetcar Lofts, task lighting, The Elizabeth, The Encore, The Henry, The Wyatt, track lighting
Posted in DIY, Design Dollars, Design Tips, Interior Design, Lighting, Lofts, Pearl District, Shopping, Uncategorized | No Comments »
Friday, March 26th, 2010
Portland Interior Designer Shares: Where to Shop In The Pearl District – PH Reed
(Photo of Dellarobbia Grant Seating Group, via PH Reed Furniture Store in Portland Pearl District)

In my work as a Portland Interior Designer, shopping in the Pearl District is one of my favorite job duties. I specialize in modern interior design emphasizing warmth, comfort, and sustainable options in home decor. Portland's Pearl District is home to some great furniture and accessory stores and also wonderful art galleries showcasing both local and national artists.
Some of my clients choose to work with an interior designer so that they can gain the access I have to shopping at "To The Trade Only" stores. But I also have many clients who are trying to keep costs down by hiring me to help them develop a decorating plan and then doing the shopping themselves. Then they bring me back again to help them decide on the best pieces once they've seen what options are out there. So, I thought I would help you along by sharing my very favorite retail furniture, accessory and lighting stores in Portland's Pearl District.
When I first came to Portland, Oregon over 4 years ago to see if I would like to live here, I spent some time checking out the Pearl District Furniture Stores to see what was available. I immediately fell in love with PH Reed on the corner of NW 11th & Glisan. I was blown away by the great selection of contemporary furnishings, accessories and lighting. When I finally moved into Portland, I purchased my platform bed, dresser and nightstands here. To this day, it is still one of my favorite sources for interior design inspiration in the Pearl District. The store is laid out in room vignettes that are packed with great modern decorating ideas. One thing that I think is cool – but you would never know just by looking at the showroom – is that the store is divided into one half with more affordable brands and the other half with higher end brands like Dellarobbia. Since they have carefully curated their collection of beautifully designed furniture lines, you would think it was all high-end. But don't let the high class look keep you standing on the sidewalk. Go on in. You'll find great design to be more affordable than you might have expected.
If you are looking for sustainably made furniture in the Pearl District, be sure to look at PH Reed's Creative Elegance Furniture – a member of the Sustainable Furniture Council. The environmentally friendly manufacturing processes and fresh, contemporary designs are a winning combination.
I help busy professionals create comfortable and contemporary spaces so they can relax and enjoy their homes. If you would like help coming up with a decorating plan and help in making your selections so that the end result is a space that looks fabulous, call me today to schedule a consultation! 503.816.4394
Get the Latest On Hot Design Trends, Trade Secrets, DIY Tips & Design Advice
Click Here To Receive Your Free Ezine!!
Tags: accessories, contemporary furniture, Creative Elegance, decorating, Dellarobbia, design advice, design trends, DIY, Furniture, Interior Design, Lighting, modern furniture, Pearl District, PH Reed, retail furniture, Shopping, sustainable design
Posted in DIY, Design Dollars, Design Tips, Furniture, Interior Design, Pearl District, Shopping, Sustainable style, Uncategorized | No Comments »