Archive for the 'Achievements' Category
Tuesday, November 15th, 2011
So you're telling me that you can't spend half a year's salary on original art work for the hallway? That's okay. There are many alternatives for great wall decor without breaking the bank. Get creative with fabrics, found objects, natural elements, texture and even fish — oh yes, I did say fish! — to add your own personality and charm and fill your home with your unique style.


Browse Home Office Products on Houzz- For Example:
Get the Latest On Hot Design Trends, Trade Secrets, DIY Tips & Design Advice

Tags: Art, Bathroom, Bedroom, color, Design Tips, design trends, Dining Room, fabrics, Fireplace, found objects, hallway, Interior Design, Kitchen, Living Room, loft, Lofts, modern design, natural elements, texture, wall decor
Posted in Achievements, Art, Bathroom, Bedroom, Cool Ideas, Cool Stuff, DIY, Design Tips, Dining Room, Fireplace, Home Office, Interior Design, Kitchen, Lofts, Mistakes: Avoiding & Fixing, Pearl District, Shopping, Space Planning, Storage Solutions, Top Ten, Uncategorized, Upholstery, Wall Treatments | No Comments »
Wednesday, January 13th, 2010
I am so honored to have been chosen as the 2010 Distinct Style Awards Winner for "Best Home Staging Design".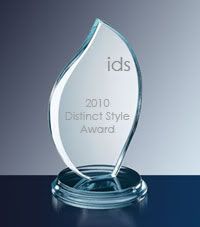 Last Saturday night the first annual Distinct Style  Awards, introduced by the Interior Design Society of Portland, honored winners in six design categories. Open to all interior designers and home staging professionals working in the Portland metro area, 124 entries were received and judged by a panel from the San Francisco Bay Area Chapter of the Interior Design Society.
It was exciting to win an award and also wonderful to see my colleagues winning awards for their fabulous residential interior design projects. I was in very good company!
The winners …
Best Home Staging Design – Pangaea, Pangaea Interior Design
Best Use of Color - Teri Peck
Best Redesign – Nicole Rivlin, Redesign Works
Best Kitchen Remodel – Jason Ball, Jason Ball Interiors
Best Bath Remodel - Susan Nicholson
Best Living Space – Leslie Minervini, Minervini Interiors
Best in Show - Leslie Minervini, Minervini Interiors
Tags: award, Distinct Style Awards, Home Staging, IDS, Interior Design Society, portland home staging, Residential Interior Design
Posted in Achievements, Uncategorized | No Comments »