Archive for June, 2010
Wednesday, June 30th, 2010
Are you living with a kitchen that has seen better days? I certainly am! My house – purchased almost 5 years ago – was built in the 70′s and the kitchen had not had updates of any kind. Eventually I will remodel. But when I do, it will be the kind of remodel that includes knocking down walls, moving windows, adding an exterior door and will cost tens of thousands. Business is getting better all the time, so hopefully the day is not far off when I can have the sleek and modern kitchen of my dreams like this beauty by Bulthaup.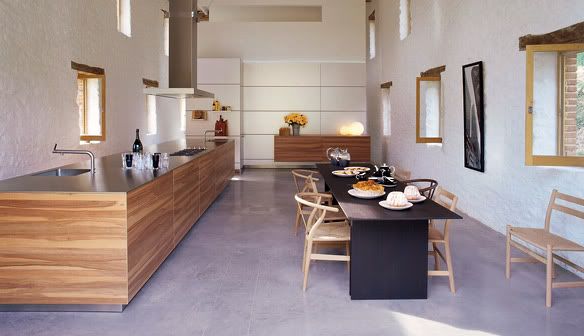 Maybe you are living with a kitchen that is outdated, or even a new construction home with a kitchen that is bland and boring. If you aren't ready for a full blown remodel, it doesn't mean you can't inject a fresh feel into your kitchen and do it affordably. In the meantime, why not make some quick and relatively inexpensive improvements that will make your kitchen more enjoyable and livable for now?
Today I'm sharing 5 ways to freshen up your kitchen without a remodel. These quick and lower cost improvements are also great for people who want to make their home look it's best before putting it on the market.
1. Lighting: Just a few improvements in your kitchen's lighting can make a dramatic impact in how warm and beautiful it looks and make your kitchen more functional. Under-cabinet lights are available in both plug-in models you can install yourself or hard-wired versions that will require an electrician. Getting ones that have a low and high setting means you can set them to bright so you can see to cook, and then turn them down to a soft glow for ambience when you are entertaining. This is especially nice in open plan homes because it makes great accent lighting. Placing them toward the front of the cabinets gives the best light over your work area. In the kitchen below, the under-cabinet lights cast a beautiful glow on the tile backsplash and light the countertop beautifully making it easy to see what you're doing.
via Gardenweb
Updating ceiling light fixtures is another quick way to improve lighting. Removing an old dropped-ceiling fluorescent fixture and replacing it with track or spot lights gives a more contemporary look and better light. If you have higher ceilings in the kitchen, consider a chandelier to replace a nondescript ceiling light or ceiling pendants above a breakfast bar or kitchen island.
2. Backsplash: Changing your backsplash is a quick way to add interest or color without all the work and expense of changing out your countertops. In the kitchen below, the single row of 6″ x 6″ glass tiles adds shine and complements the color of the painted cabinets. Although glass tile is not cheap, you don't need much to do a simple backsplash like this.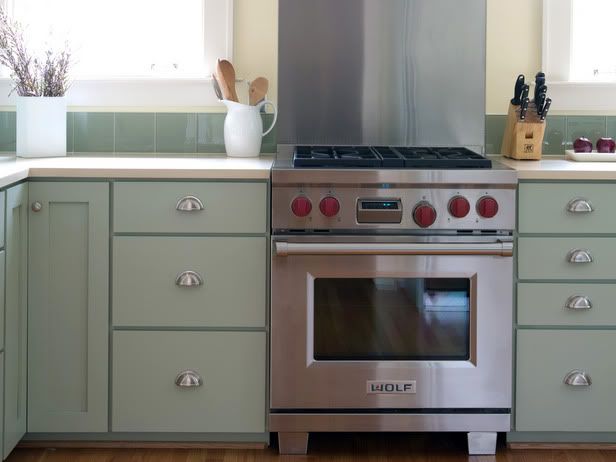 via HGTV, designed by Beth Haley
This beautiful stainless steel backsplash below is done in peel & stick tiles that require no grouting. They are carried at Lowe's and are manufactured from 60% recycled material. When adding a new backsplash, take care to choose a material that relates to something else in the kitchen. The glass tiles above relate in color to the cabinets. The steel tiles below relate in finish to the cabinet and appliance hardware.
via Lowe's
3. Paint and Paintings: Giving the walls a fresh coat of paint in a new color will give you an instant transformation. But an even easier way to add color and interest to a kitchen is to add art. Just as in other rooms, be sure to use art that is large enough for the wall to really make an impact. In the 50′s kitchen below, the bright orange countertop didn't go well with the gold linoleum. This home was going up for sale and the client didn't have the budget to change flooring or countertop. So the large colorful art with oranges, golds, reds and greens pulls together the disparate colors in the room.
You can incorporate art even when there isn't much wall space. Inexpensive printed giclee canvases are easy to wipe clean, so they can be placed anywhere. Here I used art above the backsplash and below the wall cabinets to add a bit of color to this bland kitchen. Colorful accessories continue the color scheme.
4. Flooring: Kitchen flooring takes quite a beating. If your kitchen flooring is looking shabby, and it is different from the rest of the flooring in your house as is often the case – then changing it can be a relatively inexpensive project with big results. If you have old wood floors that are beyond refinishing, consider painting them. Painted checker board patterns are popular, but the kitchen below is very contemporary. I know this is unusual, but the dramatic black floor and charcoal wall work well against the white cabinetry and yellow tile behind the stove with a bright yellow chair as accent. Light colors like soft aqua or muted yellow-green work well in a kitchen too. Again, just be sure to relate the color to other finishes in your kitchen.
via apartmenttherapy.com
Other great flooring options are cork, or Marmoleum. Cork and Marmoleum both come in tiles and can be handled by an experienced do-it-yourselfer. Linoleum comes in a great range of patterns including ones that look like stone. Installation of the large sheet material is better left to a pro.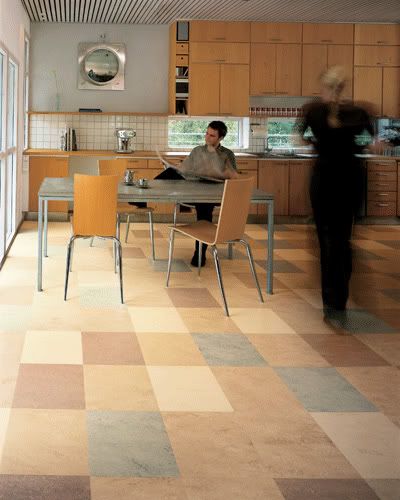 via apartmenttherapy.com
5. Hardware: If you have that shiny brass hardware from the 80′s – RUN – DON'T WALK, to your nearest hardware store! Your cabinet drawer pulls and handles and kitchen plumbing fixtures are like jewelry for your kitchen. Updating them is like getting a new tie to wear with your favorite suit, or a new necklace to wear with that classic dress you love. And just like a new tie or a new necklace, new hardware will change the look of your kitchen equally as effectively. But before you are tempted to pick the cheapest ones you can find — let me say this: hardware is something that you touch everyday. It should feel good in your hand and be of a good quality.
Choose a style and finish that works with the rest of your home. With thousands of styles available, you can create any look you want — from simple traditional or contemporary styles — to highly decorative statements. Although it is possible to successfully mix metals in your kitchen, the finish should relate to other things in your home such as your light fixtures or other metals found in adjacent and visible rooms. In the first two photos below, these simple hardware styles complement the style of the cabinetry. The turquoise glass knob echos the color of the aqua glass inserts in the  cabinets, while the ornate tree shaped pulls work well with the elaborate leaf design carved into the wood.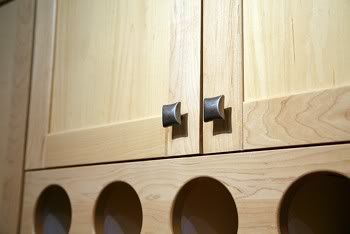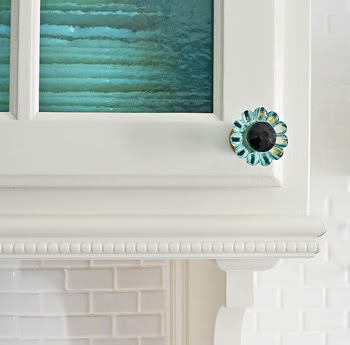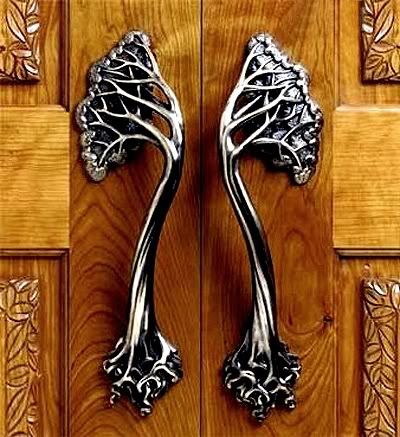 With so many choices available, it can be overwhelming. But just choose one of the above five steps to get started. For most people, the kitchen is the heart of the home, so making it more appealing will give you a big payoff in enjoyment for yourself — or in speed of sale if your house is going on the market.
If you still aren't sure which changes would be the best for your kitchen, I can help you decide your first step. Give me a call or email me today to set up an in-home visit or online consultation.
You may also like:
Painting Kitchen Cabinets: Which Color Would You Choose?
Home Staging Success: Portland Home Sold In One Day … See How
Get the Latest On Hot Design Trends, Trade Secrets, DIY Tips & Design Advice

Tags: Art, backsplash, cabinet hardware, cabinet knobs, cabinet pulls, faucet, Flooring, Kitchen, kitchen cabinets, kitchen remodel, Lighting, paint, plumbing fixtures, stainless steel
Posted in Art, Colors, Cool Ideas, DIY, Design Dollars, Design Tips, Flooring, Home Staging, Interior Design, Kitchen, Lighting, Uncategorized | No Comments »
Friday, June 25th, 2010
If you read Part 1 on Ambient Lighting and Part 2 on Task Lighting you may be thinking that once your kitchen is nice and bright and you can see what you're doing, why would you need any other lights? But your kitchen can be taken to a level of beauty you hadn't realized possible when adding accent lighting. These are lights which highlight features or also lights which may simply be beautiful in their own right. Sometimes people separate those into two categories of decorative and accent lighting – but I think of them in the same group. Their job is to add or highlight beauty. Chandeliers and pendant lights fall into this category doing double duty – adding beauty while also providing ambient or task lighting. But there are a couple others that shouldn't be overlooked.
In the kitchen below, contemporary pendant lights are nice accents above the island, providing task light also. Spot lights above the fireplace wall highlight the unique texture, adding interest to the room.
source
Cabinet top lights - If you have cabinets that have space between the top of the cabinet and the ceiling, putting some light up here can give a beautiful glow that makes the ceiling feel higher. And if you also have room up there for some nice sized accessories, lighting them will add to the effect. The very same lights used as under cabinet lights will work here. You can also use rope lights if all you need is a soft glow. There are rarely electrical outlets up above the cabinets, so this improvement generally calls for an electrician to be involved. But it's really worth it. It is also possible to add lights below your base cabinets to illuminate softly around the toe-kick area. I confess that to me, this feels like overkill and a great way to remind me how long it's been since I swept. But if you get up for a lot of late night snacks & don't want to turn on the overhead lights – perhaps this type of lighting could keep you from stubbing a toe.
Wall Sconces – Since wall sconces are generally mounted about 5 to 6 feet from the floor, they are very visible and can be a nice decorative touch. Not only can they be beautiful themselves, but they can wash light over a wall highlighting an interesting texture such as stone tile. You can also highlight art with a wall mounted spot light above the piece.
Candle Light - Don't forget that candles can add a warm glow to your kitchen. Sometimes, when I'm in the mood, I light a  candle and pour myself a glass of wine to have while I'm cooking. Makes it more fun! This is an especially attractive type of light to include when entertaining as guests tend to gravitate to the kitchen. Just like all other accessories, choose candle holders that are sized in an appropriate scale for their place and in a style to complement the room.
The kitchen below has cabinet top lights to illuminate the high ceiling area and also lights in glass front cabinets.
source
Display Lighting - If you have open display shelves in the kitchen or glass front cabinets, it may be appropriate to add lighting here. Small hidden spot lights are generally called for in these types of places and hiding the electrical wires is essential so they don't distract from the items being displayed.
Dimmer Switches – Whatever you do, don't forget the dimmer switches! It's great to have the lights on full blast when you are in full work mode. But if you are just relaxing with a cup of coffee it might be nicer to have softer light. And think about when you get up in the night for a drink or snack. Nicer to have soft lights then instead of being jarred awake with the full available wattage. Under cabinet lights take on the role of accent lighting when dimmed.
Read Part 1 On Ambient Lighting For Your Kitchen
Read Part 2 On Task Lighting For Your Kitchen
You May Also Like:
Modern & Minimal Kitchen Design
Soaring Ceilings and What To Do With Them

Tags: accent lighting, Ambient lighting, cabinet top lights, candle light, dimmer switch, display cabinet, Fireplace, Interior Design, Kitchen, kitchen island, Lighting, rope lights, spot light, task lighting, wall sconce
Posted in Interior Design, Kitchen, Lighting, Uncategorized | 1 Comment »
Wednesday, June 23rd, 2010
The kitchen is really the heart of the home in today's culture. In our kitchens we prepare food, our kids do homework, we pay the bills, and even have home offices located here. With so many tasks going on here, it is important to add the second layer of light.
Task Lighting: This is the lighting that shines directly on your work space to help you see what you're doing. If the only lighting you have in your kitchen is the overhead ambient light – even if that's track lighting or you have several recessed can lights – it isn't enough. Here are the best ways to provide great task lighting.
source
Under Cabinet Lights - You just don't know what you're missing until you have these in your kitchen. They are wonderful! I highly recommend you choose ones with halogen bulbs rather than  fluorescent. The light is much more attractive. Under cabinet lights come either in plug-in styles that you can install yourself, or in hard-wired styles that need to be installed by an electrician. If you are planning on upgrading your backsplash, this would be the perfect time to let an electrician run wiring for under cabinet lights that can then be hidden when you put your new backsplash in. If you don't have that option, then buy the plug-in type. Attach the lights to the bottom of your cabinets close to the front so the light will be directly over your work area. Plug them in and then tack up the excess cord using U shaped tacks. Careful not to pound them in too tight or you risk damaging the cord. Choose lights that have a low and high setting. If you are having them hardwired, ask for a dimmer switch. If your cabinets are flat on the bottom with no recessed area, consider adding a 1-1/2″ molding that matches your cabinets around the bottom to hide the lights.
You can also create a design statement with your task lights, rather than hiding them. The ones in the photo above are on adjustable arms so you can aim the light right at your work area. They look pretty cool too!
Pendant Lights - Hanging pendant lights can put light right where you need it above a kitchen island or over a breakfast bar. Place them far enough in to the work area so that when your head is bent over the counter to work or eat, your head does not come between the pendant and the counter casting shadow onto the work space.
Plug In Lamps - Granted, it is a bit unusual to see a plug-in table lamp in the kitchen, but if you have a kitchen office area where you pay bills or clip coupons, consider placing a desk lamp or appropriately scaled table lamp there to illuminate the work space. Be sure to choose one in a style to complement the rest of your kitchen.
source
read part 1: The 3 Layers of Light Every Kitchen Needs – Ambient Lighting
read part 3: The 3 Layers of Light Every Kitchen Needs – Accent Lighting
Tags: ambient light, Kitchen, Lighting, pendant light, task light, under-cabinet light
Posted in Design Tips, Interior Design, Kitchen, Lighting, Uncategorized | 1 Comment »
Sunday, June 20th, 2010
One of my absolute favorite home improvement projects is updating kitchen lighting. I think that's because most kitchens have such crummy lighting and once you make the necessary changes, the impact is so dramatic. You feel like you've really done something!
I've always lived in older homes because my husband and I are attracted to unique properties — no cookie cutter tract homes for us. And so far circumstances haven't come together for us to build a custom home from scratch. That's definitely on my bucket list! But until then, it means I've dealt with some pretty awful kitchens. My 1950′s Cliff May designed California ranch style home may have been a mid-century modern masterpiece – but the the kitchen had literally only ONE wall sconce for a kitchen light, ONE kitchen drawer and FIVE linear feet of counter space. Not kidding! Then there is my current home which is a very contemporary open plan tri-level custom home built in the 70′s. It had that horrible dropped-ceiling fluorescent light fixture in the kitchen. Talk about an awful glaring light. I hated it every time I had to turn it on.
So, without dredging up further painful kitchen memories – here are
The three layers of light every kitchen needs! - Part 1 – Ambient Lighting
via besthomelighting.com
Ambient Lighting: This is your general source of light. It's usually provided by a ceiling fixture of some type. Of course, lighting coming from windows counts too. Most older kitchens have a single fixture on the ceiling, or if you're lucky, you might have a second one over the sink. In many kitchens from the 70′s it's going to be that big fluorescent light hidden behind white plastic. My best recommendations to improve the ambient lighting include:
Track Lighting – These are easy to install and fit right over the old j-box. They range from inexpensive systems found at big box stores to very high end systems available in many finishes and with many styles of spot lights that can be attached to the track. Track lights allow placement of several spot lights along the length of the track. Check with an electrician to be sure how many spots you can add to the track so you don't overload the circuit.You can extend a single line or create L shapes, U shapes, or a square track configuration. If you are replacing a single old light fixture this now gives you ambient light throughout your kitchen instead of a single source. Spots can be aimed at the floor or also at artwork on the walls or down on a kitchen table.
Recessed Can Lights – preferably adjustable – These are easiest to place in a ceiling with an attic above, but there are types that can be retrofitted from below. This usually costs more than track lights, and installation is best left to an electrician. They are popular because they provide lots of light without giving your ceiling a cluttered look. They don't have quite as much flexibility in angle adjustment as the spots on a track light, but they still will allow you to aim the lights where needed.
Chandeliers - If you have a high ceiling in your kitchen it can be a real style statement to include a chandelier. Select one that is an appropriate scale to the room in general so that it will provide sufficient light.
Monorail Lights - These function pretty much the same way as track lights, but they hang lower from the ceiling, so are best used in rooms with high ceilings. In fact, this is my fixture of choice for kitchens with exceptionally high ceilings because they can be extended several feet down from the ceiling putting the light where you need it and putting light bulbs within easy reach for changing. Unlike tracks which are always straight lines, the monorail can be curved in any shape. You can have fun creating a curved application that looks graceful and puts light anywhere you want it.
Skylights, Windows & Solatubes®: These won't help you at night, but a skylight or one of the tube style daylighting systems will brighten up your kitchen so much, you may be able to skip turning on the lights even on a cloudy day. And you may want to evaluate your windows too. Could you increase the size? Add one?
You may also like:
Luxurious Bathroom Style – Chandeliers
Simplicity – Leonardo da Vinci – and Light Switches
Painting Kitchen Cabinets: What Color Would You Choose?
Tags: Ambient lighting, chandeliers, halogen, Kitchen, Lighting, monorail, pendant lights, sconces, task lighting, track lighting
Posted in DIY, Design Tips, Interior Design, Kitchen, Lighting, Uncategorized | 1 Comment »
Saturday, June 19th, 2010
Imagine you are stepping into a deep and steaming scented bubble bath. Your glass of champagne is close at hand and you've put on your favorite relaxing music. As you sink into the water and lean your head back against a soft bath pillow, your gaze drifts upward to the bright and glaring fluorescent light above. Hmmm. What's wrong with that picture? How about instead … your gaze drifts upward to the softly sparkling chandelier? That's more like it!
Do you have a ceiling higher than the standard 8 feet in your bathroom? Then you have the perfect opportunity to add the luxurious design element of a chandelier.
The soft green and elegant traditional style bathroom below is designed by Nate Berkus.
Super sooooothing!

Source
My personal preference is a contemporary space. Choose a chandelier style that fits the style of the bathroom. The grid of pendants that creates this chandelier fits the zen feel. The softly curved shapes are a nice contrast to the highly textural stone wall.
Select a chandelier that is an appropriate scale for the space too. Neither too large, nor too small. The white chandelier below is hanging in a very large bathroom. Although it is a pretty good sized fixture, the delicate wire tracery still feels light in the space.  I'm also pretty covetous of the fireplace in this bathroom. I need to put that on my list of must-haves for my dream bath!
source
This black chandelier is the perfect size for above the vanity and its lines echo the design on the wallpaper. I've actually become rather partial to black chandeliers. Such a sophisticated look.
source
Whatever style or size you choose, remember to put it on a dimmer switch. You'll be glad you can turn it down low for that relaxing, self pampering bubble bath.
You may also like:
Industrial Style Bathroom Design: Perfect For Lofts
Tags: bath, bath vanity, Bathroom, bathtub, black & white, chandelier, contemporary bath, Lighting, Nate Berkus, traditional style
Posted in Bathroom, Cool Ideas, Design Tips, Fireplace, Interior Design, Lighting, Trends | No Comments »
Friday, June 18th, 2010
I love decorating lofts and especially like it when there are great industrial elements to the space. If you are going to decorate your loft in industrial style, carry that look right through to the bathroom. I've pulled together a collection of items that would create that look and a couple of industrial style bathrooms I particularly like.
This first bathroom is a spectacularly high end space with a decidedly industrial style. The large concrete tub and steel walls work beautifully with the warm colors of glass in the chandelier. I am drooling!
source
This bath is on the opposite end of the budget spectrum. The vanity was made by a fabricator who welded the steel frame to which ash wood shelving was added. Matching baskets take the place of drawers and keep items looking tidy. My favorite detail is the mirror mounted on a bar in the middle of the window. I love the idea of putting on my make-up with natural light coming in directly on my face. Can't beat that! And when the day isn't sunny, they've mounted long narrow light fixtures vertically in between and on either side of each window. Best direction for light to shine on your for your daily beauty regimen (although I wouldn't choose fluorescent).
source
So, how can you pull together an industrial look? It takes the right accessories and materials. Raw steel and concrete figure prominently. But adding natural elements like wood and natural sea sponges gives it warmth.
The bathroom faucet and shower fittings below are the Waterbridge collection from Sonoma Forge.  They are perfect with custom concrete sink & shower surround, or even solid surface materials with recycled glass.
Lighting fixtures found at industrial house continue the look.
The toilet roll holder is from Wire & Twine — but I just can't imagine even the most basic do-it-yourselfer not being able to whip this up in one quick trip to a big box store. Can you?
So, what do you think? Are you ready to create an industrial style bathroom?
Are you a loft dweller? Then you might also like:
Defining Space, Not Dividing Space – Interior Design Tips for Lofts & Open Plan Homes
Window Treatments for Floor to Ceiling Windows
Soaring Ceilings and What On Earth To Do With Them
Get the Latest On Hot Design Trends, Trade Secrets, DIY Tips & Design Advice

Tags: Bathroom, bathtub, chandelier, concrete, industrial style, Lighting, loft, sonoma forge, steel, wire & twine
Posted in Bathroom, Cool Stuff, DIY, Design Tips, Interior Design, Lighting, Lofts, Uncategorized | 1 Comment »
Monday, June 14th, 2010
Why – oh WHY – would you spend time & money picking out the perfect sleek & modern furniture for your home and STILL have light switches that look like THIS??!
It's a little like getting a slinky new dress and an up-to-date hair-do – then wearing those with your old sneakers. Not very sophisticated.
If you are going for simplicity of design in your furnishings, then carrying that theme through on everything else in your home will add to the harmonious feel. Details matter! When you are putting in your lighting – don't forget the switches and dimmers. Light switches are something that you look at and touch every single day. Here are my very favorite contemporary and minimal light switches. They are made by Basalte and called Sentido. Left to right they are gray, brushed aluminum and bronze. Click on the gray one to see a short video of one of these being operated. Very slick!
In checking out their website I came across a great quote:
"Simplicity is the ultimate sophistication." – Leonardo da Vinci
It fits their product perfectly! They blend seamlessly with modern, minimal interiors. Just the way I like it!
You may also like:
Where to Shop in The Pearl: Lux Lighting
Pangaea's Picks: Modern & Minimal Hidden Kitchen Design
Get the Latest On Hot Design Trends, Trade Secrets, DIY Tips & Design Advice

Tags: Basalte, contemporary design, light switch, Lighting, minimal, Sentido
Posted in Cool Stuff, Interior Design, Lighting, Uncategorized | 1 Comment »
Tuesday, June 1st, 2010
Are you tired of your furniture? Is it boring?
Ho-hum?
Vanilla?
White bread?
Do you see the same styles at Costco?
When you shop for new pieces do you end up with safe, predictable and brown or beige?
Then maybe what you need are Pangaea's Picks to add some sizzle!
These chairs have as many voluptuous curves and shapely legs as a Victoria's Secret catalog. But if  lean, strong,  masculine lines are what you want, there are a couple chairs in here that would look right at home with Kellen Lutz – Calvin Klein's new male underwear model.
Here are Pangaea's Picks: Top Ten Sexy Chairs
1. Cherner Chair Barstool in Red Gum Wood

2. Maison Ventury Paris – Divine Collection Millesime 2010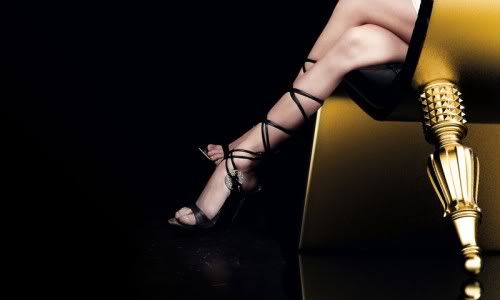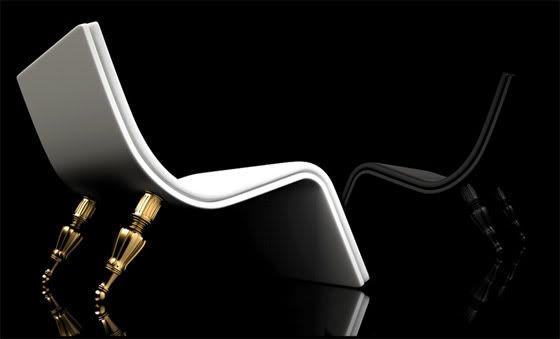 3. Perillo Lounge Chair for Zuco
5.  Ziliani Furniture Collection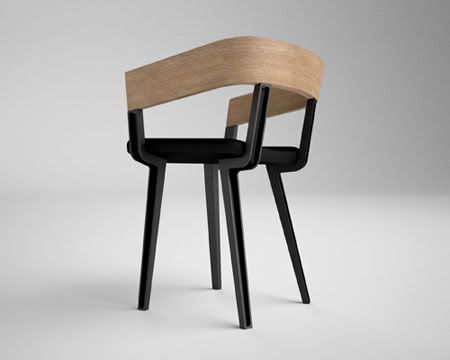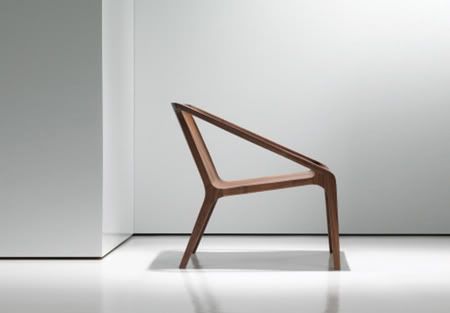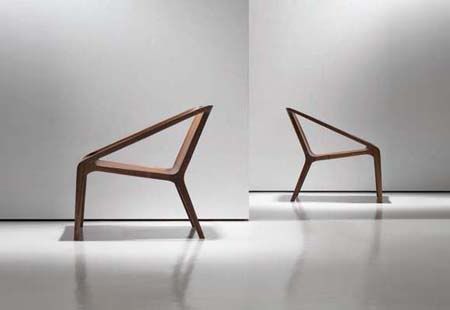 8. Christopher Guy "Chris – X" Dining Chair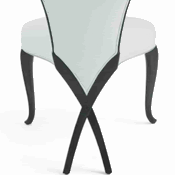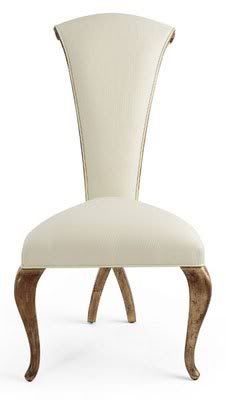 A little ho-hum in plain ivory, but it sizzles in hot pink!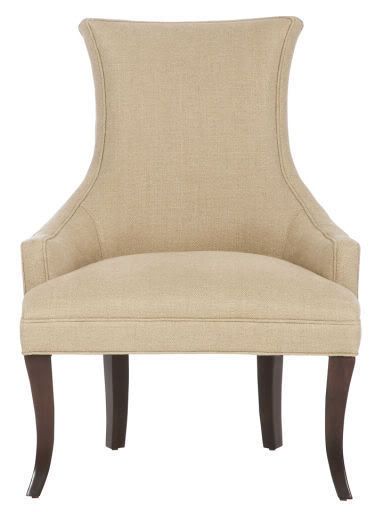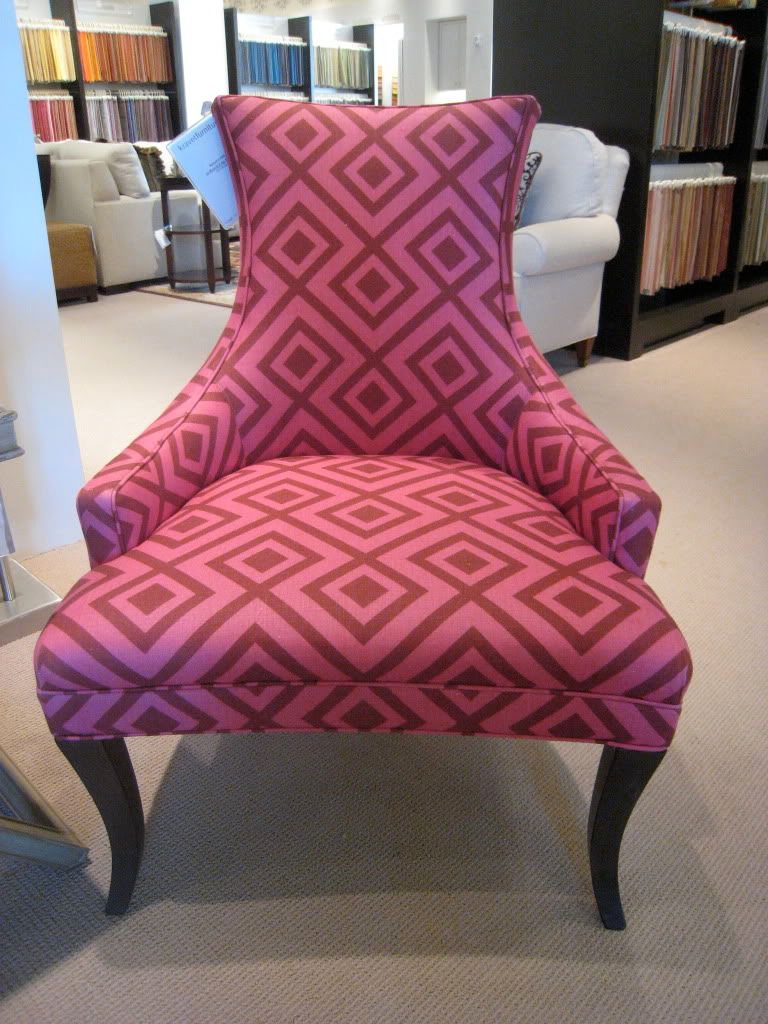 Related Posts:
A Rainbow of Cutting Edge Seating Options

Baby It's Cold Outside: Pangaea's Picks – Top Ten Fireplaces
Get the Latest On Hot Design Trends, Trade Secrets, DIY Tips & Design Advice

Tags: Ad Hoc Chair, barstool, Bernhardt design, chair, Cherner, Chris X, Christopher Guy, Dania, dining chair, Divine Lounge, Jamie McClellan, Jean-Marie Massaud, Kravet, loft chair, Maison Ventury Paris, Odin chair, Perillo Lounge, pink, Seating, sexy, sleek, Turin chair, Viccarbe, Ziliani, Zuco
Posted in Cool Stuff, Dining Room, Furniture, Interior Design, Living Room, Seating, Top Ten, Uncategorized | 1 Comment »