Archive for January, 2010
Sunday, January 31st, 2010
In part one of this article, I focused on your pet's safety and well being during the marketing of your home. If you want to be sure that your furry family members survive and thrive during the marketing of your house, please read Home Staging Portland Style: Home Staging Tips for Pet Owners, Part 1 – Pet Safety.
Those of us with pets have special challenges when it comes to making sure our homes are clean, odor free and ready to show at a moment's notice. Not everyone loves animals the way we do. Some have allergies and nobody likes pet odors! So, although you will do more work than most sellers in preparing your home for sale, and you'll have to stay on top of odors, pet hair, pet dishes & beds daily, the following advice from a professional home stager who owns 2 dogs and 6 cats will help make the process as easy as possible.
First, buy all new pet beds and make sure you buy ones that have easily removable covers for laundering. Pet beds get smelly over time, so rather than fighting to get an old bed clean, just do yourself a favor and start with fresh new beds. Throw the covers in the wash weekly to keep them clean. That may seem excessive, but many people are highly allergic to pet hair and dander, so washing weekly not only keeps them odor free, but helps to assure that a potential buyer doesn't have an allergy attack halfway through the house.
Vacuum daily while your home is on the market. Use one of the vacuums that has a hepa filter. As well as the rugs, vacuum your upholstered items,the pet beds and any curtains that collect pet hair as your animals brush past them. I actually bought one of the iRobot brand Roomba automated vacuums. I am amazed how much that helps to keep pet fur at bay, although it does need to be emptied often. I also chose to keep protective blankets on upholstered pieces that were favorite sleeping spots, (for the pets — not me) only removing them when we put the cats and dogs into their dog run and cattery. I laundered them regularly.
Pet beds need to be out of sight during showings. I have big dogs with big dog beds. I slide my dog beds underneath my own bed where they cannot be seen. If yours won't go under the bed, or you have a platform bed and they would be visible, then buy a large plastic crate with a lid into which you can toss the beds, blankets, & toys and set the whole business inside a closet. It's fast and helps to seal away pet hair. You can do the same with an attractive chest which can remain in the room. Fast & easy! For smaller pet beds, think about hiding them in plain sight. Take a look at some of the ideas in these photos. If the entry holes are simply facing to the side or back, nobody has any idea they are pet beds, so you don't have to worry about hiding them before showings. In fact, these are great ideas for incorporating your pet's belongings into your home decor even if you aren't selling your home. I love the contemporary walnut pet bed. And the little doggie murphy bed is a great idea! Click on the photos for their sources.
Empty cans of wet cat or dog food smell horrible. Even to me, a big-time pet lover. Rinse them thoroughly before throwing them in your indoor recycle bin, and remove them to your outdoor recycle bin as soon as possible. Remove all trash & recyclables to outdoor containers each morning when you leave the house.
Pet food bowls should not be left out in the house for showings. Having a dog run or an outdoor cattery gives you a place to keep water and/or food available. To make things easier for myself while my home was on the market, I used paper plates to feed our cats their canned food because I could just toss the used plates in the garbage and I took our garbage out daily. This saved me time washing their bowls and putting them away. You can also put clean pet bowls in a plastic crate with a lid, along with toys & blankets to get them out of sight quickly. By the way, the paper plate idea did not work for my big dogs — they tried to eat the plates, ripping them to shreds. Big mess!
Litter boxes need to be scooped relentlessly. To make it as convenient as possible to keep them scooped,  I kept a container right next to each litter box with plastic grocery bags and a scooper inside. If your container is attractive looking, nobody will know what is inside. This made it quick and easy to scoop out the litter box with the supplies right at hand. I just drop the scooped litter into the plastic grocery bags, tie them shut and take them directly to the outside trash. The container with bags & scooper can quickly be placed inside a cabinet or closet if it isn't attractive. Also, providing the type of litter boxes with lids will keep you from having to do so much sweeping of litter kicked out of the box. Some of them also have a filter in the top to help absorb odors.
You will also want to place litter boxes so that they are not in view even though you have the odor completely handled. One great solution is to keep the litter box in your garage and install a cat door so your cat can get to the litter box. I've also used a decorative free standing screen in a corner to hide a litter box from view. The photo below shows one of my favorite solutions to hiding a litter box. This is made from an Ikea chest with a hole cut in one end. It has enough room to house the litter box, plus the clean up tools and other cat items. The open grid design means there is light and ventilation inside for the cats. As long as the litter box is kept clean, nobody will have any idea what it is for. Doubles as a bench too! Other photos show cabinets turned into places to hide beds or litter boxes. Although the skirt around the sink is a little funky for my taste, it could work in a tiny apartment if other options aren't possible. Besides, I couldn't resist the picture of her cat "Tony" sitting in the sink. Very cute! Click on the individual photos for sources & details.
(Oh yeah, these photos are NOT from homes that were professionally staged, so you still need to lose the clutter on top of the cabinets and keep the toilet lid down.)
It's essential to be sure that carpeting does not have any pet odor or stains. If your pet has had an "accident", the most effective enzyme action odor neutralizer I have used is called "Stink Free". Great name, huh? This is great for a minor spot here or there. But if you have very much staining & odor, remove the carpet & pad from the affected rooms. Instead of re-carpeting, It would be best to put flooring in such as wood, laminate or tile, that can be easily mopped up in case of any new accidents. Don't even consider leaving the carpet in and giving a "carpet allowance". Anyone detecting the odor or stains from pet urine will run, not walk, out of your house.
Outdoor dog runs and catteries still need to be kept clean. Keep a poop scooper, rake, shovel, & trash can right there for quick and easy clean-up. Having a surface that can be hosed down to wash away urine will also make it easier to keep it clean, healthy for your pets and odor free.
I know this sounds like a lot of work — and it is. Been there, done that, bought T-shirt! But having this all organized efficiently and staying on top of it daily will make the whole process easier. In no time at all your house will be putting it's best foot paw forward and you and your critters can move on to a new and wonderful home!
This post got "4 paws up" from Shirley, Izzy, Leeloo, Bubu, Buzzy Max, Suki G, Zipper Jane, and Otto!

Tags: carpet, Home Staging, ikea, pets
Posted in Cool Ideas, DIY, Home Staging, Pets At Home, Uncategorized | No Comments »
Sunday, January 31st, 2010
Tips to Help Your Pets Survive and Thrive While Selling Your Home
Here in Portland, Oregon we love our animals! That's clear from all the "couture" pet accessory stores & doggie day-care centers sprouting everywhere, and even the wonderful "Lucky Lab" neighborhood brew pub with it's great covered patio where you can hang out and relax with your dog. But when it comes to selling your home, suddenly our beloved four-legged friends become pariahs in their own homes. I have seen the topic of staging a home for sale when you are a pet owner addressed many times. But the article is always about eliminating odors and hiding the pet beds, dishes & toys. One thing I don't think I've ever seen anyone address is your pet's safety and well being during the time your home is on the market. So, Part 1 of this post is about assuring your pets survive and thrive during the marketing of your property giving you peace of mind. Part 2 is about making it as EASY as possible for a pet owner to show their home in it's best light.
When your home goes on the market, strangers will be coming through – we hope! Having strangers in your home and yard when you aren't there can be very stressful for your pets and there's the potential of your pets accidentally getting loose. Although I find most people to generally be courteous and considerate when touring homes, there are few who will make a mad dash to capture a cat or dog that bolted for the door the instant it opened. Also, when a buyer is viewing a property, there's a lot to capture their attention and they aren't familiar with all the tricky bits of your latches & locks. It's very possible that a back yard gate does not get latched properly. I don't know about you, but my dogs are always testing the boundaries for any possible weakness in perimeter security and would nose it open the instant they thought the coast was clear and be off like a shot. Sometimes potential buyers bring children with them to view the home and your pet can be a real attention magnet. Your pet may be the gentlest and most tolerant animal, but there's no guarantee that the kids have learned to be gentle. Best to keep your pet out of possible harm's way.
My first choice for keeping your pets safe is to remove them from the home for all showings. If you are home almost all of the time, this is pretty easy. Have your dog leashes and cat carriers at the ready. Load everyone into the car and make your escape before the buyers get there.
If you work and cannot drop everything to run get your pets when a showing comes up, how can you protect your pets? Here are a few ideas.
DOGS:
My first choice & easiest solution, if you have the funds, is to drop your dogs off at a doggie day-care center on your way to work. Your dog will have fun romping with other dogs all day and you'll rest easy knowing there's no chance of your dog getting let out of the yard or having his tail pulled. One recent client of mine lived near her parents, so her dog got dropped off at "grandma's" every day. Great solution! Buyers will feel more relaxed viewing your property because they aren't worried about keeping your pet where it's supposed to be, nor are they worried about being jumped on or bitten.
My second choice for your dogs. Create a dog run, preferably away from your house. When I had to sell my home four years ago, I didn't have a dog run. Our dogs lived in the house with us, and had full run of the fenced yard. So, when I knew we were putting our house on the market, we fenced off a lower portion of our yard several feet away from the house. Buyers could see the entire yard from the top level, so there was no need for them to go into the fenced off area. The dogs were safe from anyone viewing the house and people didn't feel threatened by the dogs.  There is a lot of good info online about creating a dog run that is safe and healthy for them. When you create your dog run, I recommend either using slightly raised wood decking or synthetic turf on the ground so that it doesn't turn into a mud pit. Both solutions look great, and are easy for you to hose down. I am including some photos of very nice dog runs. Shelter from sun and rain will keep your dog comfortable in any weather. An extra tall fence will keep kids and grown-ups alike from reaching in to disturb your dog. A nice soft bed and enough room to run around and play lets you feel good about keeping your dog here while you work.
If you live in an area that gets exceptionally cold or snowy, here's a great idea! My next door neighbors have created an indoor/outdoor dog run by putting a dog door in the side of their garage and actually have fenced off a portion of the inside of the garage where they keep the dog's beds & water. So, the dogs have access to warmer indoor shelter directly from their outside dog run. You can also buy dog house heaters and outdoor heated kennel pads for use during winter.  Use a little creativity and go the extra mile to make the dog run look attractive. It could be a nice bonus selling feature if your buyer has a dog. Blending fencing materials with the style of your home enhances your home instead of creating a visual eyesore or distraction.
CATS:
If you're a cat owner, I'm sure you've noticed your cat's lack of enthusiasm when it comes to going for a ride! So although there are perfectly nice cat kennels that are great for caring for a cat while you are on a vacation, the stress to the cat of being driven somewhere everyday may make this not such a great solution in your cat's opinion.
So,here's my first choice for cats. Build an outdoor "cattery"! This is like a dog run, but it has a full ceiling since cats are waaaay better at climbing than dogs. We have six cats and at my last home my husband and I created a cattery on the side of the house where most people would have put their trash cans, etc. We did this years before we sold our home because we lived on a busy road. It provided a safe haven for them to play outdoors. Our cattery was pretty similar to the photo on the right, except we didn't have a wood floor. We had lots of plants, fresh bark mulch, a tree for shade, garden sculpture and a small fountain for lovely sound. We did our best to make it look as much like an enclosed garden as possible. It was actually very pretty. The whole side of the house was still visible to potential buyers, and they didn't have to open any doors that might have let our cats escape. The cats had plenty of room to play, shelter from the elements, comfy spots to sleep, and we kept it meticulously raked and clean so there was no odor problem. Whenever we left, the cats went into the cattery. Outdoor heated pads are also available for cats. With a little design savvy, a cattery can be quite nice. I love the one below, left. Very contemporary style!
Because we had the dog run and the cattery, all pet food bowls were kept out there, not in the house, so they had access to food & water with no cat or dog food smells in the house.
If you don't have space for an outdoor cattery, and it is essential that your cat does not get out of the house, then my second choice for cats, is to have a large crate or cattery in the garage, or (less desirable) a spare room. Again, it should look as nice as possible and be kept meticulously clean. Keep in mind that some people are super allergic to pets, so having them out of the living areas of the house for all showings is really desirable. This is why my first choice is to have these enclosures outside of the house, and second choice is the garage, with last choice actually being inside the house,
If you cannot provide a cattery for your cat, then it's a good idea to have a kitty door that uses a cat collar with a signal so that only your cat can enter and it can also get back in if someone accidentally lets it out. If your kitty is an indoor/outdoor cat normally, then having a cat door will assure that your cat can go about it's routine pretty much undisturbed.
So, to sum it up, for your pet's safety and well being, and because of buyers' potential for leaving a door or gate ajar, their fear of animals or allergies, the ideal plan is to have your pet in a safe, secure, and comfortable location outside or away from the house.
Pet owners have some extra challenges when it comes to keeping their homes show-ready. Please read part 2 for the EASIEST ways to keep your house looking and smelling it's very best while living with pets.
If you found this article helpful and informative, get more design tips, inspiration, tricks of the trade, and ideas for DIY projects delivered directly to your email by clicking the box below.

Tags: cats, cattery, dogs, Home Staging, pets
Posted in Cool Ideas, Home Staging, Pets At Home, Uncategorized | No Comments »
Sunday, January 24th, 2010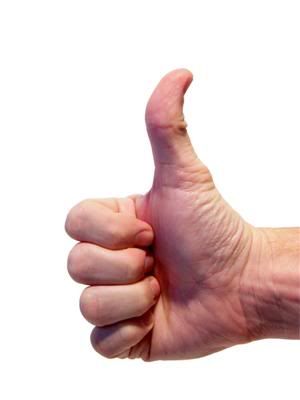 Today I got a big boost of validation for my creative interior design instincts from Thomas O'Brien! Not that he has any idea he did this, of course. But I found out today that I have something interesting in common with this famous designer who has designed residential interiors for the likes of Giorgio Armani and Ralph Lauren, and who has become known to the masses with his Modern Vintage® line of home furnishings and accessories for Target just to name a little of what he has done. At this point in my career I can't name celebrities as my clients and so far my designs are not found at Target. So what could have happened that makes me feel that he and I are in sync regarding interior design and that he would approve of my instincts?
I'm getting there, but I'm going to make you wait for it another minute or two.
If you know me, you know that I totally love lofts. I'm crazy about their open space and the total freedom to arrange your space any way you like. I want to live in a loft! However, my husband and I live with our six cats and two dogs in a 1970′s modern tri-level house. It's architectural style is very contemporary with a pretty open floor plan, which we love, and it is in the forest next to the Sandy River, where we have total privacy. As much as we love it, and are grateful to have this home, there are some aspects of the floor plan that just don't work for us and that have bothered us more and more lately. Here goes — it has a big sunken living room facing South with big windows and fantastic views of the river plus a big family room off the kitchen that opens onto a deck over the river, also with fantastic views. It's just the two of us, so we don't need both. Also, we recently got rid of our old sectional, so the living room was empty and unused. While these two rooms face South and have loads of natural light, the master bedroom is on the Northwest corner of the house, so it gets no morning light at all – dark as a tomb! – and it doesn't have a view of the river. Another negative is that the en suite master bath just has a shower, no bathtub. My husband and I love bubble baths and the only tub is in the downstairs bath just off the living room. To top it off, my husband has been affected in a very pronounced way with Seasonal Affective Disorder and the lack of natural light in our bedroom has become a HUGE issue. Add two big dogs and their beds into the mix, and the room was crowded!
So, about a week ago in a burst of defiant creativity, I decided it was stupid not to use the house in the way that works best for us, and I moved our bedroom into the living room. Yes, that's right. I have turned the living room of this 2100 square foot house into our master bedroom. We LOVE it! Waking up to have this enormous volume of space and big tall windows letting in all of this light has been so good for us. We now have a fireplace next to our bed which we've used every night. And, there's a lot more room for our dogs and their beds so we aren't tripping over those anymore. The bathroom with the tub feels as if it is our en suite master bath, and our guest room on the same level is going to be my new giant walk-in closet. We'll put the guest room upstairs in the old master bedroom. After all, it's just me and my husband so who cares where we sleep?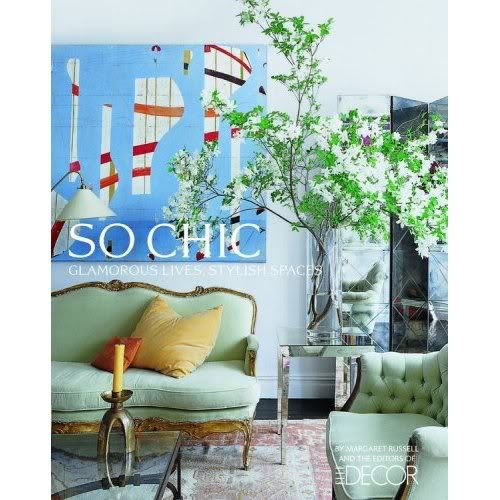 So, back to Thomas O'Brien. Today I was in Borders Book Store and I picked up a copy of Elle Decor's "So Chic: Glamorous Lives, Stylish Places", written by Margaret Russell and the Elle Decor Staff. I usually just flip through these books looking at the pictures, but for some reason actually began reading the story on Thomas O'Brien's New York City 1100 square foot, one bedroom apartment. And yes, you've probably figured it out by now. Thomas O'Brien moved his bedroom into his living room. He also concluded that his apartment wasn't being used to it's full potential and he just went for it. He loves his living-room-turned-master-bedroom too!
I just can't begin to tell you how happy that made me! I had been embarrassed to let anyone (especially clients) know that we had moved the bedroom into the living room. I thought people would think I was out of my mind and that I didn't know what I was doing when it came to good use of space. But when I read that a famous and wonderful designer like Thomas O'Brien had come to the same conclusion in his home and took the bold move of using his space however it suited him, I didn't feel embarrassed anymore. In fact, I just realized that I've been wanting an open loft to live in all this time, and without having to spend a dime to remodel, I was creative enough to create a loft out of the space I have.
Have you ever used a room in your home in a completely creative and unexpected way? Did it work out for you? Did people laugh at you, or were they envious that you had the nerve to think outside the box? I'd love to hear your own stories. And Thomas, if you ever read this, thanks for sharing your unusual and creative use of your living space. You made my day!
Tags: Bathroom, Bedroom, creative, en suite, Giorgio Armani, guest room, Interior Design, Living Room, loft, master bedroom, Ralph Lauren, So Chic: Glamorous Lives Stylish Places, Space Planning, Thomas O'Brien, walk-in closet
Posted in Bathroom, Bedroom, Cool Ideas, Design Tips, Interior Design, Living Room, Lofts, Space Planning, Uncategorized | No Comments »
Saturday, January 16th, 2010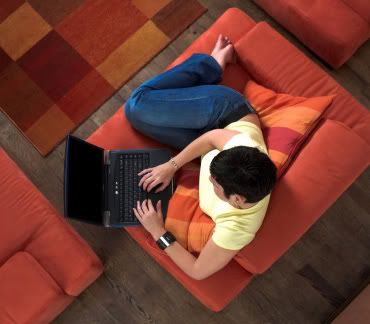 It all started last year when I finally bought a laptop computer with my Christmas money. I was so excited because I could finally do some work while I sat in the shade on our deck overlooking the river. But I still thought I would need to use my older desk top computer in my home office. Boy, was I wrong! After a whole year, I have never again sat in my office to use the desktop computer. My laptop has everything I need.
The second thing that happened — my new business coach talked to me about creating a work space that was comfortable and free of distractions. I realized my office wasn't comfortable because I hate sitting in an office style chair. I'm much more comfortable sitting in a lounge chair with my laptop — um, well — on top of my lap.
Then the third thing — one of my technologically savvy clients turned me on to various wireless technology that makes it so I no longer have to deal with a hideous mass of cords hanging under my desk.
So, I'm completely re-thinking my home office and turning it into a haven — yes, that's right, a haven — where I can retreat to focus on work. I'm re-examining everything in there to make it function just right for me. If you are ready to re-vamp your home office, or setting one up for the first time, the following questions and tips will help you create an office that works for YOU!
1.  Equipment:
Do you still use a land-line telephone? I disconnected mine when I realized that I only used my fax machine 3 times last year and I make and receive all of my calls on my cell phone. I'm saving $40 per month by getting rid of the land line. That got rid of an ugly phone and answering machine on my desk and eliminated 2 phone cords and an electrical cord – Yay!
Do you still use a desk top computer? Some people need them for the large screens. Mine was 6 years old, and my 1 year old laptop actually has 8 times as much memory capacity. So, for me, the laptop is all I need and that eliminates a whole bunch of stuff from the top of my desk.
Wireless docking stations and wireless printing: My techno-savvy client told me about these advances in modern technology. Why would an interior designer be so excited about this? Well, it means that you are no longer forced to put your desk on the wall right next to the cable or phone outlet. You don't even have to put your desk or docking station in the same room as the cable outlet! It totally eliminates so many cords hanging under your desk, so you can sit your desk in the middle of the room if you feel like it and only need to be concerned with an electrical cord or two. This is amazing design freedom!
2.  Layout:
Now that you have all this freedom to put your furniture where you want it, you can arrange things any way you like. Here are some tips on layout.
If clients come to your home office, the best impression is made by having your desk face the entrance to your office. Having your back to the door is also bad feng shui.
If you are the only one who goes into your office, then consider placing your desk to take advantage of a nice view. No view? Then treat yourself to some nice art so you have something beautiful to rest your eyes on when you're thinking.
An L-shaped desk is generally more efficient and comfortable to use (as opposed to a desk in front of you and a credenza behind you) when you have many items you need to reach for over and over. Place the things you need frequently closest to you, and the rest further away.
3.  Furnishings & Aesthetics: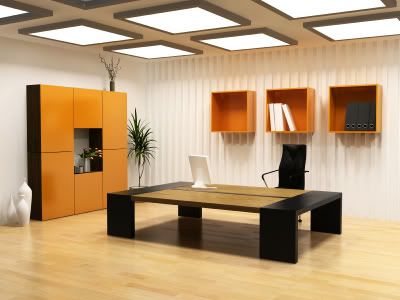 Your chair is the single most important piece of furniture in your office. If you will spend hours sitting in it, it's worth it to invest in a very comfortable one. If you sit at a desk to work, having a foot rest is great for taking stress off your lower back. I personally don't spend much time at my desk. Instead, I have a work table for when I need to do a design board. So, in my office, I brought in a deliciously comfortable lounge chair, an ottoman and a side table to hold my drink. You might like to have a sofa or loveseat if you have the space. If all your work is done via laptop — maybe you don't even need a desk!
Closed storage will hide less attractive items behind doors and keep your office feeling serene and uncluttered. Open storage is best used for items you want on display and for items you have to reach for repeatedly throughout the day. Lateral file cases are generally easier to place in a small room than traditional file drawers.
Beautiful furniture will make you feel pampered and lend an air of graciousness to your work space better than pieces that look like they belong in a commercial office.
4.  Location & Separation:
If you have a separate room for your home office, you are fortunate because you can close the door on distractions in your home and you can also close the door when you're done for the day. If you must locate your work space in the main living rooms of your home, then look for ways to give yourself some separation.
A closet turned into a workspace can be closed up when you finish work. An armoire with fold out desk can do the same thing.
Sliding doors, curtains, or free-standing screens can all be employed to provide separation as needed — either to keep distractions out or to hide the workspace when the work day is done.
This is a big subject. I haven't even addressed lighting or paint colors yet. So, keep an eye out for the e-book I'm writing on the subject. I hope to have it launched next month.
With careful thought about your personal needs, technology that gives you freedom, and the space available for your home office, you can create a place to work that will help you achieve your goals for 2010.
Tags: chair, Design Tips, desk, furniture placement, Home Office, Interior Design, layout, office, redesign, Seating, Space Planning
Posted in Cool Ideas, Design Tips, Home Office, Interior Design, Seating, Space Planning, Trends, Uncategorized | No Comments »
Wednesday, January 13th, 2010
I am so honored to have been chosen as the 2010 Distinct Style Awards Winner for "Best Home Staging Design".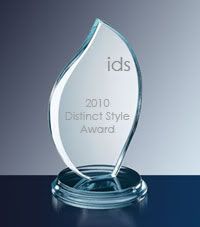 Last Saturday night the first annual Distinct Style  Awards, introduced by the Interior Design Society of Portland, honored winners in six design categories. Open to all interior designers and home staging professionals working in the Portland metro area, 124 entries were received and judged by a panel from the San Francisco Bay Area Chapter of the Interior Design Society.
It was exciting to win an award and also wonderful to see my colleagues winning awards for their fabulous residential interior design projects. I was in very good company!
The winners …
Best Home Staging Design – Pangaea, Pangaea Interior Design
Best Use of Color - Teri Peck
Best Redesign – Nicole Rivlin, Redesign Works
Best Kitchen Remodel – Jason Ball, Jason Ball Interiors
Best Bath Remodel - Susan Nicholson
Best Living Space – Leslie Minervini, Minervini Interiors
Best in Show - Leslie Minervini, Minervini Interiors
Tags: award, Distinct Style Awards, Home Staging, IDS, Interior Design Society, portland home staging, Residential Interior Design
Posted in Achievements, Uncategorized | No Comments »