Archive for December, 2009
Thursday, December 3rd, 2009
Welcome to the first in a series of tips, advice and secrets that professional Home Stagers use.
Home Staging Tip #1:
Clear Those Windowsills!
I often go into homes that have lofty, vaulted ceilings and lovely high clerestory windows that follow the angled lines of the ceiling … only to see the view of the sky cluttered up with lines of sporting trophies, glass bottles filled with colored water, collections of ceramic tchotchkes … you name it. Then I move to the kitchen and see that windowsills are dotted with tiny potted plants, jars, candles and so on. Bathroom windowsills sprout a tacky little row of roll-on deoderants, lotions & tiny air fresheners. In fact, I have been in homes where it seems that every window in the house has something sitting on the sill, or if not on the sill, then one of those little (or giant) light catchers applied to the window with a rubber suction cup. Oh, yeah! Gorgeous!
I do get the magnetic attraction of the horizontal surface. My husband and I cannot seem to keep any table, counter, or flat railing wider than 4 inches free of objects for a period of 24 hours. But considering how much we want light, I cannot understand this penchant for sitting things on windowsills. Any objects sitting in your windows are going to reduce the light. Little objects in the windows stop your eye, therefore interfering with the view. It is clutter!
I have exactly one exception to the "nothing-on-the-windowsill-rule", and that is a LIVE CAT. No matter how many times you remove a cat from the windowsill, it will sneak right back up there … hopefully knocking all the other little tchotchkes to the floor.
So, be brave … repeat after me … "A windowsill is not a display shelf" … and put all that stuff away or in packing boxes. It may seem empty for a day or two, but soon you'll look at the window and suddenly see …
THE VIEW
Tags: Design Tips, Home Staging, home staging portland, portland home staging, windows
Posted in Design Tips, Home Staging, Uncategorized, windows | No Comments »
Thursday, December 3rd, 2009
During the holidays, if you are the type who loves to entertain, serve up your refreshments on sustainable and stylish serving trays. Whether you use serving trays to place on an ottoman in your living room in lieu of a coffee table, or you want a convenient way to get your hors d'oeuvres (yes, I had to look up the spelling) from the kitchen to your dining table or buffet, these trays will make a design statement while being kind to the environment. I hope you see one that will work with your decor. I'm a fanatic about detail and color coordination, so I have different trays to complement my color palette and design style for the living room, family room, dining room and my bedroom. One of my personal indulgences is to have coffee in bed every morning. It's enticing to have a beautifully set tray and an inexpensive way to add a little elegance and style to your entertaining.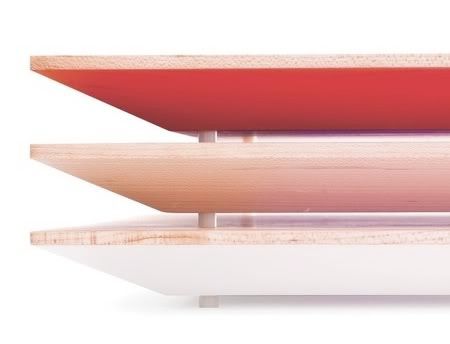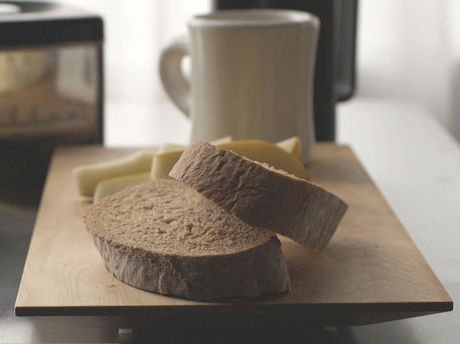 This first tray will complement even the most minimal modern decor. The Enos serving tray produced by Staach is hand made in the USA out of solid maple from domestic wood from certified sources . The bottom is lacquered in clear, white or red and the top is finished with food safe mineral oil. I think it is destined to be a classic design icon. Found at 2modern.com.
The Ibride Tray is made from reclaimed wood and totally rocks in an eclectic decor. Hang this up on your wall as art in between use. Found at Clio-Home.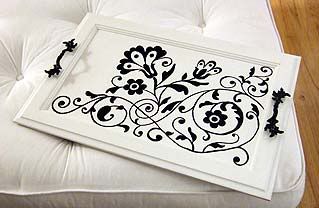 And for you DIY types, here's a fun project. Find an old cupboard door and use paint, handles and a little creativity to make your own serving tray in any color or style you like. This one is from Craftynest.  It would be very fun to do a collage on one of these if you don't have painting skills. A great way to recycle and re-purpose. Remember to use zero VOC paints, adhesives and finishes.

Tags: 2modern, Art, color, Dining Room, DIY, do it yourself, entertaining, environmentally friendly, green design, modern design, portland interior design, serving tray, sustainable, sustainable materials, sustainable style
Posted in Art, Bedroom, Cool Ideas, Cool Stuff, DIY, Dining Room, Kitchen, Living Room, Sustainable style, Uncategorized | No Comments »