Archive for November, 2009
Saturday, November 28th, 2009
Cutting edge design is bringing all the colors of the rainbow to interior spaces in unique ways. The trend in new furniture designs coming our way uses state of the art technology and creative thinking to give us interior options never before seen.
Mood Chair:
The Mood Chair by Aether & Hemera, visual artists in the UK, incorporates sensors that react to the colors in the immediate surroundings. The fusion of light and color creates a dynamic and ever-changing mood.
Here's what Aether & Hemera have to say about the idea on their website: "Responsive installations can complement the architectural space: the idea is that digital interactive fixtures will contribute to create an innovative and high-quality environment responding to the behaviour of its users by visually expressing the activities surrounding them."
Personally, I love color so much and change my preferences so often, that I can imagine whole walls that can change color like this. Wouldn't it be nice if we never had to paint a wall again, but could just walk in wearing our favorite color?
Side Stacking Rainbow Chairs:
Traditionally when you got stacking chairs, they all stacked one atop another until you got a tall pile of chairs which was compact, but not useful while stacked. Danish designer Christian Flindt has a better idea for stackable seating. His Rainbow Side Stacking chairs fit into each other's sides and when several are stacked together, not only are they compact, but they are still usable as a bench. Made in an array of semi-translucent colors they appear like a rainbow when put together. The molded plastic chairs can be used indoors or outside.
Cappellini Rainbow Chair by Patrick Norguet:
You'll be sitting pretty in your dining room, but this acrylic dining chair will set you back about $13,000 … yes, that's per chair. Designed by Patrick Norguet, manufactured by Cappellini and included in the collection of the New York Museum of Modern Art, this deceptively simple looking side chair is made by fusing multiple colored acrylic plates together using ultrasound technology. One can only hope that someday, like most technology, it will eventually become more affordable. If you just can't wait to have the latest in dining chairs, and you have plenty of discretionary income, you can purchase these through Europe by Net or Unica Home.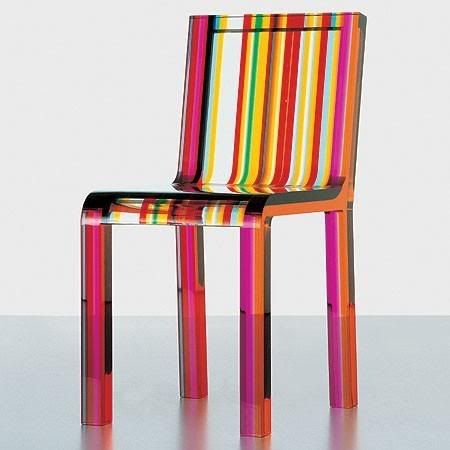 For more of the latest design ideas, do it yourself advice, and designer's trade secrets, subscribe to my monthly email design tips.


Tags: Aether & Hemera, cappellini, Christian Flindt, Colors, dining chair, Dining Room, Europe by Net, furniture design, interior design portland, modern design, MOMA, Museum of Modern Art, Patrick Norguet, Seating, Trends, Unica Home
Posted in Colors, Cool Ideas, Cool Stuff, Dining Room, Interior Design, Outdoor Furniture, Seating, Trends, Uncategorized | No Comments »
Tuesday, November 24th, 2009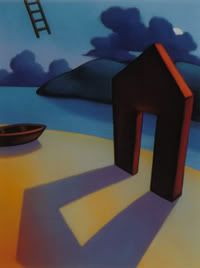 This is the first in a new series of posts about decorating with art. Although there are many ways to find a point of inspiration for your decor, my favorite starting point for interior design is art that you love. I know that many people are nervous about starting to buy art, thinking about the investment and also sometimes concerned that they don't know what is "good" art. Worried that they will make a mistake. But I believe in buying what you love and not worrying so much about whether it will appreciate in value. If you see a piece of art and it gives you a good feeling — you love the colors, or it makes you smile, or possibly brings up happy memories — then that would be a good choice for you. By far, the most common reason people buy art is because it has some connection with their life. I think those are all excellent reasons to buy art. Selecting and displaying art is a great way to express yourself and to really personalize your home. And whenever possible, I would prefer to find furniture that complements the art … not art that goes with your furniture.
So, to help my clients find art that will work for them, I've decided to post an article each month about an artist whose work I like. I hope these articles inspire you to take the plunge and add some artwork to your home.
This month's featured artist is Victoria Taylor-Gore.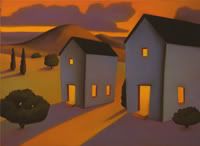 Her work is done in soft pastels. Personally, I love her color choices and the lighting in many of her pieces. My favorite time of day is the very late afternoon, sometimes referred to as the "golden hour", when the sun's light is coming from very low in the sky. It casts long shadows and is very golden in color making everything appear very saturated with color. Her work depicts "simplified architectural and landscape forms in a distorted perspective". The forms she chooses carry universal symbolism which really connects on a deep level with people. Take a look at her website. She also blogs about her work so you can learn more about it.
Tags: Art, color, Victoria Taylor-Gore
Posted in Art, Colors, Design Tips, Interior Design, Uncategorized | No Comments »
Monday, November 16th, 2009
Okay, so this is not about Interior Design. But clients ask me for help with their Exterior Paint choices too. This client has a house in Milwaukee that they are fixing up with some remodeling inside and also were painting the exterior. My client really had her heart set on gray and she is also using grays for her neutral colors inside, so when she asked for help on her color selection, it was really about choosing the right gray. I thought you would enjoy seeing how helpful the free online color selection programs are. This one is Personal Color Viewer® by Benjamin Moore.
Here is the exterior before painting, and below are three of the many grays we considered. You can see what a difference each shade makes. I recommended a paler warm gray because I felt it worked better than the deeper and cooler grays on this wood exterior. Her interior grays are also warm in tone and it made their new front door in a deep iron gray really pop out as a focal point.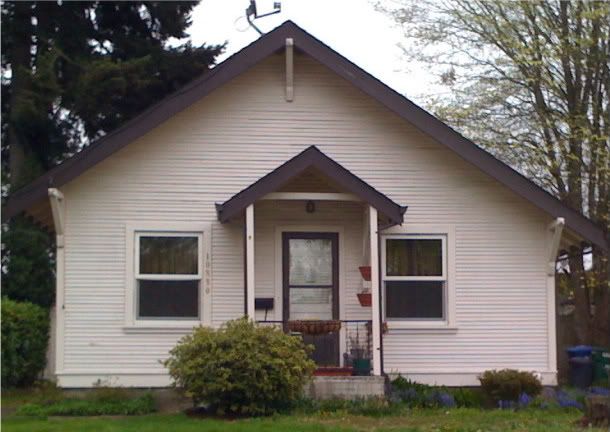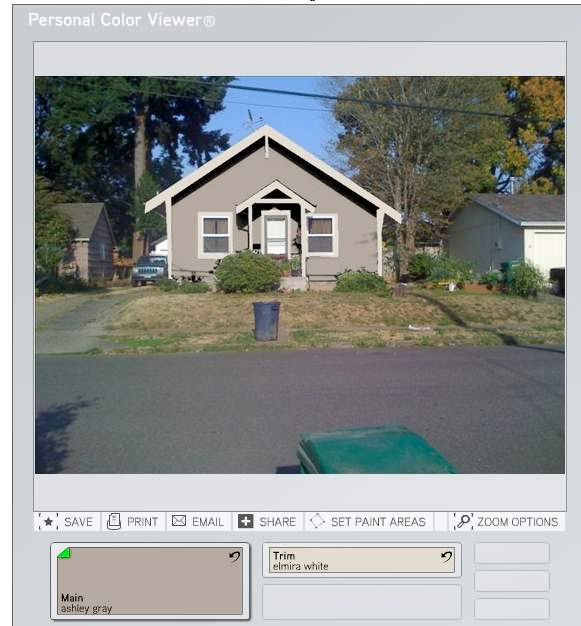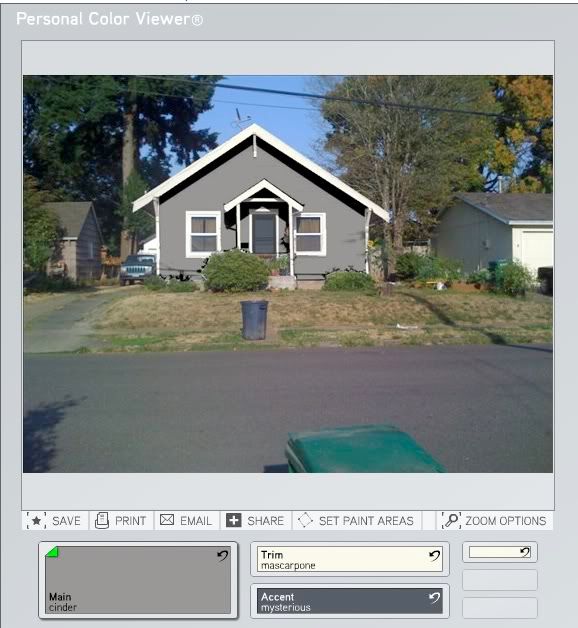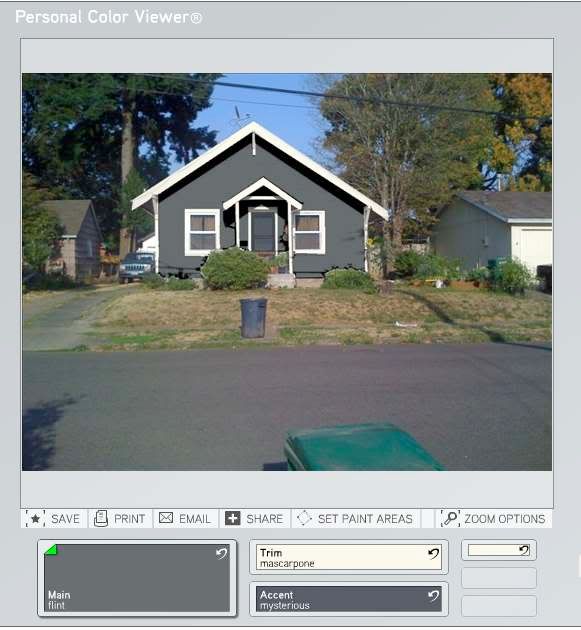 In addition to painting the exterior, they upgraded to a beautiful new front door. Here is the After photo of the exterior with the new paint color and the brand new door. I think the door immediately makes the entry feel more upscale and substantial. Check out the close up before & after photos of the door. Although this client is not getting ready to sell their home, when I look at a home for one of my Home Staging clients, I advise making sure that your exterior paint color is fresh and neutral and that your front door is looking great! Many potential buyers would just drive right past a home that has worn paint and an unattractive entry. This home exterior is now appealing and gives the impression of a home that is well cared for.
You may also like:
Paint Color to Sell Your Home: It Isn't White!
For my free monthly design tips, sign up in the box below!

Posted in Colors, Design Tips, Home Staging, Uncategorized | No Comments »
Friday, November 13th, 2009
Actually I am talking about two sensational surfaces here. One is the store: Surface, located at 1235 SE Grand Ave., Portland, OR 97214. The other is Kerlite Porcelain Tile. I'm always on the lookout for cool looking, new and innovative materials to inspire great design ideas for interiors, so I was delighted to be invited to a new product party held at Surface last week. They have some amazing new products for flooring, backsplashes, countertops & walls, and also an intriguing material that can be used in place of glass in cabinet doors, interior sliding doors as well as other unique applications. Rather than cram all this great stuff into one long post, I'm splitting it up, so keep your eye open for "part 2″ and so on.
First I'd like to tell you a little about my experience with the store. Surface is a truly unique finish materials boutique. I recently worked with them to help one of my clients select flooring, countertop and backsplash materials. My sales person was David Horn. His professionalism, helpfulness with my client and expert product knowledge was all first rate. The staff members are all very respectful of the designer/client relationship and will help you as much or as little as you want. The showroom has a warm and comfortable ambiance with nice big work tables to lay out and compare all your possible choices. Enormous windows give you great natural light so you can really see the colors and textures. If you like a little privacy, they also have a separate conference room where designer and client can really brainstorm uninterrupted.
For my last client, I went in alone to preview their selections, then when I knew I was coming in with my client, I phoned ahead and David had all the selections pulled out and arranged on a work table for us when we arrived. Their vast selection is encased in big rolling carts so not everything is on view at once. Initially, I thought this would make it harder to view products, but after being in there with a client, I really appreciated that this display system kept us from going into overwhelm or being distracted with too many choices.
Kerlite:
This product is an ultra-thin – just 3 mm -  super strong, porcelain tile that comes in seven sizes, including huge sheets. You can use it on floors or walls, but here is the very cool thing — you can put it right over existing materials including old tile or even linoleum without having to take out the old material. This is true even going over textured floor tiles.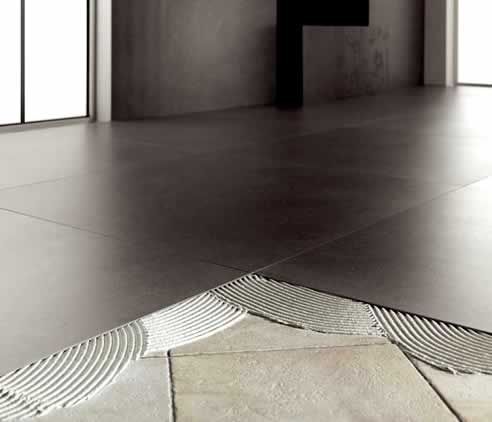 Available in 26 colors and 3 finishes, my favorite is the tone-on-tone floral pattern. The photos of the bathrooms and living room are from the manufacturer's website and they show the use of the huge sheet sizes to minimize grout lines. It's also perfect for great kitchen design applications such as backsplash walls.  Kerlite is even frost proof so it can be installed outdoors. I'm told that this product has even been installed as siding on a home exterior. I'd love to see that.
In keeping with my desire to find sustainably made options for my clients, according to Coto d'Este, Kerlite ceramic tiling material is "obtained from natural and carefully selected raw materials, such as light clays and pure feldspars," and "firing is carried out in electric kilns without any release of polluting fumes." With seemingly endless uses in both interior decor and exterior design applications, it is a product worth checking out. As porcelain tile goes, this is rather high-end, retailing around $12 per square foot. But for the amazing flexibility and lack of demo work, it could be a great idea for your next design project.
For more great monthly design ideas delivered to your email box be sure to sign up using the box below.

Tags: backsplash, Bathroom, design idea, Flooring, Interior Design, Kerlite, Kitchen, Living Room, porcelain tile, Surface, sustainable, sustainable materials, tile, wall tile
Posted in Bathroom, Cool Stuff, Design Tips, Fireplace, Flooring, Interior Design, Kitchen, Living Room, Sustainable style, Uncategorized | No Comments »
Monday, November 9th, 2009
I could hardly believe my eyes today when I saw that Metropolitan Home Magazine is being discontinued. It knocked the wind out of me! Being an interior designer, you might think I subscribe to dozens of magazines, but I don't. I subscribe to just three … Metropolitan Home, Dwell Magazine, and Interior Design Magazine. For years I have loved Met Home for it's elegantly sophisticated interiors. Their style has been characterized by modern interior design that is warm and graceful. Exactly the type of warm contemporary interior decor that most informs my own aesthetic. It was full of wonderful interior design ideas using the latest innovations and materials in a way that felt classic. I found out about many artists whose work I love by first seeing them showcased in a fabulous living room, an innovative dining room, or a bedroom that was a haven of serenity.
This is a sad day. Met Home, I will miss you!
Hachette Closing Metropolitan Home
Posted in Art, Bedroom, Dining Room, Interior Design, Living Room, Uncategorized | 1 Comment »